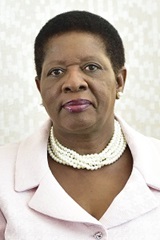 Charity Dhliwayo
Deputy Governor
Reserve Bank of Zimbabwe
Dr. Dhliwayo is the Deputy Governor at the Reserve Bank of Zimbabwe. She is in charge of Bank Supervision function and Exchange Control. The Reserve Bank of Zimbabwe has decided to champion Financial Inclusion in the country. In August 2015, the Governor of the Reserve Bank of Zimbabwe set up a Financial Inclusion Committee and she was appointed Chairperson. As Chairperson Dr. Dhliwayo is responsible for leading the development of the National Financial Inclusion strategy and its implementation.
In addition, she is also the chair of a recently established private organization, "Women in Finance". The organization's objective is to ensure women's access to Finance, women's rise in leadership positions in the financial sector and women's capacity building.