"Land Loss, Wealth, and Reparations" panel at Harvard Oct 16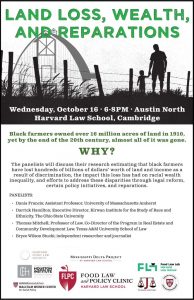 The Harvard Food Law and Policy Clinic at the Harvard Law School will be hosting a panel discussion focusing on the tremendous loss of land among black farmers over the past century and what that has meant for racial wealth inequality in the US.
Panelists will discuss efforts to address these disparities through legal reform, policy initiatives, and reparations.
The event is free, but attendees do need to register in advance.