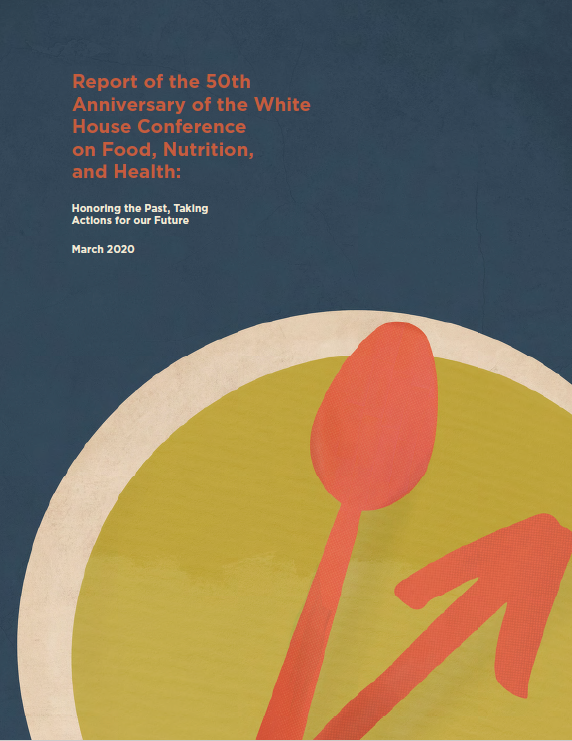 We are pleased to share the final Report on the 50th Anniversary of the White House Conference on Food, Nutrition, and Health: Honoring the Past, Taking Actions for our Future. This report represents the work of a 16-member report workgroup, and contains the history of the 1969 Conference, a summary of the 50th Anniversary proceedings, and 60 recommendations across 11 domains—all aimed at achieving a healthier, more equitable, and more sustainable food system.
Organizations signed-on in support
Endorsement of this report does not imply that signatories have taken a position on every priority referenced.
Any organizations interested in joining as signatories should email jmande@hsph.harvard.edu.
Academy of Nutrition and Dietetics
Action for Healthy Kids
Alliance for a Healthier Generation
American Cancer Society Cancer Action Network
American Public Health Association
Association of State Public Health Nutritionists
Center for Science in the Public Interest
Climate Reality
Coalition for Healthy School Food
Columbia University, Teachers College, Program in Nutrition, Laurie M. Tisch Center for Food, Education & Policy
Community Servings
Consumer Federation of America
Duke University World Food Policy Center
Food Tank
FoodCorps
Foodicine Health
Friedman School of Nutrition Science and Policy at Tufts University, Division of Agriculture, Food and Environment
Friedman School of Nutrition Science and Policy at Tufts University, Division of Nutrition Interventions, Communication, and Behavior Change
Harvard Law School, Center for Health Law and Policy Innovation
Harvard Law School, Food Law and Policy Clinic
Harvard T.H. Chan School of Public Health, Department of Nutrition
Hunger Free America
Jump IN for Healthy Kids
Mission: Readiness
National WIC Association
Partnership for a Healthier America
Project Bread
Society for Nutrition Education and Behavior
Society of State Leaders of Health and Physical Education
Supporters of Agricultural Research
The Food Trust
The Harkin Institute for Public Policy & Citizen Engagement
Trust for America's Health
UCLA School of Law, Resnick Center for Food Law and Policy
UCONN Rudd Center for Food Policy & Obesity
Union of Concerned Scientists
United Fresh Produce Association
University of California, Agriculture and Natural Resources, Nutrition Policy Institute
Urban School Food Alliance
Yale School of Public Health, Office of Public Health Practice
1,000 Days