Esri ArcGIS has many different and popular software packages and web-based applications available to Tufts University students, faculty and staff through our Tufts Enterprise Account for your mapping, spatial analysis and storytelling needs.

Here are some of the most popular ESRI ArcGIS software and tools used at Tufts University. To see a full list of available ESRI products, visit: https://www.esri.com/en-us/arcgis/products/index
To install ArcGIS Desktop software, including ArcMap or ArcGIS Pro, email DataLab-support@elist.tufts.edu. For access to all online tools and applications, follow the instructions below to login:
---
Sign in to ArcGIS Products through Tufts University
In order to access any ESRI ArcGIS online web-based tools and applications, users must log in using the following instructions.
In a web browser, visit the ArcGIS page you want to sign in to – (i.e https://www.arcgis.com/ ; https://storymaps.arcgis.com/ ; https://survey123.arcgis.com/, etc)
Click on the Sign In box at the top right of the page.
Click on Sign in with Your ArcGIS organization's URL. Do NOT click sign in with ArcGIS Login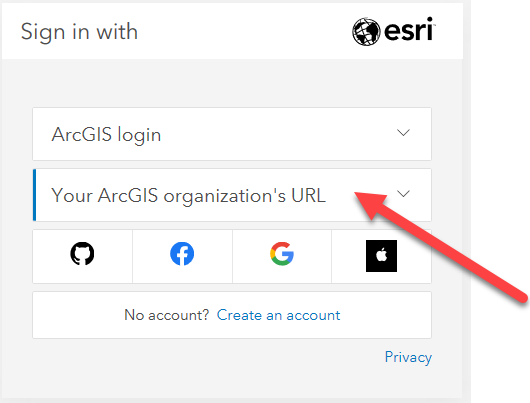 4. Enter tuftsgis as the organizations URL so it looks like the following image. If this is your personal computer, you can check remember this URL and it will be faster next time.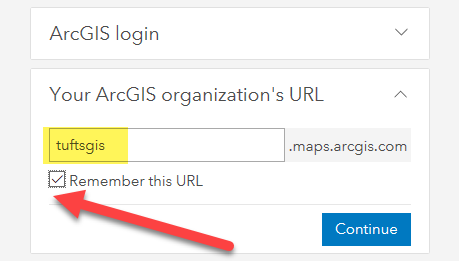 5. You will then be prompted to log in with TUFTS UNIVERSITY. Press the blue Tufts button.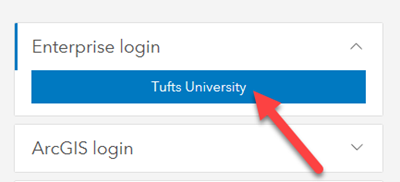 6. Now you will log in with your Tufts UTLN and password. You will need to also go through duo authentication.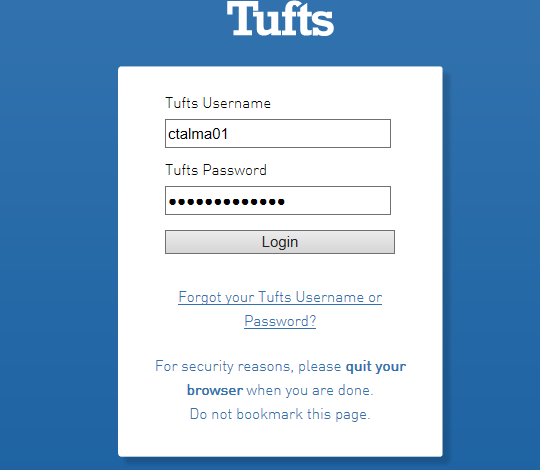 7. Press Login.
*** If this is your first time ever signing into an ArcGIS product through the Tufts Enterprise Account, you will receive an error that says your account it not "enabled for ESRI Access." Please wait 2 minutes and login again and it will automatically be updated. This should only occur on your first log in. Thank you. Now, you should be able to access the various ESRI ArcGIS tools on this page.
---
What is ArcGIS Online?
ArcGIS Online
is an online, collaborative web GIS that allows users to create and share maps, scenes, apps, layers, analytics, and data. ArcGIS Online is a complete, cloud based mapping platform hosted by ESRI.
Tufts University holds an Enterprise Account/Subscription which allows current students, faculty and staff to create a personal ArcGIS Online account for their web mapping purposes using their Tufts University credentials (See below for directions)
Tools & Features of ArcGIS Online:
Explore, understand, and measure your geographic data. Access ready-to-use maps and enrich them with your own data to reveal patterns, answers, and relationships about your community and the world.
Spatial analytics allows you to identify and quantify the implications, consequences, and impact of your decisions. Use the analysis tools included in the map viewer to reveal new patterns, find suitable locations, enrich your data, find out what's nearby, and summarize your data.
Create maps, scenes, and apps: ArcGIS Online includes everything you need to create maps, create scenes, and create apps. Through the map viewer and scene viewer, you can access a gallery of basemaps and tools for adding your own layers and configuring mashups that you can share with others.
Collaborate and share: Enable interaction with your organizational data by sharing content related to a common activity. You can also share maps by embedding them in web pages, on blogs, in web apps, and through social media.
Apps for Everyone: Ready to Use Apps designed to guide you through specific tasks.
Ready to Use Maps includes a Living Atlas of the World, comprised of authoritative maps and data on thousands of topics.
Visualize large amounts of data and convey information in a way that's more powerful than words
Create Story Maps that engage and inspire audiences by telling interactive stories in a way that is much more connected than PowerPoint or conventional presentation methods. These stories can easily be embedded in browsers or websites.
Get Started with ArcGIS Online
There are many resources for learning ArcGIS Online:
Get Started with ArcGIS StoryMaps
Esri Story Maps let you combine authoritative maps with narrative text, images, and multimedia content. They make it easy to harness the power of maps and geography to tell your story.
Learn the fundamentals of storytelling with maps.