Achieving a Sustainable Fishing Industry: International Cooperation is Essential
by Sean Silbert (MALD 2017)
Originally published as part of "Fletcher Features"
According to Roger Berkowitz, he's not in the restaurant business. He's in the fish business – and the fish need to be protected.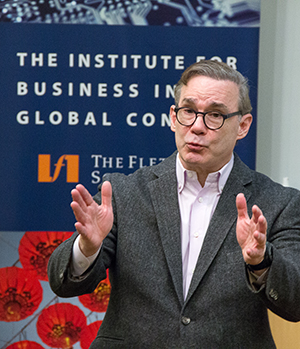 "At the end of the day, if we're not conservationists, we're not going to be in business," said Berkowitz, CEO of the national seafood restaurant chain Legal Sea Foods, at a lecture on March 28 as part of the Institute for Business in the Global Context (IBGC) Speaker Series.
Berkowitz's comments on the need for sustainability highlighted how international cooperation in the world's fisheries is essential to achieving this. Since fish are migratory, countries need to share their resources. In this case, sharing information creates sustainability, according to Berkowitz, who praised the novel strategies of Iceland in managing fishing techniques, including responsible harvesting of wild fish stocks and good treatment of the marine ecosystem, as well as working together with government. "It's going to take a global effort," he said.
Berkowitz also explained how he is taking models of sustainable practices from the fishing industry and applying them towards the restaurant industry. An example of this is using more of the whole fish when cooking. He found that it's necessary to take practices back to their roots – and make sure that both businesses and government are in sync when discussing sustainability.
When answering questions from the audience, Berkowitz addressed many pressing issues within the global fishing industry. He noted Legal Seafood's insistence on obtaining shrimp that were not the product of forced labor, his refusal to sell unsustainable types of fish at his restaurants, as well as the unintended consequences of technology in fishing.
According to Berkowitz, "organizations must be able to turn on a dime," and the fishing industry must be flexible in order to survive in the modern environment.