Happy New Year, Corruption in Fragile States Blog Readers!
On behalf of the Corruption, Justice and Legitimacy (CJL) team at The Fletcher School, we wish all of our subscribers a wonderful 2020. Part of the fun of the New Year is looking back on what has transpired in the past 12 months, so that is exactly what our team has done with the Corruption in Fragile States blog.
We had a banner year this year with almost 12,500 views from over 6,000 users — half of which were from outside the United States. And when they come, they stay and read. Our users averaged three minutes on a blog post, which is strong stuff in the blog-o-sphere. We also saw a 34% increase in subscribers. We are humbled by the interest, yet know there are so many more people working in this field. So please, forward this to those you work with, so we can create more and stronger connections within this diverse community.
Top 3 most read posts of 2019
Based on total unique readers in 2019, the three most read posts this year represent what we think is best about the Corruption in Fragile States Blog. The posts cover distinct topics, are written by different authors reflecting their own style (with women carrying the day), and link to a wide variety of useful resources.
If we narrow the pool to include only posts that were published in 2019, the list looks a bit different. It would also include one from April: Three Reasons Why Actors Working in Fragile and Conflict-Affected States Must Stop Ignoring Social Norms. This post is part of our ongoing series exploring social norms and corruption based on our newest publication: Understanding Social Norms: A Reference Guide for Policy and Practice.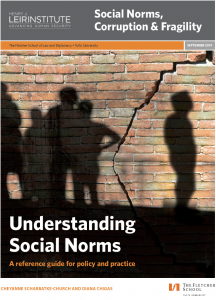 A guide by Cheyanne Scharbatke-Church and Diana Chigas, ...
Conversely, if we expand the timeframe to most read posts since the blog moved to the Leir Institute's website, then the top three list would include When Not to Call a Spade a Spade: The Importance of Quiet Anti-Corruption Initiatives becomes a best-seller. Written by Sabina Robillard with Louino Robillard, this post describes how a community development initiative in Haiti integrated anti-corruption into the core of its project but did so quietly through activities no one would necessarily recognize as being anti-corruption efforts – with highly successful results.
2020 and beyond
As for New Year's Resolutions, the CJL team has a few for the blog:
Showcase more new research that has practical application for anti-corruption practice
Diversify our guest authors
We are always looking for new ideas and feedback on how we can make The Corruption in Fragile States Blog more useful and relevant to our readers and the field. Put your ideas in a comment or send us an email – we always respond!
Not yet subscribed to get automatic updates on new posts? This is the best way to not miss out. We promise to treat your inbox with the utmost respect.
---
Cover image by cocoparisienne from Pixabay
---
About the author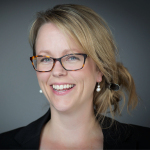 Cheyanne Scharbatke-Church is Principal at Besa: Catalyzing Strategic Change, a social enterprise committed to catalysing significant change on strategic issues in places experiencing conflict and structural or overt physical violence. She has significant experience working on anti-corruption and state legitimacy in the DRC and Uganda. As a Professor of Practice, she teaches and consults on program design, monitoring, evaluation and learning. Cheyanne is also the Corruption in Fragile States blog series editor.
---