The Corruption as a System Project offers technical assistance to implementers and donors as they integrate corruption analysis into their program development or evaluation process. Our original work, with its roots in the Central Africa Accountability in Service Delivery Initiative at CDA, developed a new approach to analyzing corruption in fragile states that reflected its inherent complexity. This methodology is derived from causal loop mapping, as it more accurately reflects corruption as the system that it is in these contexts.
Over the years, we were puzzled by most anti-corruption programming, which often employed technocratic and formulaic approaches, without robust corruption analysis. Our observation aligned with much of the research being published at the time, challenging the effectiveness of classic anti-corruption programming and questioning the assumptions informing it. We believe the mismatch lies in the analysis that served as the basis for such programming—analysis of the "gaps" in accountability, transparency, or monopoly, for example. This did not consider the drivers, but instead focused largely on the enablers of corrupt behavior. We felt to be effective in anti-corruption, we needed an approach that was reflective of the dynamic, adaptive system we had observed corruption to be in fragile states.
Our approach was tested through original research in the criminal justice sectors in Central African Republic, Uganda, and the Democratic Republic of the Congo. It ultimately creates actionable analyses that enable policymakers and practitioners to identify leverage points, develop strategic collaborations, test theories of change, and avoid unintentional harm. This was tested in the DRC with the successful Kuleta Haki program, implemented in partnership with RCN. Through this collective action effort, members of the criminal justice sector, who were known for their commitment to integrity, worked together to challenge the established norms surrounding corrupt patterns of behavior.
We also invite you to subscribe to our Corruption in Fragile States Blog, which outlines our journey and learning points through this phase of our research.
Featured Publication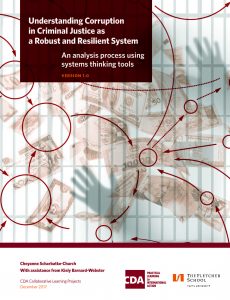 This paper seeks to contribute to the field of criminal justice reform by sharing a systems-based analytic process to understand corruption in the CJS in fragile states. It explains what was done; why; the benefits and, of course, draw-backs of this process; as well as the lessons learnt. …
All Project Publications