Advisory Group
Ben Cislaghi
Associate Professor, London School of Hygiene & Tropical Medicine
Fredrik Eriksson
Former Senior Advisor, U4 Anti-Corruption Centre
Heather Marquette
Professor in Development Politics, University of Birmingham
Senior Research Fellow in Governance & Conflict, DFID
Phil Mason
Anti-Corruption Specialist, Formerly DFID
Julia Roig
President, PartnersGlobal
The Social Norms and Corruption Project (SNAC) aims to shift social norms from the periphery to a central component of corruption analysis and anti-corruption strategy. Where appropriate, we believe social norms should be considered a key element of programs that touch – directly or indirectly – corruption, accountability and transparency, or governance.
Toward this goal, the Corruption, Justice and Legitimacy Program is currently working with practitioners to co-develop approaches, tools, and materials to address social norms that influence corrupt behavior. We are also convening sharing and learning opportunities to deepen understanding of the role of social norms in the anti-corruption field.
Our journey into the world of social norms began in 2015, as we developed a systems-based analysis methodology for analyzing corruption. Although we initially included social norms as one factor, it was not the main focus and fell victim to other priorities. By the time we completed the first test of the methodology in the Democratic Republic of the Congo (DRC), it became clear that social pressures and expectations had an important role to play in maintaining corrupt systems. The mechanisms were not yet clear, though – leading us into our next phase of research.
In 2019, we published our findings in "Understanding Social Norms: A Reference Guide for Policy and Practice."
Interested in partnering with us? For more information, please contact us and be sure to subscribe to our Corruption in Fragile States Blog, where we regularly post new findings.
Featured Publication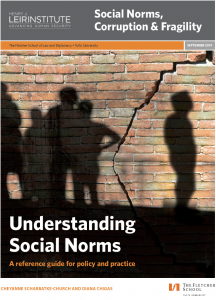 A guide by Cheyanne Scharbatke-Church and Diana Chigas, …