"Unsettled: Seeking Refuge in America" Film Screening & Director Talk
February 12, 2021 @ 1:45 pm

-

4:00 pm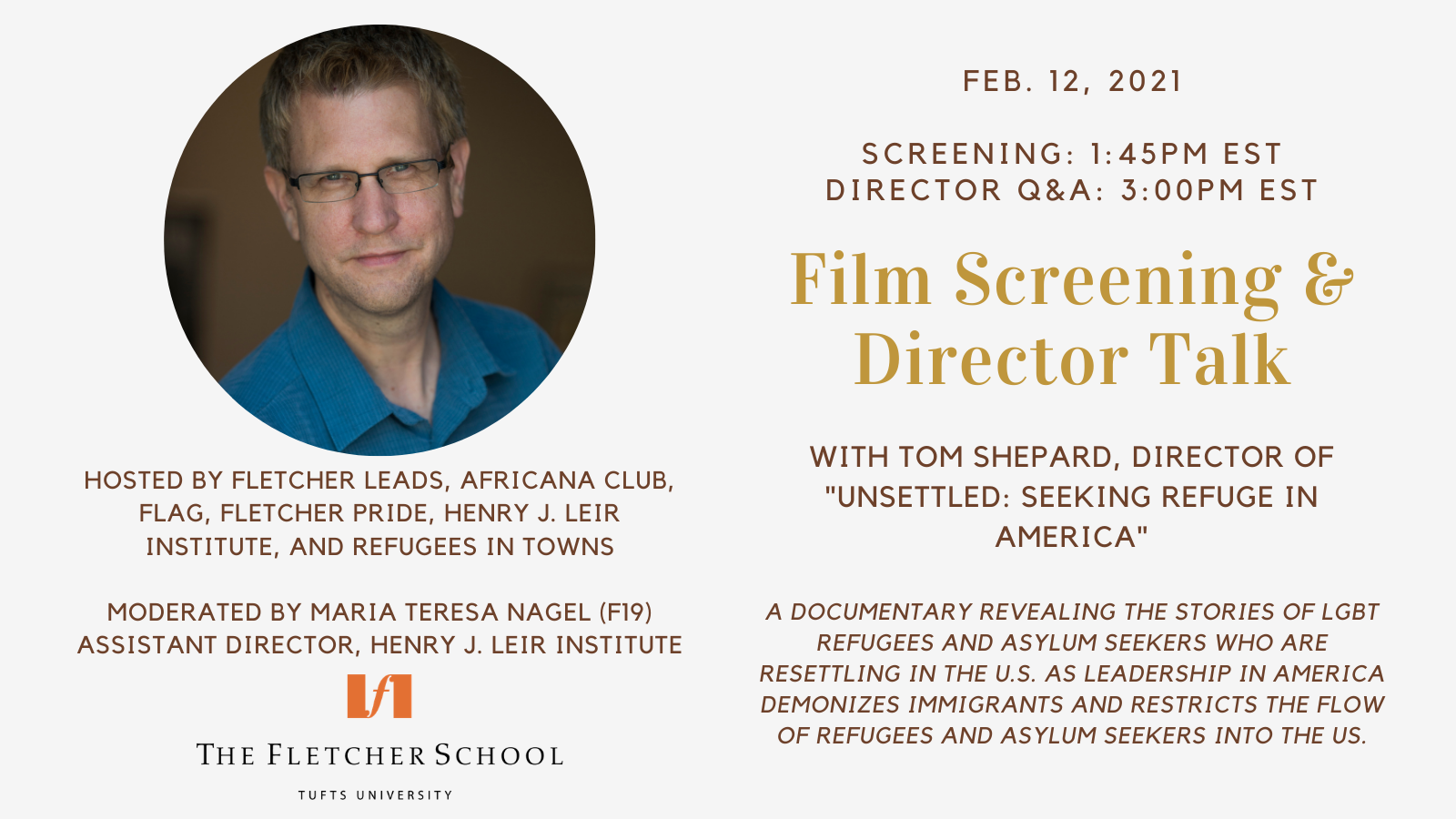 See the event video below
Fletcher LEADS, Africana Club, Fletcher Latin America Group, Fletcher Pride, the Henry J. Leir Institute, and Refugees in Towns invite you to view a screening of Unsettled: Seeking Refuge in America, a documentary revealing the stories of LGBT refugees and asylum seekers who are resettling in the United States (further details below). The screening will take place on February 12, 2021, 1:45pm EST.
The screening will be followed by a talk and Q&A with film director Tom Shepard, at 3:00pm EST moderated by Leir Institute Assistant Director Maria Teresa Nagel (F '19).
---
Unsettled​ ​is a feature-length documentary revealing the untold stories of LGBT refugees and asylum seekers who have fled intense persecution from their home countries and who are resettling in the U.S. ​As new leadership in America continues to demonize immigrants and drastically restrict the flow of refugees and asylum seekers into the U.S., Unsettled​ humanizes a group few people know who are desperately trying to create new and safer homes. Immediately after the screening we will be hosting a conversation with the director Tom Shepard, an independent filmmaker, and Maria Teresa Nagel (F19) Assistant Director of the Henry J. Leir Institute. They will be discussing the fact that Unsettled ​takes place largely in the ​San Francisco Bay Area​, which has historically a beacon for dislocated LGBT people in the U.S. While cultural narratives of a "queer promised land" still persist, the film asks whether Northern California is even practical as a place to resettle LGBT refugees, especially given the enormous gentrification, increased costs of living and scarcity of housing in recent years — a set of problems present in many American cities. What are the costs persecuted immigrants pay for seeking refuge in America? And how are everyday Americans stepping forward to help those most in need? There will also be an opportunity for Q&A with the director.