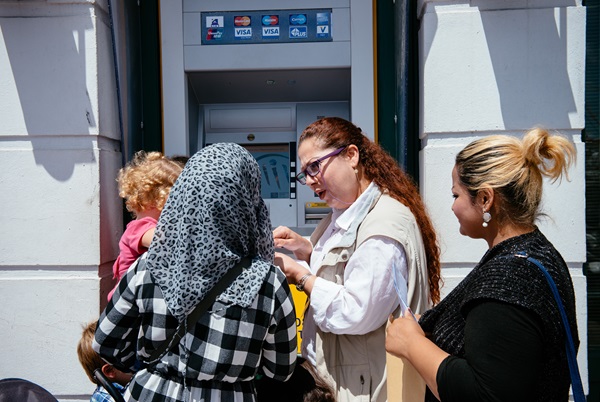 Photo: Corinna Robbins for Mercy Corps
For additional information, please contact the lead researchers of this study, Kim Wilson and Roxanne Krystalli.
The Financial Journey of Refugees project investigates what money and financial transactions can reveal about the journeys and experiences of forced migration. We examine money as a key node of the displacement experience: fueling transactions among formal and informal actors along the way; determining livelihood options; shaping or restructuring kinship networks; and coloring risks, vulnerabilities, or protective forces available to refugees. Our inquiry highlights these transactions and the power dynamics that unfold among refugees as well as between refugees and formal or informal authorities. Please see our executive summary and full research report below.
In this video, Kim Wilson and Roxanne Krystalli discuss their latest research exploring the formal and informal financial systems used by refugees in Greece, Turkey and Jordan:
This work is part of a larger research project on the Migration Crisis and State Fragility.
Additional publications from the research team's work on the financial journey of refugees are available below. These publications summarize findings from a study in July and August 2016 that investigates how refugees amass, store, move, and spend the assets they need to finance their journeys of forced migration. The starting point of that inquiry allowed the research team to explore an additional set of questions: what risks and opportunities do refugees identify along their journeys? How do refugees' assets shape their relationships with formal authorities – such as police, border patrol officers, and humanitarian actors — and informal authorities affecting migration — such as smugglers and money transfer agents? The team interviewed refugees in Greece, Jordan, Turkey, and Denmark, visited sites of displacement (including formal refugee camps, refugee sites in urban settings, and informal settlements), and consulted humanitarian staff, interpreters, and other key informants who shape the refugee experience.
Publications