ATLANTIC COUNCIL INAUGURAL CONFERENCE - APRIL 29, 2016
The Fletcher School and the Atlantic Council
Present
An Inaugural Conference:
"Resurgent Authoritarianism and Tools to Respond"
Friday, April 29th 2016
10:00AM-5:30PM
Breed Memorial Hall
(51 Winthrop Street)
          Keynote Speakers:
Admiral Dennis Blair
        Former Director of National Intelligence;
General Charles Cleveland
     Former Commander of U.S. Special Operations Command;
Beth Cole
      Special Advisor on Violent Extremism, Conflict & Fragility at U.S. Institute of Peace;
Peter Ackerman
     Founding Chair of the International Center on Nonviolent Conflict
Join us on Friday, April 29th from 10:00AM-5:30PM at Breed Memorial Hall (51 Winthrop Street) as we convene a conference co-hosted by the Fletcher School and the Atlantic Council on "Resurgent Authoritarianism and Tools to Respond." The conference aims build a bridge between the military/security and democracy communities on how to respond effectively to authoritarian regimes in regions where the U.S. has national security interests at stake. Confirmed panelists include members of the military and civilians at the US Department of Defense, the US Department of State, the private sector and activists to join in a conversation about how make the national security case for democracy promotion.
The afternoon will consist of regionally focused panels on Post-Arab Spring Trajectories and Influencing Military Reforms in Africa.  Each panel will discuss lessons from the field on effective tools for influencing the behavior of militaries and regimes in non-democracies where the U.S. has military engagements, and implementing all-of-government efforts on security sector reform, institution building, and countering corruption and violent extremism.
​Panelists include:
Mathew Burrows, Atlantic Council
Maria Stephan, Atlantic Council and USIP
Nadia Schadlow, Smith Richardson Foundation
Hassan Abbas, National Defense University
Querine Hanlon, Strategic Capacity Group
Maciej Bartkowski, International Center on Nonviolent Conflict
Lora Lumpe, Open Society Foundations
Rose Jackson, Open Society Foundations
BREXIT AND THE FUTURE OF THE EU - APRIL 6, 2017
Brexit and the Future of the EU
April 6, 2017
5:30-7:00 PM
Cabot 7th Floor
Panel Discussion:
George Alogoskoufis, Constantine Karamanlis Professor of Hellenic and Southeastern Studies, the Fletcher School.
Laurent L. Jacque, Walter B. Wriston Professor of International Finance & Banking, Academic Director of the MIB, the Fletcher School.
Klaus Scharioth, Professor of Practice, the Fletcher School; former German Ambassador to the U.S.; former State Secretary of the German Foreign Office.
Panel Moderator
Robert L. Pfaltzgraff, Jr., Shelby Cullom Davis Professor of International Security Studies, President of the Institute for Foreign Policy Analysis.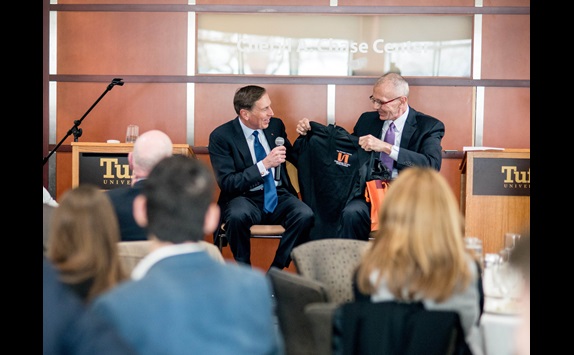 Professor Richard Shultz presents the "coveted" ISSP sweatshirt to General David Petraeus during his visit to the Fletcher School in February of 2016.
On January 21, 2015, General Joseph Votel,Commander of the U.S. Special Operations Command, took part in an active discussion hosted by ISSP titled "USSOCOM and the Challenges Associated with Russian Aggression".  The goal of the event was to gain a better understanding of the near and long-term socio-political-economic-military challenges associated with Russian aggression in the Ukraine.  The approach was to have a discourse with Fletcher Security Studies students, military fellows, and faculty to illuminate practical ways in which SOCOM can contribute to US and NATO policies to meet this challenge.
The Discussion focused on four key questions:
What is the long and short term Russian military strategy and inherent weaknesses?
Are there any socio-political-economic trends that are likely to shape the military strategy?
What are some of the challenges that the U.S. military is likely to face in the next 3-5 years thru 10-15 years as it pertains to Russian aggression?
What are some emerging threats/threat groups/ or trends that will impact U.S. foreign policy towards EUCOM in the coming year?
GEN Votel attended the United States Military Academy and was commissioned in 1980 as an Infantry Officer. His most recent assignment was as the Commanding General of the Joint Special Operations Command. As a general officer he served in the Pentagon as the Director of the Army and Joint IED Defeat Task Force and subsequently as the Deputy Director of the Joint IED Defeat Organization established under the Deputy Secretary of Defense. He served as the Deputy Commanding General (Operations), 82d Airborne Division / CJTF-82, Operation ENDURING FREEDOM, Afghanistan, and was subsequently assigned as the Deputy Commanding General of the Joint Special Operations Command, Fort Bragg, North Carolina.
His initial assignments were to the 3d Infantry Division in Germany where he served as a Rifle Platoon Leader, Executive Officer, Battalion Adjutant and Rifle Company Commander. Following this he served as a Small Group Tactics Instructor at the Infantry School at Fort Benning, Georgia, before being assigned to the 75th Ranger Regiment as a Plans / Liaison Officer where he participated in Operation JUST CAUSE. He was next posted to the 1st Ranger Battalion where he served as the Battalion Liaison Officer, Operations Officer and Executive Officer.
GEN Votel is a graduate of the Infantry Officer Basic and Advanced Courses, United States Army Command and General Staff College, and the United States Army War College.
THE IRAN NUCLEAR DEAL: A NET ASSESSMENT - OCTOBER 7, 2015
The Iran Nuclear Deal: A Net Assessment
October 7, 2015
6:00-8:00 PM
ASEAN Auditorium
A distinguished expert panel surveys the Iran Nuclear Deal, otherwise known as the Joint Comprehensive Plan of Action (JCPOA). Panelists will address such questions as: Will it pave or block Iran's path to nuclear weapons? What are the verification issues? What will be the implication of the lifting of sanctions? When and how could sanctions be reimposed? What are the Agreement's merits and shortcomings, strengths and weaknesses? Come and benefit from a nuanced discussion of these and other questions and issues.
Panel Members include (in alphabetical order):
David Albright, Founder and President, Institute for Science and International Security, Washington, D.C., and first non-governmental inspector of the Iraqi nuclear program.
Antonia Handler Chayes, Professor of Practice of International Politics and Law, The Fletcher School, and former Under Secretary of the U.S. Air Force, and former Chairman of the Project on International Institutions and Conflict Management, Harvard Law School.
Gary Samore, Executive Director for Research at the Belfer Center for Science and International Affairs, Kennedy School, Harvard University; and former White House Coordinator for Arms Control and Weapons of Mass Destruction (WMD).
Yehuda Yaakov, Consul General of Israel to New England, with expertise and experience in non-conventional weapons, nuclear negotiations strategy, public diplomacy and strategic affairs, and managing strategic challenges, as well as homeland security and counterterrorism.
Panel Moderator
Robert L. Pfaltzgraff, Jr., Shelby Cullom Davis Professor of International Security Studies, President of the Institute for Foreign Policy analysis, and coauthor of Anticipating a Nuclear Iran(Columbia University Press, 2013).