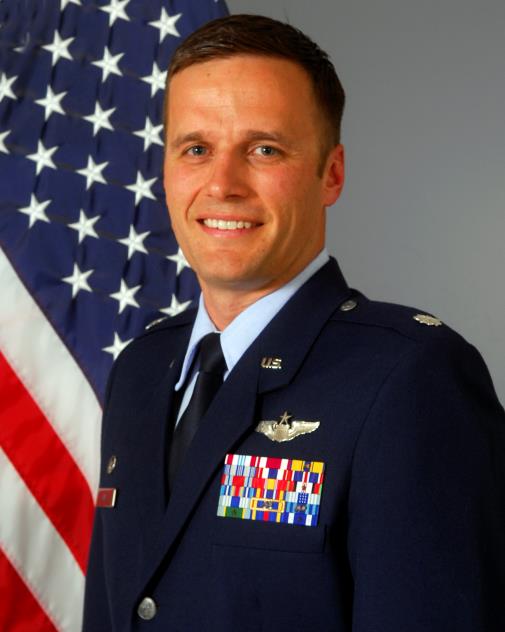 Lieutenant Colonel Peter J.S. Lee, United States Air Force
Lt. Col. Peter J.S. Lee is the Commander, 62nd Fighter Squadron, 56th Fighter Wing, Luke Air Force Base, AZ.
Colonel Lee was commissioned in Dec, 2001 as a distinguished graduate of the ROTC program at Embry Riddle Aeronautical University, Daytona Beach, Florida. He earned his pilot wings at Moody AFB, GA and Columbus AFB, MS, and later graduated from the F-15C Basic Qualification Course at Tyndall AFB, FL. He was then assigned to the 94th Fighter Squadron and later the 71st Fighter Squadron at Langley AFB, VA.
Following his tour at Langley AFB, he was reassigned to Vance AFB, OK where he was the Chief of Weapons for the 3rd Fighter Training Squadron before deploying for one year in support of Operation Enduring Freedom. Col Lee transitioned back to the F-15C following his deployment, and was assigned to the 493d Fighter Squadron where he served as an Instructor Pilot and deployed multiple times in support of NATO air policing missions in Europe, and Operation Unified Protector in the Middle East. He was selected to attend Air Command and Staff College, and later the School of Advanced Air and Space Studies (SAASS) at Maxwell AFB, AL. Following SAASS, Col Lee was assigned to Headquarters Air Force Staff at the Pentagon, DC where he was a political strategist in the Legislative Liaison Directorate. Preceding his current assignment, Col Lee was the Deputy Commander of the 56th Operations Group, Luke AFB, AZ.
EDUCATION
2001 Distinguished graduate, Bachelor of Science degree in Aerospace Engineering, Embry Riddle Aeronautical University, FL
2009 Distinguished graduate, Squadron Officer School, Maxwell AFB, AL 2011 Master of Aviation Safety degree, Embry Riddle Aeronautical University, FL 2013 Master of Operational Art degree, Air Command and Staff College, Air University, Maxwell AFB, AL
2014 Master of Philosophy in Military Strategy, School of Advanced Air and Space Studies, Air University, Maxwell AFB, AL
ASSIGNMENTS
1. January – October 2002 Student Pilot, Undergraduate Pilot Training, 3d Flying Training Squadron, Moody AFB, GA
2. November 2002 – May 2003, Student Pilot, Undergraduate Pilot Training, 50th Flying Training Squadron, Columbus AFB, MS
3. September 2003 – May 2004, Student, F-15C Basic Qualification Course, 95th Fighter Squadron, Tyndall AFB, FL
4. June 2004 – January 2007, Chief of Standards and Evaluation and Mission Commander, 94th and 71st Fighter Squadrons, Langley AFB, VA
5. February – December 2007, Chief of Weapons and Instructor Pilot, 3d Fighter Training Squadron, Vance AFB, OK
6. March 2008 – March 2009, Aide-de-Camp and Personal Security Officer for the Military Advisor to the US Ambassador, US Embassy, Afghanistan
7. September 2009 – June 2012, Instructor Pilot, Flight Commander, Wing Executive Officer, 493d Fighter Squadron, RAF Lakenheath, United Kingdom
8. August 2012 – June 2013, Student, Air Command and Staff College, Maxwell AFB, AL
9. July 2013 – June 2014, Student, School of Advanced Air and Space Studies, Maxwell AFB, AL
10. July 2014 – June 2016, Chief of Fighter/Conventional Weapons, Headquarters Air Force Legislative Liaison, The Pentagon, DC
11. January – May 2017 – Deputy Operations Group Commander, Luke AFB, AZ
12. June 2017 – pres – Commander, 62nd Fighter Squadron, Luke AFB, AZ
FLIGHT INFORMATION
Rating: Senior pilot, Flight hours: More than 1,300 hours
Aircraft flown: T-6, T-38C, F-15C, and F-35A
MAJOR AWARDS AND DECORATIONS
Defense Meritorious Service Medal
Meritorious Service Medal with oak leaf cluster, Air Force Commendation Medal with oak leaf cluster, Air Force Achievement Medal
EFFECTIVE DATES OF PROMOTION
Second Lieutenant, December 26, 2001, First Lieutenant, December 26, 2003 Captain, December 26, 2005 Major, December 1, 2011 Lieutenant Colonel, January 1, 2016 (Current as of Apr 2017)