Director, International Security Studies Program
Lee E. Dirks Professor of Diplomatic History 
Richard H. Shultz, Jr. is the Lee E. Dirks Professor of Diplomatic History at the Fletcher School, Tufts University, where he teaches graduate-level courses on various aspects of international security affairs and war studies to include: the role of force in international politics; internal, irregular and transnational conflict; war and strategy; and intelligence and armed groups. He also is the Director of the Fletcher School's International Security Studies Program. The program is dedicated to graduate-level teaching and research on a broad range of conflict, defense, and strategic issues.
Professor Shultz has held three chairs: The Olin Distinguished Professorship of National Security Studies at the U.S. Military Academy, Secretary of the Navy Senior Research Fellow at the U.S. Naval War College, and Brigadier General H. L. Oppenheimer Chair of War-fighting Strategy, U.S. Marine Corps. Currently, he is Senior Fellow at the U.S. Special Operations Command's Joint Special Operations University.Previously, in Washington, he served as director of research for the National Strategy Information Center from 2004-2011. In 2010 he completed with Roy Godson a major study focused on Adapting America's Security Paradigm and Security Agenda to meet the challenges posed by 21st Century armed groups and the states that support them. He also completed Armed Groups and Irregular Warfare: Adapting Professional Military Education, a curricular guide for military educational institutions.
Since the mid-1980s, Shultz has served as a security consultant to various U.S. government departments and agencies concerned with national security affairs. Currently, he is a consultant to the Special Operations Command's Joint Special Operations University where he has served as a Senior Fellow for the last ten years. As a senior fellow, he deploys abroad as a member of military education teams to teach terrorism/counterterrorism and special operations integration courses to foreign military officers. In the last three years, in the Middle East, this has included programs in Saudi Arabia, Jordan, the UAE, Tunisia, and Morocco. As a senior fellow, he also conducts unclassified research and prepares studies for publication in SOCOM/JSOU's monograph series.
He completed in 2012 with the assistance of the U.S. Marine Corps an in-depth study analyzing the Marine Corps' 2004-2008 counterinsurgency campaign in Anbar Province in Iraq. To complete the research, he had access to the records and Iraq oral history collection at the Marine Corps History Division. He also interviewed members of the leadership of the USMC that carried out that campaign. The study was published under the title The Marines Take Anbar: The Four-Year Fight against Al Qaeda (Annapolis, MD: The Naval Institute Press, 2013). A monograph based on the research was published in 2012 by the U.S. Naval War College Press titled Organizational Learning and the Marine Corps: The Counterinsurgency Campaign in Iraq.
A more recently completed research project focused on the topic of Security Sector Reform (SSR). The study developed a framework for the U.S. to adapt SSR theory and practice for addressing the dysfunctional security sectors of fragile states. Next, it examined the state of capabilities across the U.S. government for addressing these challenges. Finally, the project identified gaps in those capabilities that needed to be filled if the U.S. is to employ SSR as an effective policy tool. The project was a joint effort with Dr. Querine Hanlon. It was published as a book in 2016 by the U.S. Institute of Peace Press under the title Prioritizing Security Sector Reform: A New U.S. Policy.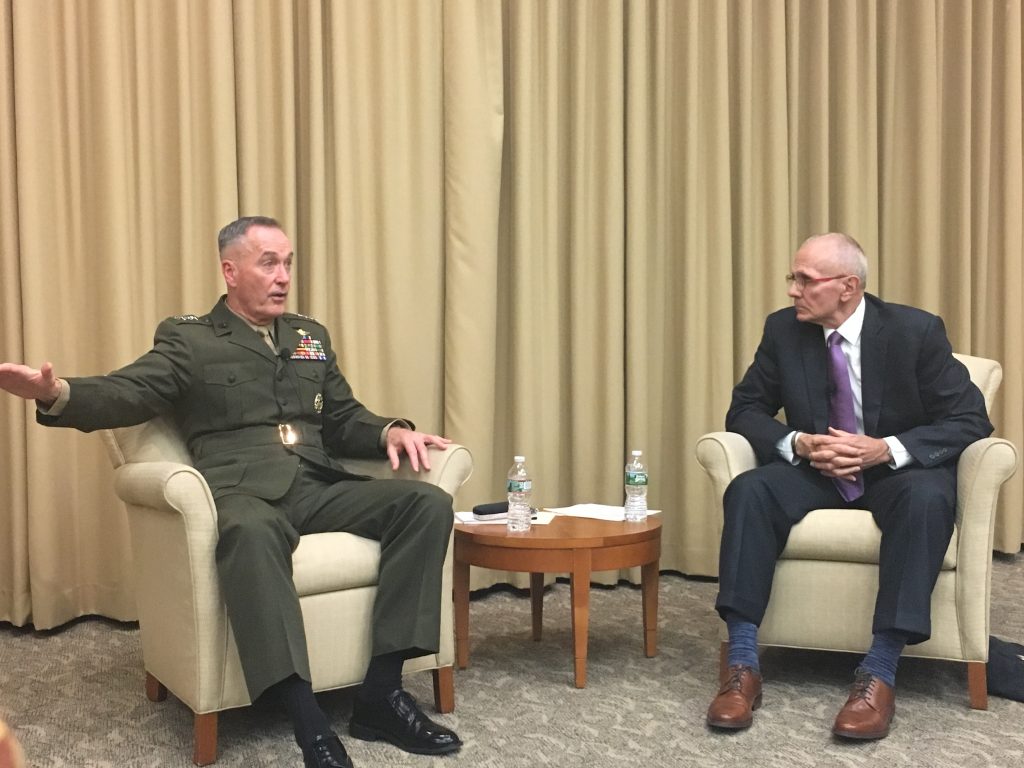 In 2015, Professor Shultz initiated a new research project which examined military innovation in the war in Iraq. During that war, the U.S. assigned its national counterterrorism (CT) force to find, degrade and dismantle the Al Qaeda dominated insurgent apparatus (AQI) that had burgeoned in 2003-2004. Deployed as Task Force 714, it soon became apparent once in Iraq that the national CT force was not able to effectively execute this mission. It could not keep pace with, let alone reduce AQI's burgeoning operational tempo. However, over the next four years, TF 714 transformed itself and in doing so was able to eviscerate AQI, making a major contribution to the successful counterinsurgency campaign waged by U.S. military forces. The research puzzles this study addressed focuses on two questions–how and why TF 714 was able to learn and innovate in the midst of war. The study was first published as a monograph in June 2016 as Military Innovation in War: It Takes a Learning Organization–A Case Study of Task Force 714 by U.S. SOCOM's JSOU Press. Three subsequent articles have been published based on further research. "Post-9/11 Wartime Intelligence Analysis," Intelligence and National Security (No. 7, 2018). "The Irreducible Minimum: An Evaluation of Counterterrorism Operations in Iraq," PRISM: The Journal of Complex Operations (No. 3, 2018). "U.S Counterterrorism Operations during the Iraq War: A Case Study of Task Force 714," Studies in Conflict and Terrorism (Fall 2016).
His current research project–Intelligence Leads the Way: Transforming Counterterrorism Task Force 714 for 21st Century Irregular War in Iraq–examines whether and to what extent the kinds of intelligence methods and capabilities employed by the U.S. to meet the challenges posed by 21st century armed groups are different from those employed against 20th century state threats. No study to date has researched the extent to which change actually took place in the operational methods and procedures of U.S. intelligence. To fill this gap, the study exams the extent to which the U.S. adapted the intelligence functions of collection, analysis, and covert paramilitary operations to fight 21st century irregular war. The study has been completed and a manuscript was submitted for peer review to Georgetown University Press in November 2018. Based on a very positive peer review process, Georgetown University Press proceeded to issue a contract on February 25, 2018 to publish the manuscript to the author. The process is now in the editing and production stage.
Other recent books include Insurgents, Terrorists, and Militias: The Warriors of Contemporary Combat (Columbia University Press, 2006; 2009 Paperback Edition) and The Secret War against Hanoi: Kennedy's and Johnson's Use of Spies, Saboteurs, and Covert Warriors in North Vietnam (New York: Harper Collins, 1999; 2000 Paperback Edition).
Other recent articles include: "Non-Violent Civil Resistance Movements: Theory and Practice," in Resistance Views: Tartu Resistance Seminar Essays on Unconventional Warfare and Small State Resistance (Tampa, FL: USSOCOM/JSOU Press, 2018). "International Security Studies: Looking Back and Moving Ahead," The Fletcher Forum of World Affairs (Special Edition 2013). "States in the 21st Century," Geopolitics, History and International Relations (No. 1, 2012). "A QDR for all Seasons," Joint Forces Quarterly (Sept. 2010).

Contact information:
Email: Richard.Shultz@tufts.edu
Telephone: 617-627-2730
Fax: 617-627-3933
Office: Cabot 609C
View faculty webpage