Publication Look Back: A Hope for a Home, Refuge? And Financial Biographies, Volume II.
A Hope for a Home: A brief compendium of financial journeys of refugees and asylum seekers in Jordan
Refuge? Refugees' Stories of Rebuilding their Lives in Kenya
Volume II: Financial Biographies of People Coping with New Surroundings.
---
A Hope for a Home: A brief compendium of financial journeys of refugees and asylum seekers in Jordan
By Swati Mehta Dhawan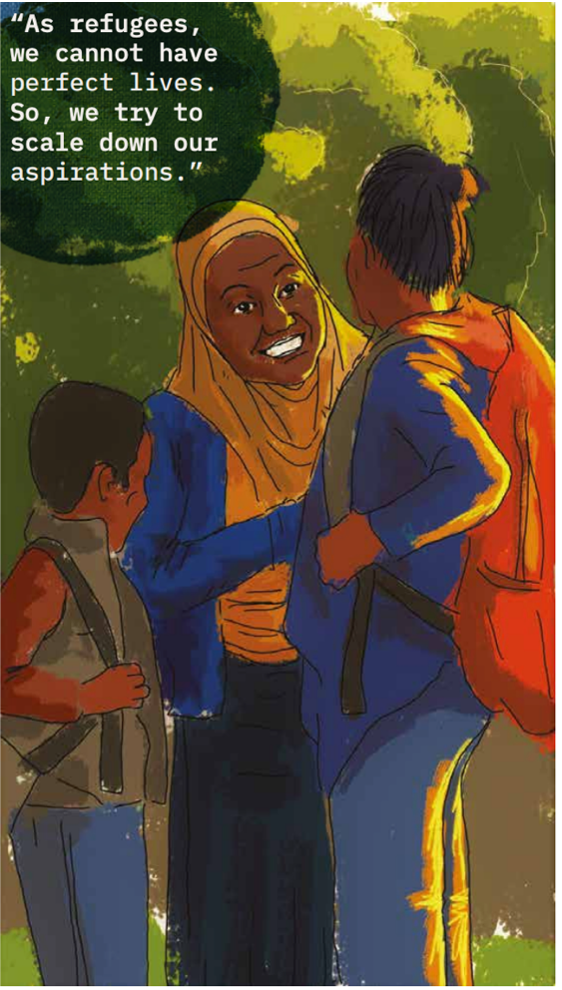 In this compendium of financial biographies, we get a glimpse of fifteen journeys. These are journeys of people who fled their homes in Syria, Iraq, Yemen, Sudan, and Somalia to seek refuge in Jordan and Kenya. This book aims to bring forth the struggles of refugees and their frustration with not being able to control their lives. As we map their financial journeys through these trials, we see how refugees find their courage and resilience in their hope for a better future. Over 2019 and 2020, the FIND team conducted original empirical research in Jordan and Kenya, to provide insights on how refugees and asylum-seeking households in urban settings manage their livelihoods and financial lives.
.
Story Highlight:

Entrepreneurship Amidst Displacement
Narrated by Amina, 35, Sudanese
Back in Sudan, Amina was an agricultural engineer by training. Amina, together with her family, decided to leave Sudan after her husband was targeted by the government. She and her family fled to Jordan, hoping to be resettled into the United States, where Amina already had a family and support system. However, policies under the Trump Administration put Amina's plans on hold. Overcoming this shock was tough initially, but with time Amina accepted that she would be staying in Jordan for longer than she had imagined. This gave Amina the focus and energy to make use of her time in Jordan. Amina and her husband Abdul were some of the few non-Syrian participants, and the only non-Syrian family, who had managed to grow their livelihoods.
You can find the rest of Amina's Story beginning on page 63 the publication.
---
Refuge? Refugee's Stories of Rebuilding their Lives in Kenya
By Sophie Gitonga, Ray Mwihaki, Julie Zollmann, and Kim Wilson. Illustrated by Liyou Zewide
As of January 2021, more than half a million refugees were living in Kenya, forced from their homes by political violence and its aftermath in Somalia, South Sudan, Democratic Republic of Congo, Ethiopia, Rwanda, Uganda, and Burundi. While Kenya has hosted refugees since its independence, larger flows began in the 1980s, and by the 1990s, the government had begun restricting refugees' socio-economic freedoms. The stories here-in were gathered painstakingly by refugees themselves, some writing their own stories and others recounting their histories to fellow refugees helping them articulate their experiences. These stories come from refugees initially hailing from the Democratic Republic of Congo, Ethiopia, South Sudan, Somalia, Rwanda, Uganda, and Burundi. All of these stories were written during the Covid-19 pandemic.
.
Story Highlight:

The Hopeful Merchant
Narrated by Abdi, 37, Nairobi
One thing I have learnt in this life is, you've got to know how to adjust and adjust quickly. No one knows what will happen tomorrow, but being ready to adapt and move on will see you through tomorrow and the day after.
Abdi spoke foundly of his life in the Congo, prior to fleeing the country. Abdi spoke of his land and his cattle, and that he and his growing family never lacked anything. In 2015, when fighting broke out close to where Abdi was living, he and his family fled towards peace.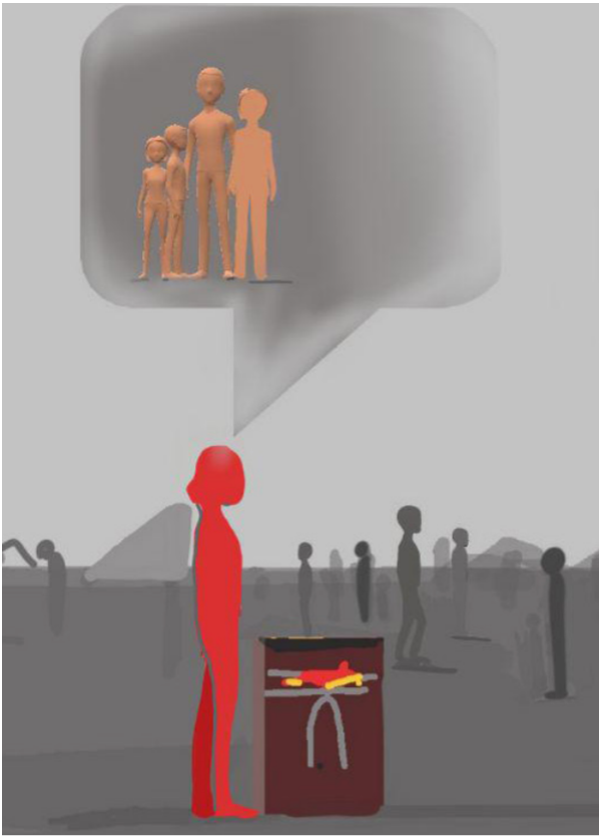 "My wife held onto our firstborn child and I, our second born who was three years old at the time. We got separated. My wife and firstborn fled through Burundi and into Addis Ababa due to high insecurity in Burundi. Running most of the way, I fled through Uganda with my last-born. With no money, food, or clothes, we endured a one-day walk from Masisi to Bunagana border and on to the Gisoro border. We meet angels along our journeys, and on mine, a good samaritan paid for our trip to Kampala where we had a relative."
After 2 long years of separation, Abdi reunited with his wife and first-born child. The reunion was short-lived; however, as Abdi was denied paperwork to stay in Ethiopia with his family. "In October 2019, we shared tearful goodbyes, and I came back to Nairobi to be with my last-born who was turning eight years old." While in Nairobi, Abdi invested in 3 separate businesses in order to provide for himself and his family. But despite a constant set of challenges, Abdi persevered enough to secure a stable livelihood.
"Many times, I have been forced to start afresh. I have a child to care for and a future to hope for, so I cannot stop. I pick up again, rebuild, and push forward."
You can find the rest of Abdi's Story beginning on page 29 of our publication.
---
Volume II: Financial Biographies of People Coping with New Surroundings
In Volume II, Financial Biographies of People Coping with New Surroundings, we examine the lives of migrants and refugees who are managing new environments, be they displaced for long periods, in limbo waiting for the chance to move onward, or settling into their final destinations. Drawing on research undertaken in 2019 and 2020 of over 400 in-depth interviews, our profiles include material from Tijuana, Mexico; Tunis, Tunisia; Quito, Ecuador; Jijiga, Ethiopia; Kampala and Bidi Bidi Camp, Uganda; as well as Nairobi, Kenya and Amman, Jordan. In Ethiopia, respondents had been near Jijiga for between 10 and 20 years. Most respondents had been coping in their new surroundings between two and four years. These biographies explore stories of adaptation, adjustment, and in some cases, integration.
.
Story Highlight:

You Must Hustle
Narrated by Simon, 29
"I am the one who provides for the family," Simon, age 29, began. "I pay rent and buy food. I also pay my own school fees." Most of Simon's income is spent on his school fees, a cost of 350,000 shillings ($94.70) per term. Simon's diploma course in mechanical engineering is an important step in his career journey, a journey complicated by both displacement and financial hardship.
In 2015, Simon and his sister were students in Juba when they learned their father had been killed in a crossfire between the rebel militia and government soldiers. They agreed it was time to leave South Sudan. However, their migration to Uganda was more economically motivated than it was by their lack of safety.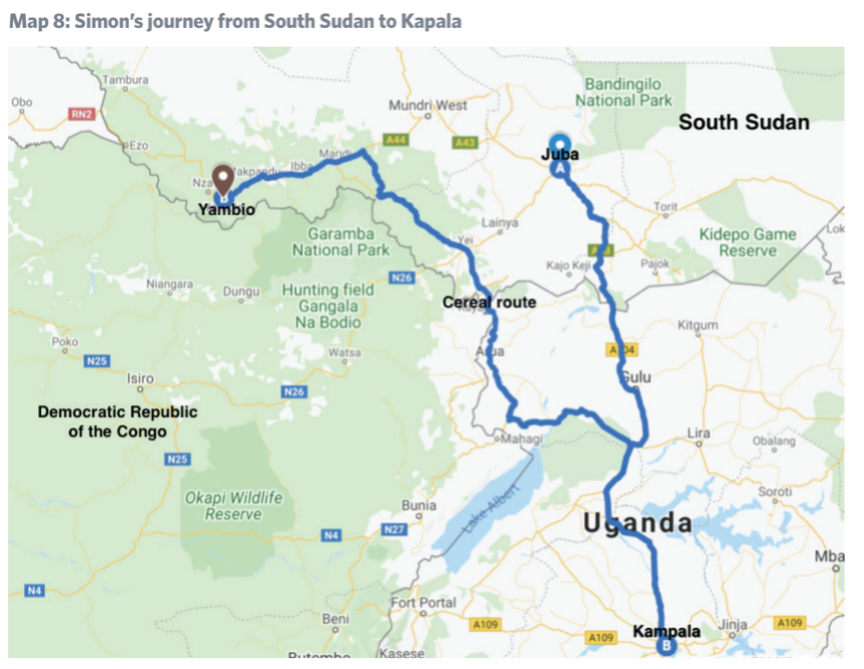 Denied refugee papers in Kampala, Simon struggled to find work. Motivated to support his family and continue to pay school fees, Simon invested his $200 in savings to begin a cereal business. Simon purchases the cereals in Kampala for a cost of UGX 40,000 ($10.80) per bin. He then loads them onto trucks that travel through Congo and onward to South Sudan. Sometimes Simon's journey from South Sudan to Kampala takes up to a month for the goods to be delivered, especially during the rainy season. His relatives receive the load, sell the goods, and then return the proceeds to Simon via MAF airline parcel delivery or a family friend traveling to Kampala. Simon's relatives don't take a cut of the profit. "They know that we are struggling here in Uganda," he explained.
Simon's cereal business has recently taken the back burner to his studies. "My business has gone down because I am busy with schoolwork," he said. "You must hustle," Simon continued, "I [do] any work that would give me money. Like working in construction sites." But Simon now has his sights set higher, dreaming of more financial security and autonomy in his work life. "I decided to do mechanical engineering because I will be self-employed. I will be the one to decide my salary and what to pay my workers," he reflected.
You can find the rest of Simon's Story beginning on page 32 of our publication.
---
Fresh FINDings is made possible through a partnership among Tufts University, the Katholische Universität Eichstätt – Ingolstadt (Catholic University or KU), the International Rescue Committee and GIZ. Fresh FINDings also features work sponsored by Catholic Relief Services, Mercy Corps, and the International Organization for Migration.
Contact: Kimberley.Wilson@tufts.edu