Posts Tagged student
Members of Tufts Mountain Club participated in the Jumbo Stampede 5K during Homecoming weekend while wearing full climbing gear. They came with a plea for President Lawrence S. Bacow, who is leaving Tufts next summer: "Don't Leave Me, Larry!"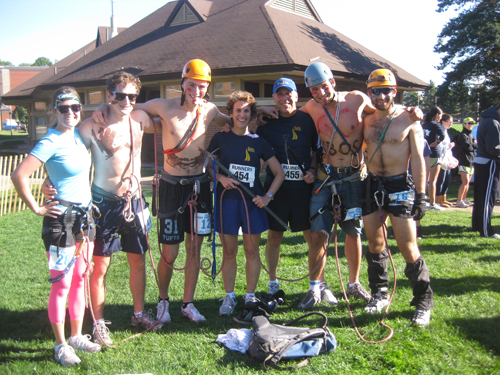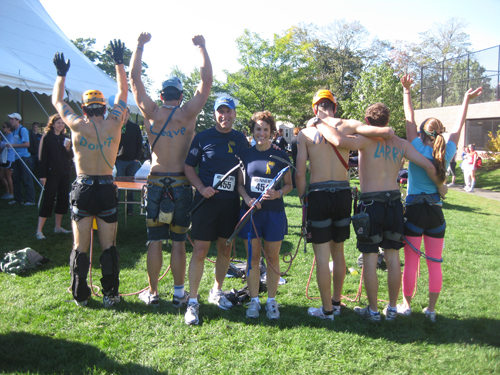 Students from Tufts' Institute for Global Leadership were recently featured in last week's Study Abroad Page by the Global Post. All members of Exposure, the institute's photojournalism program, Kahran Singh (A'11), Amy Connors (A'12), Senait Debesu (A'12), Chelsea Grayson (A'12) and Louise Blavet (A'12) spent the summer capturing Hue, Vietnam. The group used their time among the sand dredgers, factory workers and fishermen of Hue to provide a detailed photo account of the Vietnamese experience. Although each student chose different themes of focus, the images generally centralized around the coastal village of An Bang and the Perfumed River, which were notorious for its floating villages of house boats.
Assistant Professor Joshua Kritzer from the Chemistry Department and his graduate and undergraduate research students recently addressed the question "What makes a good scientist?"
The video offers surprising answers that veer away from our assumptions about a typical science student. Hayley Marcus, an undergraduate researcher, says:
"It's not just being good at it, and doing well in those classes. It's really enjoying what you're learning, and realizing you can apply it in so many ways; and getting excited in class, when you make connections [between] things you learn and things you already knew about; or, you are just out everyday, and you realize you can explain why something is happening the way it's happening. It's just a passion and a love and an excitement for it that – once I realized I really had that – made me want to pursue a career in the sciences."
In the video, Professor Kritzer offered advice to students considering a career in the sciences. He cited a "core desire" to explore and investigate one particular system or phenomenon, as a strong indicator of having the temperament of a scientist. He also mentioned creativity, imagination, and willingness to guess, and to test guesses, as important qualities of a successful scientist.