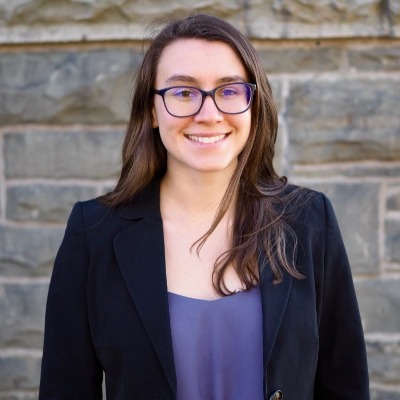 Education
• MPH, 2022, Epidemiology and Biostatistics, School of Medicine, Tufts University
• MS, 2022, Nutrition Epidemiology and Data Science, Friedman School of Nutrition Science and Policy, Tufts University
• BS, 2018, Human Biology, Health, and Society, Cornell University
Research Interests
• Applying simulation disease modeling to nutrition policy analysis
• Analyzing cost-effectiveness of Food is Medicine programs and other strategies to reduce cardiometabolic disease burden in the U.S.





Research Highlights
Publications and Presentations
Lee M*, Lauren B*, Zhan T, Cho J, Klebanoff MJ, Abu Dayyeh BK, Taveras E, Corey KE, Kaplan LM, Hur C (2019). The cost-effectiveness of pharmacotherapy and lifestyle intervention in the treatment of obesity. Obesity Science & Practice 6(2): 162-170.
Lauren B, Ostvar S, Silver E, Ingram M, Oh A, Kumble L, Laszkowska M, Chu JN, Hershman DL, Manji G, Neugut AI, Hur C (2020). Cost-effectiveness analysis of biomarker-guided treatment for metastatic gastric cancer in the second-line setting. Journal of Oncology. doi: 10.1002/osp4.390.
Omidvari AH, Ali A, Hazelton WD, Kroep S, Lee M, Naber SK, Lauren BN, Ostvar S, Richmond E, Kong CY, Rubenstein JH, Lansdorp-Vogelaar I, Luebeck G, Hur C, Inadomi J (2019). Optimizing management of patients with non-dysplastic and low-grade Barrett's esophagus: a comparative modeling analysis. Clinical Gastroenterology and Hepatology 18(9): 1961-1969. doi: 10.1016/j.cgh.2019.11.058.
Lauren BN (2019). Cost-Effectiveness of Cytosponge® Surveillance Following Endoscopic Eradication Therapy. CISNET Annual Meeting. National Cancer Institute. Rockville, Maryland. (Oral presentation).
Communication Leader, Tufts Chapter of the American Statistical Association, 2020
MS Scholarship, Friedman School of Nutrition Science and Policy, 2020-2022
Principles of Biochemistry. Undergraduate course, Cornell University. Teaching Assistant (Fall 2017)