1969
The 1969 White House Conference on Food, Nutrition, and Health – the first and still only White House Conference on food – was a landmark event that had significant and lasting policy impacts on reducing caloric hunger in the United States. Commissioned by President Nixon, supported by Senators George McGovern and Bob Dole, and chaired and organized by Dr. Jean Mayer – a nutrition scientist and founder of the Tufts Friedman School of Nutrition Science & Policy – the historic conference convened diverse stakeholders and dedicated citizens to craft a bipartisan agenda for ending hunger in the U.S. Of the approximately 1,800 specific recommendations generated by the conference, an estimated 1,650 were implemented.
These actions transformed the U.S. policy landscape, resulting in nearly all our current national policies around food and nutrition:
expansion and standardization of the Food Stamp Program (now SNAP)
expansion and standardization of the National School Lunch Program
creation of the School Breakfast Program
creation of the Special Supplemental Nutrition Program for Women, Infants and Children (WIC)
advances and modernization of the development of dietary guidelines, nutrition education
standardized food labeling, including the Nutrition Facts label
Together, these programs and policies have been highly impactful, significantly reducing caloric deficiency and diseases of undernutrition in the United States.
In addition, building on his experience with this Conference and the subsequent policy actions, Dr. Jean Mayer became the President of Tufts University, where one of his first actions was to establish the Friedman School. His prescient vision was that informed action on food and nutrition must bring together not only the sciences of biochemistry and human metabolism, but also of economics, policy, agriculture, sustainability, food systems, behavior change, and communication: a multi-disciplinary approach to cutting-edge research, education, and public impact. His leadership of the Conference further crystalized that "Nutrition is not a discipline, but an agenda" – that the academic enterprise must serve the public good through active involvement with policy makers, the media, the private sector, and other stakeholders to inform and shape public policy at national and international levels.

"Nutrition is not a discipline, but an agenda"

Dr. Jean Mayer
---
2019
Fifty years after the first Conference, Tufts University and Harvard University co-hosted a celebration of the 1969 Conference's achievements. Echoing the first Conference, the event brought together diverse stakeholders from academia, local, state, and federal government, the media, business, consumer organizations, healthcare representatives, agricultural and trade organizations, social action groups to highlight the actions and successes from the first Conference and, crucially, the new health, equity, economic, and sustainability burdens of food and nutrition in the U.S.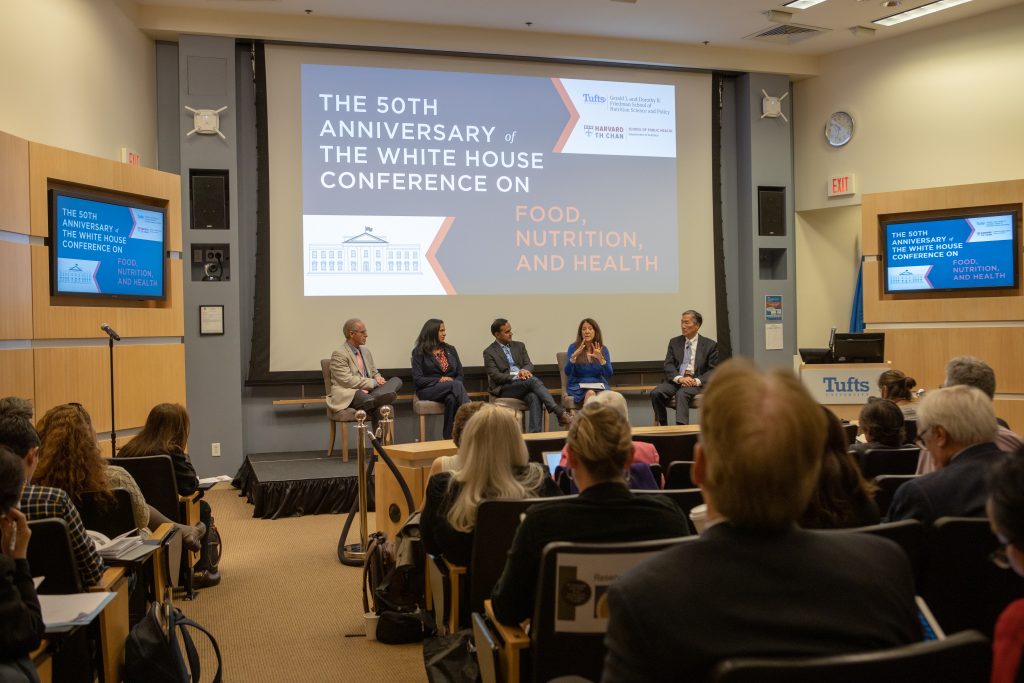 This anniversary event looked back, but also forward to the new challenges of our time – and the opportunities for solutions. The accompanying Report of the 50th Anniversary of the White House Conference on Food, Nutrition, and Health aimed to renew the bipartisan spirit and vision of the 1969 event in engaging the great challenges and opportunities of food and nutrition for our time. Recommendations for specific evidence-based policy actions were summarized across eleven policy domains.
During and following the 50th anniversary conference, Dr. Dariush Mozaffarian, the Dean of the Friedman School and the holder of the Jean Mayer Professorship at Tufts University, and other experts, also called for a second White House Conference on Food, Nutrition, Hunger, and Health to chart a national strategy around food and nutrition. Such a conference would convene the diverse federal agencies, both houses of Congress, and other diverse stakeholders to re-imagine our national food system for the next 50 years, making the United States the 21st century breadbasket for nourishing food that heals our bodies, reduces healthcare spending, supports our military, stewards our natural resources, and creates new businesses and jobs.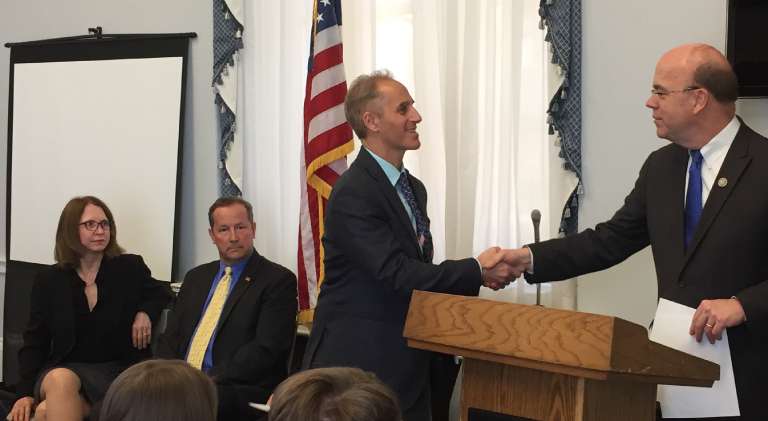 The Friedman School's efforts in support of this conference also included work in support of the creation of the bipartisan Food is Medicine Working Group within the House Hunger Caucus, which launched in January 2018 and whose work highlights the costs related to hunger and the importance of keeping U.S. agricultural and nutrition policy rooted in health-focused research that shows families and communities are healthier when they have access to nutritious food like fresh fruits and vegetables. In 2019, the working group drafted and proposed H.R.6774 – Medically Tailored Home-Delivered Meals Demonstration Pilot Act of 2020. The Working Group's first hearing included Dean Dariush Mozaffarian as a panelist, as well as other food and ag policy leaders, and centered on the impact of hunger and malnutrition on the nation's health.
Op-Eds published following the 50th Anniversary Conference in support of a second White House Conference included:
In addition, a number of Op-Eds called for increased federal nutrition research and coordination – a key role that such a Conference would play:
---
2020
In 2020, with support from the Rockefeller Foundation, the Federal Nutrition Policy Advisory Group launched. The group identified their focus on building national momentum and support for effective policies in three areas: (1) advancing nutrition science, (2) creating greater coordination of federal food and nutrition policy, and (3) leveraging Food is Medicine interventions in healthcare. These efforts build upon and expand the work and progress the previous year, which assessed and highlighted the importance of accelerating federal nutrition science and coordinated national food and nutrition policy. Membership includes former USDA Secretary Dan Glickman, former FDA Commissioner David Kessler, former Senator Tom Harkin, Bipartisan Policy Center chief medical advisor Anand Parekh, and a number of scientists, scholars, and former National Institutes of Health staffers. Full current and former membership can be found here.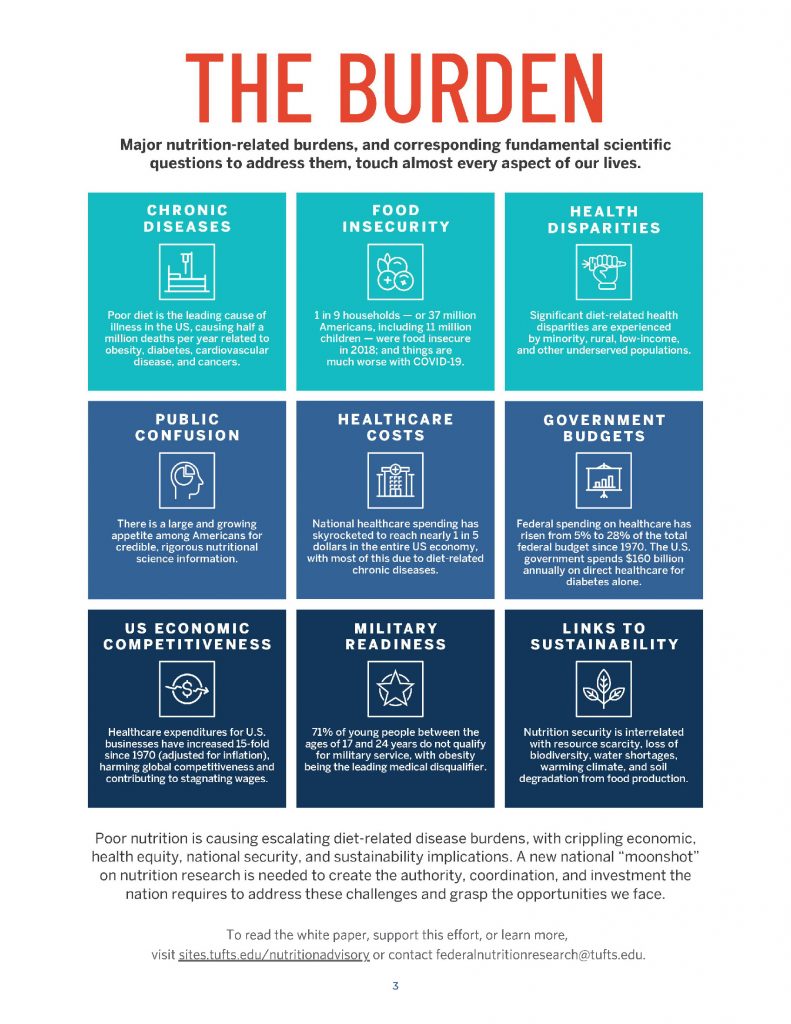 On July 20, The Federal Nutrition Policy Advisory Group, led by Sheila Fleishhacker and with the assistance of Paul Coates and Van Hubbard, published the white paper, Strengthening national nutrition research: rationale and options for a new coordinated federal research effort and authority on the American Journal of Clinical Nutrition. More information, an executive summary, and PDF of the paper can be found here.
Shortly following the white paper's publication and announced during a July 2020 event hosted by the Bipartisan Policy Center, advocacy groups, academic institutions, non-profit organizations, and food companies and startups began voicing their support of the white paper's call for increased federal nutrition research funding and coordination. The Tufts University Friedman School assisted in organizing an ad hoc coalition of the myriad of supporters in form of the Federal Nutrition Advisory Coalition. To date, there are over 90 members of the Coalition. From this initial call for increased and better coordinated federal nutrition research, public health nonprofits like the World Central Kitchen to patient advocacy groups like the American Diabetes Association, global food brands like PepsiCo to pioneering startups like January AI, Coalition members continue to support this work. With a primary focus on a White House Conference on Food, Nutrition, Hunger, and Health to further develop federal nutrition assistance policy ideas with the potential to mitigate the systemic health inequities that harm millions of Americans each year, Coalition members call for coordination and updating of the lagging and outdated nutrition research and recommendations.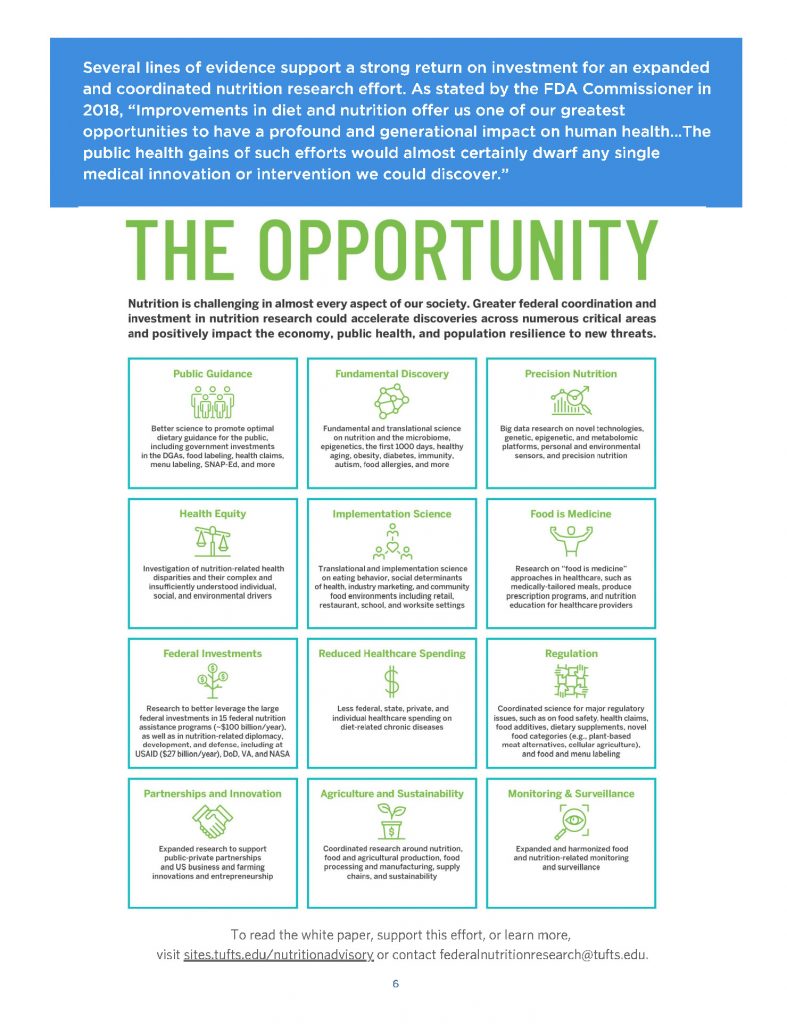 Following the paper publication and Coalition formation, the White House Conference and its implications was a well-received topic of a number of 2020 Congressional events and briefings. One such event was a March 2020 Aspen Institute Congressional Breakfast, which hosted several members, including Representatives Jeff Fortenberry (R-NE) and Senator Tom Udall (D-NM). Speakers at this Congressional Breakfast included former Secretary Dan Glickman, Michael Myers of The Rockefeller Foundation, and Dean Dariush Mozaffarian of the Tufts Friedman School.
Op-Eds calling for increased federal nutrition research and coordination this year included:
---
2021
Following the growing call for increased federal nutrition research and coordination, the Tufts Friedman School participated in countless discussions with Congressional offices who were interested in hearing more about how to better utilize federal nutrition research and what a White House Conference could entail and benefit, including the offices of Senator Cory Booker (D-NJ), Congressman Jim McGovern (D-MA), Senator Roger Marshall (R-KS), and the Congressional Hispanic Caucus. The Friedman School continues to work closely with Congressional leaders, Agency staff, White House staff, and networks of other stakeholders to advocate and inform the need for a second White House Conference.
"We have the food, we have the money, we have the knowledge of what we need to do, we have the infrastructure… we have everything but the political will."

Congressman Jim McGovern (D-MA)
Even prior to these discussions, Congressman Jim McGovern (D-MA) has served as a staunch champion for a second White House Conference to address food and nutrition access and inequality effectively via policy. During his ongoing time in Congress, he has talked organized site visits to speak with people who have experienced food hardships about shortcomings and understand the practical considerations for federal rules and guidelines. He has noted during discussions about the cost and cost-savings of federal nutrition programs:
In the Senate, Senator Cory Booker (D-NJ) has emerged as a second champion, who recognizes the federal government's role to empower family farmers and fight climate change. Booker joined the Senate Committee for Agriculture, Nutrition, and Forestry this year as chair of the new Subcommittee on Food and Nutrition, Specialty Crops, Organics, and Research. He has previously noted his interest in overhauling and coordinating existing hunger and nutrition efforts:
"Our food system is deeply broken. Family farmers are struggling, and their farms are disappearing, while big agriculture conglomerates get bigger and enjoy greater profits. Meanwhile, healthy, fresh food is hard to find and even harder to afford in rural and urban communities alike. In the richest country on the planet, over 35 million Americans from every walk of life are facing food insecurity."

Senator Cory Booker (D-NJ)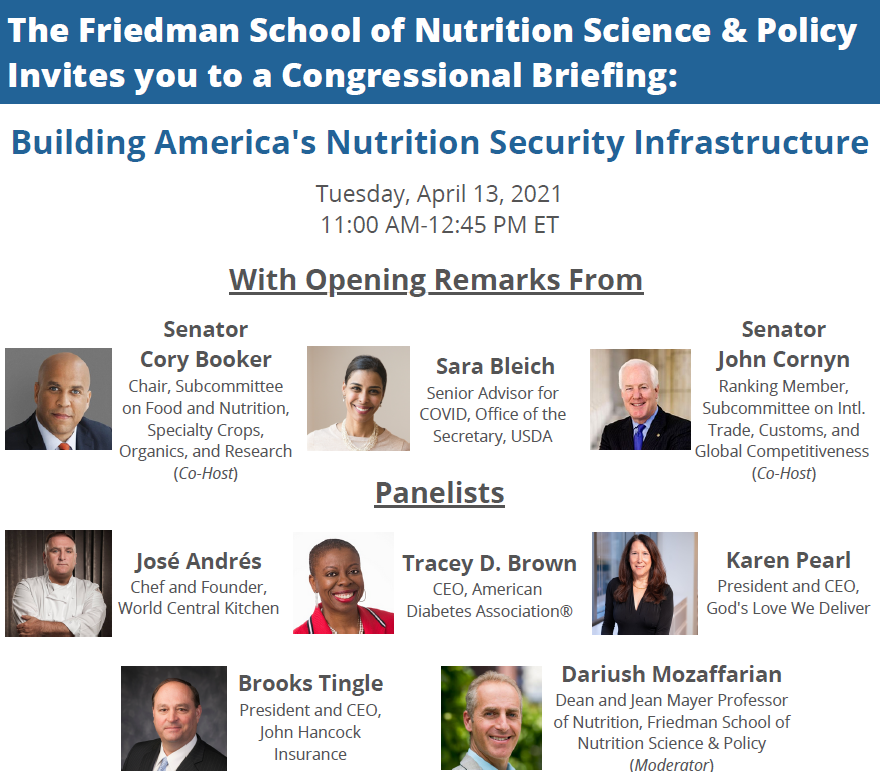 In April, the Friedman School hosted a Congressional Briefing titled "Building America's Nutrition Security Infrastructure" that focused on the nation's nutrition security – focusing primarily on food inequities, food-related chronic diseases, leveraging food as medicine in healthcare, investing in science and innovation, and greater federal coordination to strengthen school meals and other nutrition assistance programs. Senators John Cornyn (R-TX) and Cory Booker (D-NJ) cohosted the event and gave opening remarks. Sara Bleich, Senior Advisor for COVID in the Office of the Secretary at USDA also gave opening remarks. Panelists included José Andrés from World Central Kitchen, Karen Pearl from God's Love We Deliver, Brooks Tingle from John Hancock Insurance, and Tracey Brown from the American Diabetes Association. Dean Mozaffarian served as the moderator.
In September 2021, the U.S. Government Accountability Office (GAO) released the report "Chronic Health Conditions: Federal Strategy Needed to Coordinate Diet-Related Efforts" following a 2018 Congressional letter to the GAO which cited the Tufts Friedman school and its research focus on diet-related diseases. The report itself identified 200 separate federal efforts related to diet—fragmented across 21 agencies—for reducing Americans' risk of chronic health conditions. Though individual agencies have taken some actions to coordinate, such as by establishing interagency groups, efforts have not effectively managed fragmentation of diet-related efforts or the potential for overlap and duplication. Such fragmentation has impacted the agencies' ability to achieve certain outcomes: for example, according to agency officials and nonfederal stakeholders, agencies have not fully addressed important gaps in scientific knowledge where research is sparse, including on healthy diets for infants and young children.
Congressional momentum toward a second White House Conference has included the October 2021 bipartisan, bicameral bill calling for a White House Conference on Food, Nutrition, Hunger and Health. A press release about these bills can be found here and the full text of the bill can be found here.
In releasing the bill, Senator Booker noted: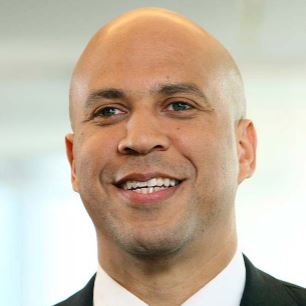 "Fifty years ago, our nation convened a conference to address the widespread hunger crisis in America, leading to the creation and expansion of programs such as WIC and the National School Breakfast and Lunch Program. Despite the progress made, America is grappling with a hunger crisis and now faces a second crisis—one of nutrition insecurity—that is plaguing our nation and hindering the success of our nation's youth as a result of decades-long policy failures in our food system. This bicameral, bipartisan legislation will, in the spirit of 50 years ago, convene a second conference of advocates, healthcare professionals, and farmers and ranchers to address the failures and inequities of our broken food system that is poisoning our communities and preventing us from achieving true justice."
---
Congressman McGovern added upon release:
"Each night, tens of millions of our fellow Americans go to bed hungry. That's just plain wrong. What we lack isn't food or resources; we lack the political will and moral courage to act. The COVID pandemic showed that hunger isn't just a problem for someone else. It's something anyone can struggle with in the blink of an eye. It's time for us to bring together experts and create a holistic, whole-of-government plan to end hunger and nutrition insecurity. I look forward to working with our bipartisan group to make this White House Conference on Food, Nutrition, Hunger and Health a reality."
---
Dean Mozaffarian also spoke in support of the efforts: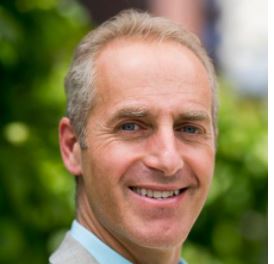 "The time is ripe for a White House Conference to develop a national strategy to fix food. Our country faces a nutrition crisis, harming our health, economy, equity, military readiness, and natural resources. Current federal policies, research, and investments in food and nutrition are fragmented across 21 agencies. A Conference will be critical to re-imagine and re-design our food system toward one that improves health, ends hunger, reduces healthcare spending, advances science and innovation, and boosts our economy for all Americans."
In all, a broad and growing list of stakeholders supports the call for a second White House Conference on Food, Nutrition, Hunger, and Health, both in its form of the proposed bill, as well as a Conference broadly.
Leading up to the bill, the U.S. Senate Subcommittee on Food and Nutrition, Specialty Crops, Organics, and Research of the Committee on Agriculture, Nutrition, and Forestry held a formal Hearing on The State of Nutrition in America 2021. This hearing, perhaps the first in the Senate to focus on nutrition in 50 years, was co-chaired by Senators Cory Booker (D-NJ) and Mike Braun (R-IN). The lead witness was Dean Mozaffarian, who testified that nutrition insecurity and diet-related disease are major problems for the vast majority of Americans and the top driver of preventable healthcare spending and jeopardizing national security. A national strategy to advance nutrition security could be deployed to address these issues, end hunger, improve health, and reduce healthcare spending, and is dependent on a harmonized national strategy.
Secretary Tom Vilsack has publicly supported the call for a second White Houes Conference.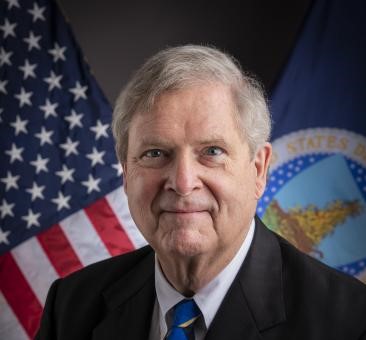 "It's a significant issue that requires elevation. We're moving the dials that we can move at USDA. I think, however, it takes more than that. I think it takes multiple departments focused on this and multiple leaders saying this is an issue that requires some attention."

Secretary Tom Vilsack
Secretary Vilsack recognizes the threat of diet-related diseases to the American population and noted that more than half of the $380 billion per year spent treating cardiovascular disease, cancer and diabetes is paid for by the government, often through programs like Medicare and Medicaid.
Current efforts around organizing and hosting the second White House Conference on Food, Nutrition, and Health are focused on convening public and private stakeholders – including all relevant domestic federal agencies – to build a national consensus strategy around food and nutrition with a concrete plan of action and clear benchmarks to measure success.
Op-eds calling for a White House Conference included: