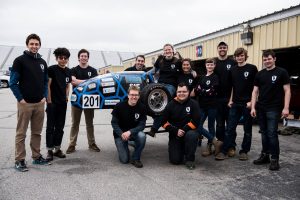 Current Captains:
Jackson Bockhorst (E'17), Jordan Stone (E'18), Catherine Gao (E'18)
Faculty Advisor:
Bill Messner, Mechanical Engineering Department Professor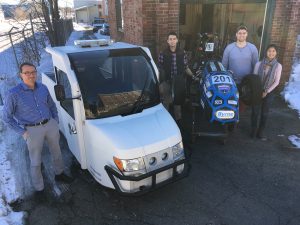 ---
Our History
The Tufts Racing Team began in 2008 under the leadership of Matt Liberatore (E'09) and with support from School of Engineering Dean's Office and the Peter and Denise Wittich Family Fund for Alternative Energy Research.
In 2009, the Tufts Racing team, comprised of more than a dozen students from Tufts School of Engineering, competed for the first time as a "hybrid-in-progress" (all electric) car in the Formula Hybrid International Student Competition at the New Hampshire Motor Speedway. The Tufts team placed second out of four entries in the hybrid-in-progress category.
In 2010, Tufts Hybrid Racing competed again, this time in the gas-electric category, under captain Tom Williamson (E'10). The team placed 12 out of 19 entries in the hybrid category.
After the disappointment of the previous year, the team came back ready to get on track at competition. In 2014-15, under captains Alyssa Hatch (E'15) and Ray Bjorkman (E'15), the team worked tirelessly to get the car ready and were rewarded by getting on track and were the only all-electric entry to do so. The team came in 1st place in the Electric Division at Formula Hybrid 2015.
In 2015-16, in an effort to defend the title and  push the level of engineering, the team under the leadership of Grace Olsen (E'16), Nick Famiglietti (E'16) and Jackson Bockhorst (E'17),  took on the challenge of a direct drive powertrain and moving the battery box inboard. However, at competition the motor was critically damaged and the team was unable to run at competition.
Moving forward in 2016-2017, the team look to return to form with a new drivetrain and rear suspension design. The team, captained by Jackson Bockhorst (E'17), Catherine Gao (E'18), and Jordan Stone (E'18), spend countless hours every week designing and fabricating the car for the Formula Hybrid 2017 competition in May 2017. Big things are coming from the team this year!