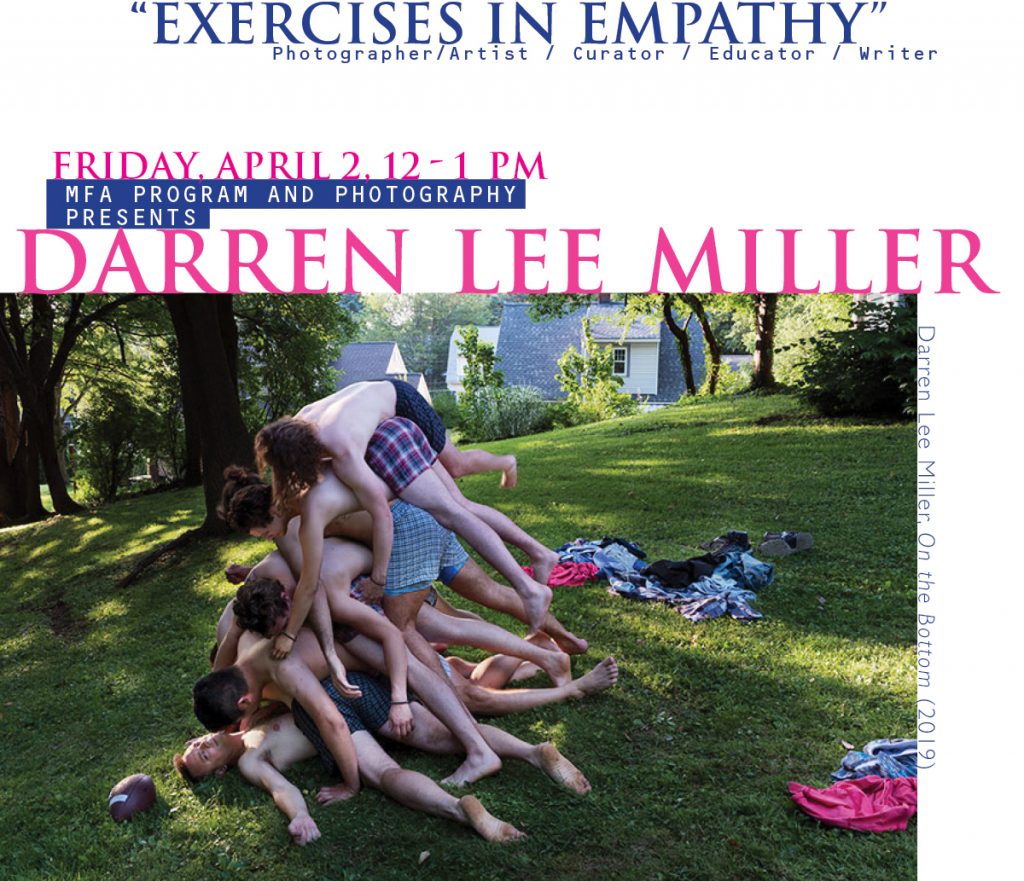 The MFA and Photography programs of SMFA are pleased to co-host Exercises In Empathy, a talk by Darren Lee Miller about his work and practice on Friday, April 2 from 12:00 pm – 1:00 pm, after which he will have several Virtual MFA Student visits for individual critiques.
Darren Lee Miller is an artist, educator, curator, and writer. He is Chair of Photography and Associate Professor at the Columbus College of Art & Design. He was recently awarded a Fulbright Research Fellowship to conduct a community art project, Palavras na Minha Boca (Words in My Mouth), at the São Paulo State University (UNESP) in Bauru, Brazil. His teaching, curatorial work, and artwork have been recognized through residencies at Blue Mountain Center, the Vermont Studio Center, the Crawford County Historical Society, the University of Puerto Rico, and in regional and national exhibitions. His writing and artworks have been published in print and online, and acquired by museums, academic galleries, and private collectors, including Adirondack Experience, the Museum on Blue Mountain Lake, Union College, Allegheny College, and the Pennsylvania Historical & Museum Commission.
He received an M.F.A. from the School of the Museum of Fine Arts at Tufts University, and holds a B.F.A. in Photography and Printmaking from The School of Art & Design at the New York State College of Ceramics at Alfred University, obtained also through study at Manchester Metropolitan University in the U.K. He lives and works in Columbus, OH and San Juan, Puerto Rico.