A002/A002B – Welding Studio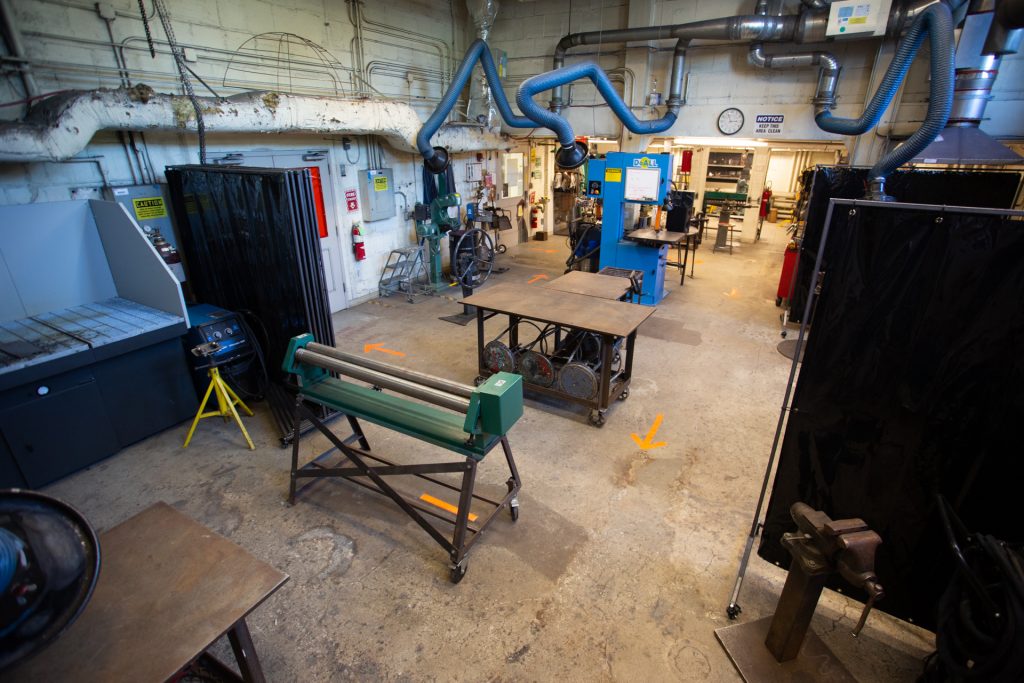 Work in this shop requires the supervision of a Studio Manager or Lab Monitor at all times, as well as the completion of a safety training workshop.
The Welding Studio operates as a research lab in the form of an industrial metalworking shop. After a mandatory safety training lead by the Studio Manager, you may receive training specific to your project needs. Students can choose to gain trade-level knowledge of welding technologies or learn how to safely experiment with various processes to redefine how they may be used within the context of contemporary art practice. The shop supports hot and cold work and features a large fabrication space, fully stocked materials room, and high ceilings with an overhead hoist to accommodate large-scale work.
Maximum Capacity – 4
Reservable Capacity – 3
Supervision – Monitored
Access Policy
Authorized users may reserve studio time during monitored hours. Authorization is limited to previously-trained certified users.
Separate entry and exit doors. Users reserve one of three physically distanced welding stations, partitioned by welding screens. Users have shared access to stationary tools, but must coordinate usage while maintain physical distance. One-way circulation around stationary tools labeled with floor markings.
Additions
No new users trained this fall. New users will have access to the services offered by the studio, but will not have access to the studio itself.
Studio Map