Inclusive Teaching Tips (Big and Small!) From P3's Student Partners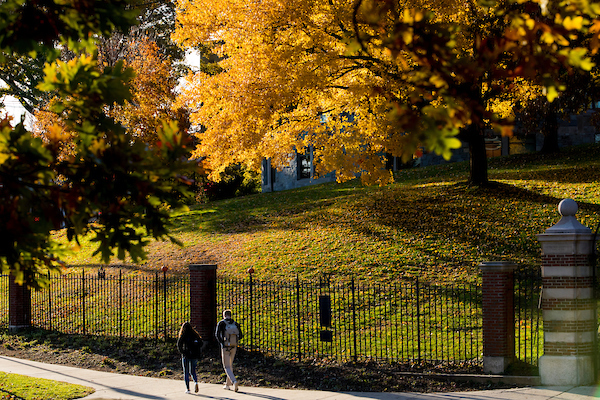 By Langley Topper '21, Jillian Impastato '21, Eve Abraha '21, Kamar Godoy '22, Michelle Nguyen '22, Kianie Ramirez '22, and Kayla Elliott '23
Who are we?
We are a group of 7 undergraduate students (5 student partners and 2 facilitators) who are in the pilot semester of the Pedagogical Partnership Program (P3)! The Pedagogical Partnership Program creates the opportunity for students and faculty partners across disciplines to spend a semester together to create innovative strategies for enhancing classroom student engagement, reflecting on equity, and improving learning outcomes. These partnerships are intended to alter power dynamics, allowing faculty to look for and understand our student perspectives, and gives us the opportunity to constructively co-create improved learning experiences. We think together about our current experiences of learning environments and work to evolve pedagogical approaches.
How is P3 structured?
A student and a faculty member are paired together for a semester. Student partners observe one of their faculty partner's class sessions each week and then the partner meets weekly outside of class to engage in conversation. Each week the student cohort meets with the student program coordinators and each month the faculty cohort meets with the program advisor, Ryan Rideau from CELT.
P3's Tips for Inclusive Teaching
This semester, we have been thinking about things like: how to increase engagement in Zoom seminars, how race impacts social dynamics within lab groups, how to support student growth through a flipped classroom approach, and more!
Here are some observations and tips from P3 student partners!
DEI isn't Rocket Science
Kamar Godoy Class of 2022 partnered with Prof Hugh Gallagher in the Physics Department and Graduate Teaching Seminar: Teaching for TA's
As a student I have always been aware of the struggles that I have faced as a black person at a PWI. I have always thought of ways in which the class could have been improved to correct the lack of equity in the learning environment. Unfortunately, I have never been able to fully articulate these solutions and provide my professors with clear methods to tackle these issues in a classroom, until working with the Physics department and learning communication techniques through the P3 program. Through this collaboration we have been able to tackle our goal of having TA's and faculty understand the importance of diverse perspectives and equity through student perspective panels, cultural humility and social and emotional learning discussions. This collaboration is meant to be a safe space for student and faculty partners to ask questions and gain insights from each perspective to collaboratively enhance the learning experience of students. So far I would say we are making great strides in attempting to knock down the walls preventing students from getting the most out of their academic experience. These efforts for equity should not be siloed to the humanities and social sciences; DEI isn't rocket science!
Do more than listen!
Kianie Ramirez Class of 2022 partnered with Prof Vesal Dini and Physics 11
One of our partnership's main goals this semester has been to gather as much actionable feedback as possible because it creates a better learning experience for the students. By setting norms of constant feedback and an open atmosphere, my faculty partner and I were able to comfortably discuss positives and potential improvements in how the course was going. With active observations and surveys, we were able to adjust and change aspects of the course. Oftentimes when pitfalls are acknowledged or become apparent through surveys or general student feedback, their voices are disregarded or "put off" till next semester or next year. It's essential to act upon feedback received as soon as possible so the students feel heard, supported, and valued as individuals.

Simple adjustments can make a big difference!
Kayla Elliott Class of 2023 partnered with Prof Elizabeth Lemons and Religion and Film
In the midst of this pandemic, it has been increasingly challenging to foster an interactive classroom environment. While it is important to keep students connected, it's just as important that there are equitable practices in the classroom. At the beginning of the semester Professor Lemons and I noticed that students were more reserved during whole group discussions. It's important for professors to note that all students may not have access to the same resources necessary for an effective virtual workspace. To encourage participation Professor Lemons opened up the chat function as a way for students to share if they preferred to share that way. Additionally, she and I utilized the breakout room feature and assigned student leaders to guide the conversation. We noticed that students were more engaged after implementing these strategies. Through the mid-semester survey, we noticed that students appreciated this as well!

Show your students you care!
Michelle Nguyen Class of 2022 partnered with Prof Kerri Modry-Mandell and Developmental Psychopathology & Adaptation
The transition to virtual learning has been hard for professors and students alike. With that being said, the biggest tip I have to give is to always think about intent versus impact. I've learned through the partnership that most professors do put a lot of work and effort into the course's curriculum. However, sometimes their intentions in the course, set at the beginning of the semester, do not always impact students as they were intended. Circumstances change throughout the semester and hardships surface. As a student partner, I observe how the professor's current decisions directly impact the students' learning and engagement. Creating flexibility in the final projects, having numerous breaks throughout class time, and using different platforms to encourage sharing were changes we implemented to adjust the curriculum in response to the unexpected circumstances students face. It was a decision my faculty partner and I made to show students that in times of need, professors do understand and are willing to change the curriculum to support students. In doing so, it is one step closer to showing students that their physical and mental well-being are truly heard and cared for.

Your equal access curriculum doesn't work
Eve Abraha Class of 2021 partnered with Prof Lauren Crowe and Bio 13
In my time here at Tufts, one of the hardest things for me to do was pass my courses. Not pass with a B+ or above but rather simply receive a D at the minimum. It is astonishing that students like myself feel that "success" (defining that as a B+ and above) is so far-fetched, that a C-D is the best grade I can imagine. Many faculty facilitate classroom settings that don't allow me to be as "successful" as my fellow peers. Why? Well, the first mistake is that professors begin instruction at the level most students are at (a majority privileged group), which leaves me feeling behind from Day 1. If you are not supporting your most marginalized students, then you are not supporting all students. In addition, when you say you will grade and teach all students equally, you inherently allow those students that have fallen between the cracks to continue to get stuck in those crevices rather than uplifting and supporting them. "Supporting" a student like me (Black, low income, first generation, etc), the same way you would support your vastly more privileged students is unproductive for students like myself. It is critical to push for a more equitable approach rather than equal approach. To move with intentionality and equity, you must truly understand the demographic you are supporting and how your curriculum design and teaching is working for those given students. Having a mid-semester survey, for example, is a major way you can receive that feedback and work on improvement. This was something that Professor Crowe and I conducted and we received very valuable feedback on how various demographics of students were resonating with various portions of our curriculum design, and helped us identify where we need to make changes.

If you are a student or faculty member who wants to hear more or get involved in this program, please email Ryan.Rideau@tufts.edu
See Also