Spring 2018
Symposium: Prison & Education: Responsibility of Engagement
February 1 and 2, 2018
This free two-day symposium is organized by the student and faculty leaders of the Tufts Prison Initiative (TUPIT). Featuring a diverse group of formerly incarcerated people, activists, and educators in social justice and criminal justice. Their experiences will highlight the vast discrimination and inequalities that feed into the carceral system- before, during, and after incarceration.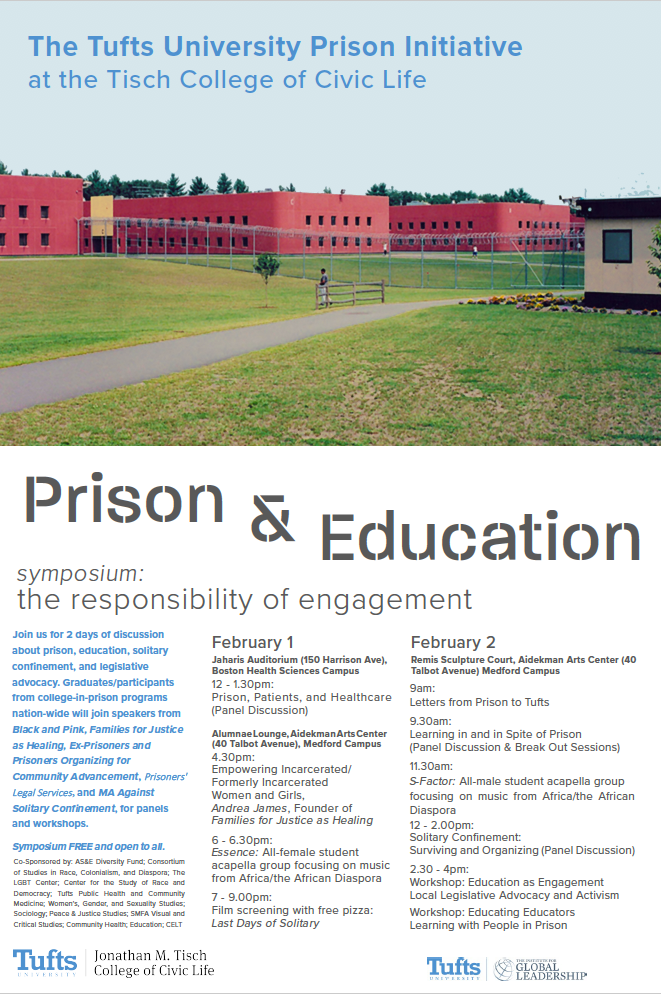 Tufts lecture series at MCI-Shirley
Fridays, 9:00 – 11:00
January 19 – May 11, 2018
Jonathan Garlick, Professor of Oral Pathology Tufts University School of Dental Medicine, The Magic of Stem Cells
Jill Weinberg, Assistant Professor of Sociology Tufts University Arts & Sciences, Law in Everyday Life
David Harris, Tufts University Provost and Senior Vice President and Professor of Sociology
Kim Dong, Research Assistant Professor of Public Health and Community Medicine Tufts University School of Medicine, Correlates and Consequences of Food Insecurity
Heather Curtis, Associate Professor of Religion Tufts University Arts & Sciences, Religion and Politics in American History
Kirby Johnson, Associate Professor of Pediatrics Tufts University School of Medicine, The Language of Genes: What Does DNA Mean?
Kareem Khubchandani, Assistant Professor of Drama and Dance, and Women's, Gender, and Sexuality Studies Tufts University Arts & Sciences, Men Dancing: Performing Gender
Bridget Conley, Assistant Research Professor and Research Director at the World Peace Foundation Fletcher School of Law and Diplomacy, Understanding Mass Atrocities
Chantal Zakari, Professor of the Practice, Graphic Arts Tufts University Arts & Sciences/School of the Museum of Fine Arts at Tufts, Artists' Books: A Democratic Art Form
Steve Cohen, Professor of Education Tufts University Arts & Sciences, Muhammad Ali: I Don't Have to Be Who You Want Me to Be
Erin Kelly, Associate Professor and Chair of Philosophy Tufts University Arts & Sciences, Thinking About Responsibility
Jamie Maguire, Assistant Professor of Neuroscience Tufts University School of Medicine, Introduction to Neuroscience
Fernando Ona, Assistant Professor of Public Health and Community Medicine Tufts University School of Medicine, Refugees, Immigration, Trauma
Ed Saltzman, Academic Dean and Associate Professor of Nutrition and Medicine Friedman School of Nutrition Science and Policy, Why What We Eat Matters
Modhumita Roy, Associate Professor of English English Tufts University Arts & Sciences, Environmental Justice
Anthony Romero, Professor of the Practice, Performance Tufts University Arts & Sciences/School of the Museum of Fine Arts at Tufts, Theories of Activism and Social Justice
Hilary Binda, Senior Lecturer, Visual and Critical Studies, and Women's, Gender, and Sexuality Studies Founding Director of the Tufts University Prison Initiative at Tisch College Tufts University Arts & Sciences/School of the Museum of Fine Arts at Tufts, Closing: Poetry, Politics, and Prison