Queer (In)Justice: How the CJ System Fails LGBTQ+ People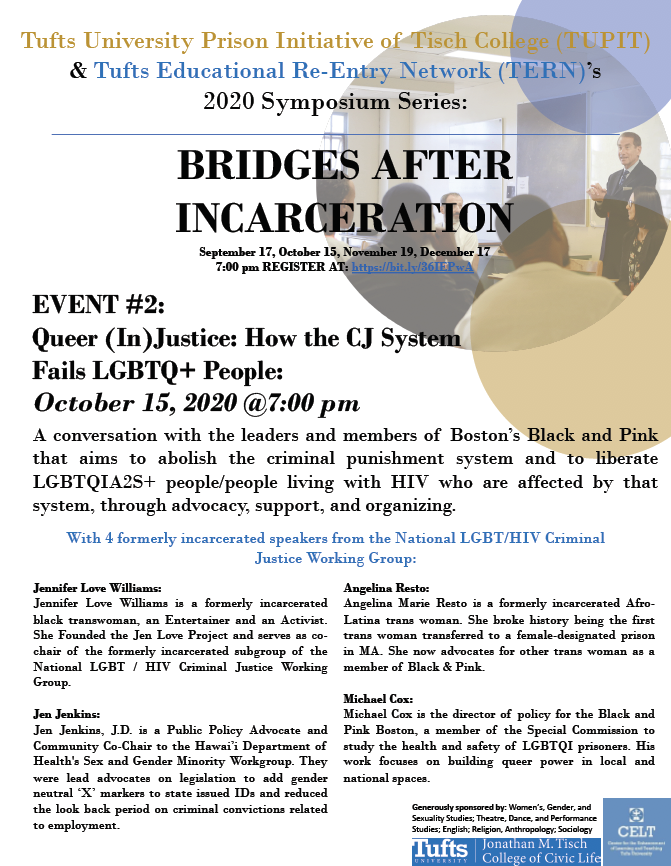 October 15, 2020, 7:00 p.m.
A conversation between TUPIT Director Hilary Binda and leaders and members of Black and Pink Boston that aims to abolish the criminal punishment system and to liberate LGBTQIA2S+ people/people living with HIV who are affected by that system, through advocacy, support, and organizing.
SYMPOSIUM RECORDING FOR VIEWING
Speakers:
Michael Cox is the director of policy for the Black and Pink Boston, a member of the Special Commission to study the health and safety of LGBTQI prisoners. His work focuses on building queer power in local and national spaces.
Jennifer Love Williams is a formerly incarcerated black transwoman, an Entertainer and an Activist. She Founded the Jen Love Project and serves as cochair of the formerly incarcerated subgroup of the National LGBT / HIV Criminal Justice Working Group.
Jen Jenkins, J.D. is a Public Policy Advocate and Community Co-Chair to the Hawai'i Department of Health's Sex and Gender Minority Workgroup. They were lead advocates on legislation to add gender neutral 'X' markers to state issued IDs and reduced the look back period on criminal convictions related to employment.
Moderated by TUPIT Director, Hilary Binda.
Generously sponsored by: Women's, Gender, and Sexuality Studies; Theatre, Dance, and Performance Studies; English; Religion, Anthropology; Sociology; Tisch College and CELT.