Captains: James Michielini and Sal Montesdeoca

James is a senior majoring in Biology and Environmental Studies from Long Island, New York. James joined the ballroom team his second semester at Tufts and couldn't be happier with it! James competes all four styles of competitive ballroom and his favorite dances include Waltz, Foxtrot and Rumba. Although he loves dancing, James's favorite thing about ballroom is getting to spend time with everyone on the team. In addition to dancing James loves animals and spent a semester studying wildlife management and doing research in Tanzania. If James isn't dancing you'll likely find him working in the Crone Lab of the Biology Department or playing board games with friends.

[/one_third]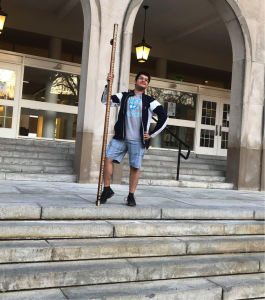 Sal is a junior majoring in Civil Engineering. Originally from Guatemala, he moved to Florida when he was 10 years old and now lives in Massachusetts. Sal first encountered ballroom dancing in his middle school gym class but didn't pay much attention to it until he got to Tufts. Soon after, he fell in love with the team and now dances at any opportunity he is given. While he dances all four styles, Sal loves American Smooth and Rhythm most, with Mambo being his favorite! Outside ballroom, Sal is involved with the Community OF Faith Exploration and Engagement (COFFEE), the Tufts Interfaith Student Council, and the Non-Denominational Christian Fellowship! During his little spare time, he can be found playing either guitar or videogames in his room.
Treasurer: Graham Bright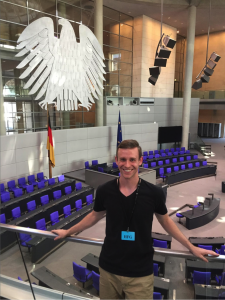 Graham is a senior hailing from outside of Philadelphia and majoring in Quantitative Economics. He joined ballroom his first semester of freshman year and quickly became quite involved. Often dancing all four styles, he particularly enjoys Foxtrot, Quickstep and Samba. When he's not on the dancefloor, Graham turns to Wind Ensemble and Tufts Trading Fund to keep busy. Outside of that he also enjoys practicing his German, reading and playing video games.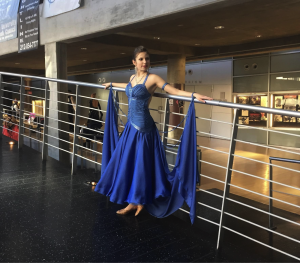 Show Director: Julia Bront
Julia is a senior from New Jersey majoring in English and Spanish, and she is Pre-Law. She competes at the Silver level in all four competitive styles, and absolutely cannot choose a favorite. She has wanted to be Show Director since her freshman year, so she's incredibly excited to finally do it. Outside of ballroom, she's involved in the Tufts Literacy Corps and the Russian and Slavic Student Association. If you ever see her off the dance floor, Julia can be found singing/playing music, writing, or playing video games.
Outreach Chair: Salt Snyder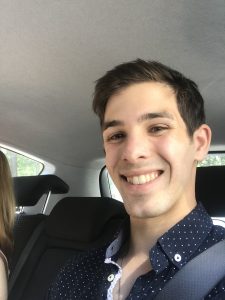 While most of his friends on the team know him as Salt, his actual name is Noah, although few on the team remember or even know this. Salt is a senior majoring in Clinical Psychology and is still trying to figure out what he wants to do after school (seniors, am I right?). He has been dancing since freshman year, and loved the way that dancing challenged him to learn something new. If he doesn't respond to your questions, it is probably because he is reading fantasy novels, writing, talking to his family, or watching the Princess Bride. Oh, and as Outreach Chair he is the webmaster, the team historian, or whatever the team needs. All they need to do is ask and he'll say, 'as you wish'.

Inreach Chair: Nicole Loranger

Nicole is a senior double majoring in Biology and Spanish while following a pre med track. She first discovered the ballroom team while browsing through the lists of dance teams at Tufts (months before even arriving for matriculation) and immediately knew this was the group she wanted to be a part of. After attending the ballroom Orientation Show at the start of her freshman year, she quickly confirmed this to be true, and ballroom has been her home ever since. Her favorite styles of dance are Rhythm and Latin, and when not dancing, Nicole loves working on her research, practicing her Spanish, cooking, hiking, and traveling.

Competition Coordinator: Isabel 家誼 Liao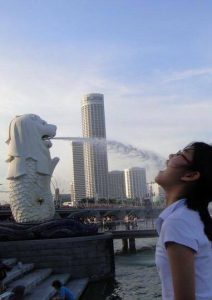 Isabel is an international student from Taiwan, and a rising sophomore who loves to talk in third person is planning on majoring in mathematics (although still uncertain). As a member of the eboard, Isabel's main goals are to bring to the board a more diverse perspective that better represents the team and also to make the team a more welcoming and inclusive community. Isabel has, on multiple occasions, attempted to decide on a favourite style, but has yet to succeed, as her answers have ranged all four styles. When not dancing or crying over assignments, Isabel can often be found in front of her sewing machine working on her next dress! At competitions, you will often find the wild Isabel hobbling around with her head down, looking for floor stones to add to her collection.