In November of 2018, French President Emmanuel Macron made headlines (and shook the museum world) when he released a report detailing the restitution of "African cultural heritage to Africa" from French museums long known for their collections of sub-Saharan objects. He called for the swift return of twenty-six royal Dahomey works of art back to Benin, objects that were taken to France in the late nineteenth century as a result of colonial expeditions.
Conversations concerning such Benin objects have often dominated restitution debates focused on African culture – but what other countries from the continent are also seeking the return of their tangible heritage? One case study that has recently lost political steam is that of the vigango memorial posts from the Mijikenda peoples of Kenya. Considered Kenya's cultural patrimony, vigango memorial posts are tall and narrow "spirit markers" made of wood that resemble an abstracted male body, often incised with repeating geometric patterns and painted.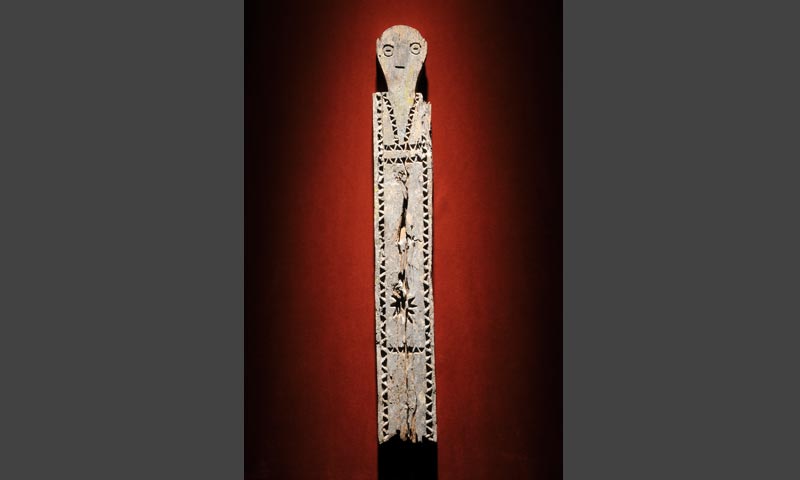 Sometimes up to nine feet in height, vigango memorial posts represent deceased male members of the Gohu society, individuals who were known in their communities for both their wisdom and wealth. Once installed, vigango are never to be removed or disturbed, as they represent the "incarnation of the deceased" and continue to play a central role in Mijikenda communities, such as preventing misfortune.
Despite their communal importance and efficacy, vigango have long been subject to theft and exportation among art dealers and collectors abroad. In 2007, for instance, it was estimated that over four hundred vigango had entered the collections of some nineteen museums across the United States, with often questionable acquisition histories. The debate involving the repatriation of vigango is complicated, involving Mijikenda youth seeking a quick profit, unsigned UNESCO deals, and art market/museum ethics. A recent exposé in African Arts estimated that a kigango (the singular form of vigango) could fetch anywhere between $150,000-$250,000 if placed on auction today (in comparison to $5000 each at a 2012 Paris auction).
While the Denver Museum of Nature and Science recently tried to repatriate thirty of its vigango, the memorial posts never left the United States due to an unexpected and exorbitant tariff that would have been charged at Nairobi's Jomo Kenyatta International Airport (the tariff is equivalent to USD $47,000). Unfortunately for this costly reason, several vigango that were repatriated from California State University, Fullerton in 2014 currently sit in a crate in the airport's customs' shed. Although the vigango may be back in their country of origin, no institution involved in their return intend to pay the tariff fees. Until a solution is agreed upon, the vigango will remain in political limbo.
---