About the Blog
Welcome to the Tufts Museum Studies Blog!
The Museum Studies blog is student-centered and student-run, but it is not solely for current students. Our goal is to create and support a community of museum professionals while showcasing interesting museum news and engaging in conversation. We will frequently post reviews and questions, and would love to hear your thoughts!
New posts appear throughout the week. Check out the blog for reviews of exhibitions and projects, discussions on various ideas, and information on jobs and events. We also round up interesting news articles about museums around the world.
We want to hear from you!
We're always looking for new blog authors and assistant editors, and welcome submissions of any kind. Here are a few ideas for post topics:
Exhibition reviews
Museum reviews
Short essays on upcoming topics
Short introductions to new blogs or other online sources of information
Event announcements
Internship overviews and reports
Other topics that interest you. We are open to suggestions!
If you have a suggestion, comment, or want to contribute to the blog, send us an email at the address below. This is your space too! We are also happy to post relevant job openings that are emailed to us at: tufts.museum.blog[at]gmail.com
Want Museum Studies in your Inbox? 
To subscribe, you can use an RSS feed manager (RIP Google Reader) or you can sign up for a service such as Feed My Inbox (http://www.feedmyinbox.com/).
The Editor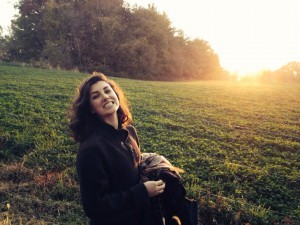 Hi everyone! My name is Christina and I will be starting my second year as a master's student in Museum Education at Tufts in the Fall! I'm originally from New Hampshire, so I've adapted well to the mountains of snow and bitter cold that we get here in Boston. I received my B.A. in Classical Archaeology with a minor in Classical Studies in May of 2015 from Dickinson College in Carlisle, Pennsylvania. As it is with most 20-year-olds, when I thought about graduating from college I had absolutely no idea what I wanted to do with my degree. The one thing I did know was that, for some reason, when I thought about my dream job in the future I could really only see myself working in a museum.
The summer before my senior year, I had that proverbial "aha" moment that we as museum educators always talk about while participating in an archaeological dig at a historic museum in New Hampshire. The dig was located centrally on the museum's property where a daily tour walked by. Part of my job as a field school student (read: shovel bum) was to be able to talk to the public about what we were doing and finding. During the field school, I remember telling the intern I was working with that I wasn't sure if I wanted to get my master's in archaeology or in museum studies. She said, "By the end of the dig, you'll know." And she was right. As soon as we stepped out of the dig into the lab for two weeks to clean and catalog the artifacts we had found, I realized what I really had enjoyed about the dig was engaging with the public. Thus, my journey as an emerging museum educator began and luckily I ended up here, at Tufts, my first choice of grad schools. Since the dig, I've held various internships and positions at historic house museums, art galleries, and I'm currently interning in the Discovery Center at the Museum of Science, Boston (which I'm loving).
In my free time, I love to read, knit, run, go on bike rides, watch The Office, and visit museums (because I clearly can't get enough of them through my classes or my job). Although my background is in archaeology and I have worked primarily in historic house settings, I also love visiting art and science museums. I've genuinely enjoyed every position I've held in a museum regardless of what kind of museum it was, and since I've worked in varying genres and sizes of museums I can't really narrow down my specific interests to one topic. However, I am really interested in things like community engagement, informal learning, and school partnerships particularly for under-served communities.
If you've gotten this far in my entire life story/blabbering biography, I hope this means you'll be a regular reader of the blog! I'm really looking forward to what's to come this year.
-Christina