2012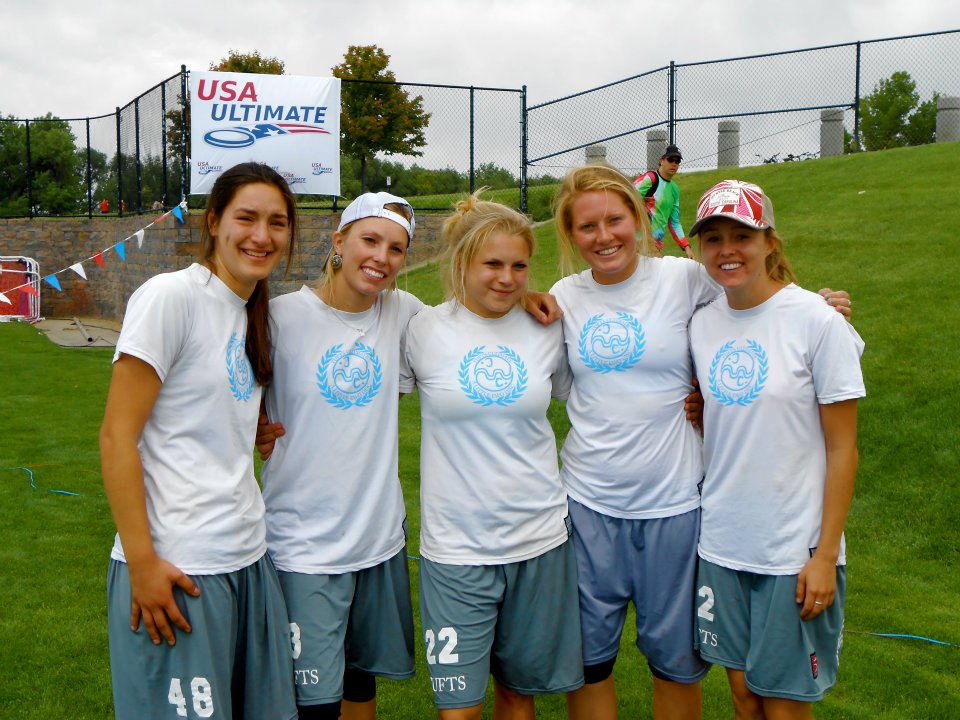 Alex "Dunks" Alejos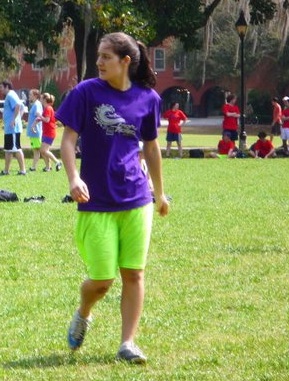 On the 30th of March, 1990, in Los Angeles, Alex "Dunks" Alejos was born. Yes, she was nicked-named "Dunks" at birth. Her parents chose the nick-name for two reasons. The first reason was that, even as a newborn baby, Dunks had long, muscular arms that allowed her to dunk basketballs. The second reason was that they knew Dunks was destined to be a donut baker. Years before her birth, President Kennedy said in his Berlin Wall speech, "Ich bin ein Berliner" (I am a Jelly Donut) and later in his speech, though not as famously noted, said "and speaking of Jelly Donuts, Alex Alejos will make great ones." So, her parents chose the name "Dunks," because it is an abbreviated version of everyone's favorite donut store: Dunkin' Donuts.
Since her birth, Dunks has accomplished many things including learning all about food allergies, how to play ultimate like a boss, and how to make incredible baked goods.
No one truly knows how Dunks began playing ultimate, but there are some theories. According to legend, Dunks mistakenly picked up a disc thinking it was a pie tin. Dunks quickly realized the disc was not deep enough to bake a pie in, so she tossed it away in disgust. With a perfect backhand throw, the disc landed right in the middle of a trashcan located across her kitchen. Suddenly, Brodie Smith popped out of the trashcan. Brodie Smith, the master of trashcan trick-shots, can recognize natural ultimate frisbee talent whenever someone perfectly throws a disc into a trashcan. His preferred mode of transportation is trashcan. Anyways, Brodie emerged from the trashcan and said, "Alex 'Dunks' Alejos, you must play ultimate frisbee – do not waste your natural talent." After Dunks agreed, Brodie said "Oh, and can you make me a pink champagne cake for my ride home in the trashcan?", because he knew how heavenly they are.
Dunks took Brodie's words to heart and began playing ultimate. Today, Dunks can be found making super speedy cuts, laying out for discs, and throwing kick-ass hucks on the ultimate field. She also has outstanding spirit. The EWO and BWO are grateful to have had her on their teams.
Dunks also continued to bake for ultimate players. From cakes to cookies to donuts, Dunks can make them all, and she can make them well.
Eliza "Miley" Earle (C)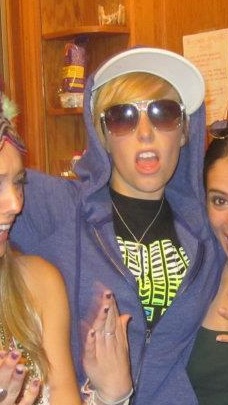 Ah, Eliza…How do I begin to talk about the complexities and inner-workings of a person like Eliza?  I would say that, in order to understand the joys and passions of this blonde-haired bombshell, I must start by talking about the life of a less famous musical artist, Miley Cyrus.  You see, Miley Cyrus and Eliza grew up in different worlds, and yet their lives have shocking parallels- parallels that are a little too SHOCKING to be a coincidence…For instance, Eliza also grew up with a famous one-hit wonder father.  Are you familiar with the song "Thong Song?"
Now, even though Eliza had to grow up in the shadow of her father's metallic hair, she had some exciting moments in her early childhood, such as getting a gig on a hit show (HINT: The Bachelorette).  And then, in what seemed like no time at all, Eliza was a woman and found herself at Tufts.  (Sisqo confided in me: "She was 4, and then all of a sudden she had dumps like a truck…" He paused, and then continued, softly, "truck…truck").  Immediately, Eliza was the talk of the town.  Legend spread of her ability to look and sound like a cat after she wore bright pink leopard tights to a party and hid in the corner for hours meowing.  It was extraordinary!
But, Eliza wanted more for herself, and decided to join the ultimate Frisbee team. This young legend once told me that she was nervous about playing ultimate Frisbee until A Jay-Z Song Came On (the radio) and her butterflies just flew away. Anyway, you wouldn't have known that she was nervous for a second, because Eliza stalked the field like a graceful cat.  With her tiger eyes, she scanned her surroundings, waiting patiently to attack the disk.  Her skills and beauty won her a spot on the Ewo, where she thrives.  But, I must say, people continue to talk about Eliza in this crazy town, and the other day I heard that she wasn't even a student at Tufts.  According to my sources, she is an actress researching a role for an upcoming movie with Sandra Bullock, who plays a fierce coach. I was told that the movie was titled "Layout for Love: An Ultimate Frisbee Story"….DUN DUN DUN
Rachel "Rodeo" Rhodes (C)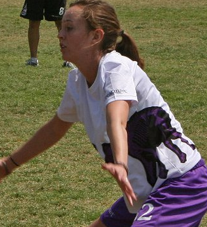 Rachel Rhodes was born a startingly hyper child. Her endless energy and motion disturbed her parents who didn't know how to occupy her attention for long enough to enjoy a moment of peace. Desperate for a solution, they seized upon the first opportunity they found advertised in the paper: a Texas rodeo was coming to town and offering camps for children. Her parents dropped her off at the first day of camp praying that the instructors could handle her for the day. In their absence, Rachel proved herself to be a natural bull rider, quickly gaining the nickname 'Rodeo' and rising to near-fame status on the circuit.
Over time, riding bulls in the California heat proved to be too much. On a whim, Rodeo rode her prized bull, Ballzy, to the beach to go for a dip. Rodeo fell in love with her new surroundings, giving up bulls for bangin surfer dudes and dank waves. Though we see her true, vicious bull-ridin' self sometimes shows itself on the ultimate field, the sun eventually mellowed her out, making her the chill girl we all know and love today. As she smoothly lets off her nobody-can-stop-me high release backhand dump throw, even the other team pauses to think, "damn that girl is cool."
Olivia "Beckham" Rowse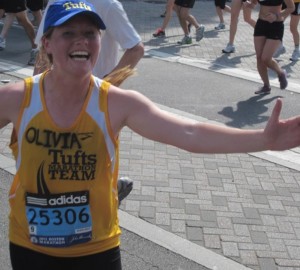 Olive was brought to her parents as a present from Santa on a wintry Christmas many moons ago. For years she pulled dogsleds up and down the icy coast of maine, learning to be speedy and unaware she was really training for the day she would realize her true calling – scampering after a frisbee.
There were many steps to this realization of her real passion. As a local Mainiac, lobster fishing distracted her for hours on end until one day she wandered back to land and into a park where she stumbled upon a strange black and white ball.
She kicked the ball so hard that it went all the way to Tufts, where it landed in the left corner of the net in front of the varsity soccer coach. Olivia was tired from running all the way to Tufts from Maine but sprinted straight into the middle of the field and began to play like she was a captain or something.
Eventually Olive became bored of being so good at everything and turned to frisbee. Unfortunately she was so successful the whole team was forced to attend another year of school because they were too distracted by her beautiful skills to attend class.
When not broing out on the front porch of her personal frat Olivia can be found applying for as many study abroad programs as she can find or crafting another insult to throw at her buddies.
Side note: Olivia is also a unit of measurement, created by her teammates upon witnessing the grace with which she played frisbee. For reference, the strength of one Olivia can be compared to 1/1000 that of an elephant, a cheetah, and a unicorn combined. Thus to have the strength of just one Olivia a person must sky the equivalent of 1000 bitches at the speed of light.
Leah "Scout" Staschke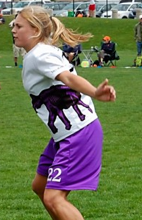 Leah Mustaschke was born and raised in the funky tiny town of Guilford, CT, which happens to be less awful than the rest of Connecticut. Canton isn't the worst place to live either I guess. As a child Scout liked water coloring and in high school she paid for her books by waitressing for the local onion ring bistro by her house. She liked dogs and clambering around in the outdoors and taking pictures of herself in flannel, but when she came to Tufts, she was quickly corrupted by the upperclassman E Women, as well as The Dark Lord of Engineering, whose name we do not mention.
You can now see Leah with her flowing blonde locks hurrying around campus yelling to anyone and everyone about things that are REAL BIG, always wearing her super epically prepared backpack. Even at a Epo party, she'll be playing slap cup in fully packed backpack, ready for wherever her night may take her…
Her ever preparedness sparked her real name, Scout, to arise. It stuck like a spaghetti noodle on your grandma's ceiling during an Italian religious celebration. Raise your three middle fingers high in the air and scream the Girl Scout anthem for our only true nerd on the team, Scout.
2011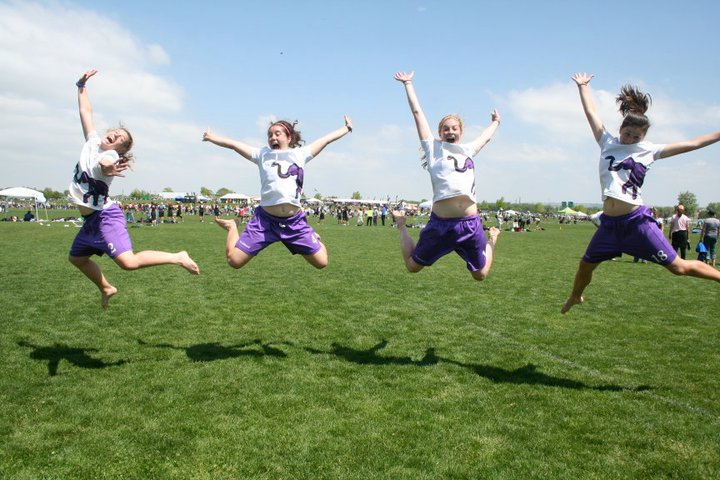 Jess "Salty" Madding (Mutiny)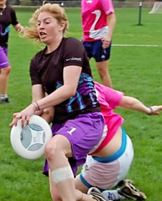 Jess was not born in the conventional meaning of the word, but rather rose from the ocean during a storm in the middle of winter caused bythe unfortunate friction of Simon Cowell's snuggie.  She washed up on the shores of Africa, where she was taken in by a local tribe, the Wanawake Ya Tembo.  The Wanawake Ya Tembo attempted to raise her, but found that her presence in the village raised their salt intake beyond tolerable capacity.  Thus, our young soon-to-be-ewo returned to the strange waters that had birthed her, diving into the ocean and swimming until she could swim no more.  She made her way to Boston, where she came across two people throwing a frisbee.  She immediately recognized their complete lack of skills, and marched over to the disc.  She proceeded to throw the most glorious hammer- with rays of salt showering from the disc's perfect amount of spin.  Unfortunately, at this beautiful moment, her eye was distracted by a TV in a nearby store, that was currently showing the latest season of The Bachelorette.  She paused and watched the trashy show for 3 1/2 hours, before journeying on to her rightful place at Tufts University.  Still unaccustomed to the new world she was living in, Salty soon mistook the trays in Dewick for the plastic disc she had previously mastered.  Her attempts to show off her awesome throw resulted in a catastrophe- killing 3 of the dining hall staff and wounding the pride of an overly cocky Eman.  Too stubborn to admit her faux pas, Salty announced a ban on all trays in the dining hall, feigning an interest in "conserving water."  These days you can find Salty traversing the wilderness like a pro.  Don't be fooled by her innocent freckles, underneath her curly hair is the mind of a genius with an affinity for pranking.
Anna "Princess" Chute (C)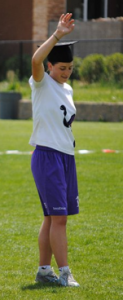 Adopted and raised as a wolf cub by two wolverines in rural Vermont, Princess had a hard knock childhood which she spent completely naked except for a neon orange tail her parents crafted. At the ripe age of 15 she was found by an arthritic dairy farmer in the mountains, who sedated and tamed her (eventually). He began to call her Princess after her affinity for shiny objects, like his grandson's holographic Jolteon playing card, and for her stubbornness when it came to speaking in anything but growls and grunts.
Once she gave in to humanoid culture, she blossomed like a Yellow rose. She avidly watched anime, and quickly moved into Chinese soap operas and Korean movies such as Texture of Skin (http://www.hancinema.net/korean_movie_Texture_of_Skin.php). As part of her cultural immersion, she applied to several colleges to continue her Asian Film/Wolverine Social Justice Studies.
At Tufts, she immediately gravitated towards the sports team with the Asian coach. With her killer instincts and Major Lazer flick blade that went farther than any Eman's throw, she was accepted onto the A team. She now walks the campus in only her neon orange coat with her dead mother's tail cross stitched across the brim of the hood, naked underneath, always ready for a streak, an Asian lover, or an opportunity to wolf down another run through d.
Laura "Juice" Glassman (C)

Young Laura emerged from the womb on a fine June morning with a full crop of curly hair, the ability to speak in full sentences, and a fanatical love for all that is ultimate. Her toddlerhood was largely spent honing her innate skills with the disk and bullying other tots to follow her path. By her teen years, Laura had earned a fearsome reputation in the world of ultimate, amassed a small but dedicated cult following, and was affectionately dubbed Juice following a minor steroid scandal.
Upon arriving at Tufts (a lifelong dream since falling in love at the tender age of 3 with the style of life and play of the Epo), Juice wasted no time in joining the Ewo. Needless to say, it was a match made in heaven.
It is rumored that Juice does indeed have other hobbies besides ultimate, including collecting crop tops to show off her Situation-style abs, and secretly organizing a clever plot to destroy the Harvard girl responsible for her ACL/MCL/Miniscus/Femur injury last season.
Rebecca "Marvin" Hershow (Mutiny)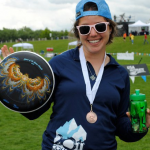 Once upon a time, the Tufts Ewo stumbled upon the magnificent Red Rocks National Park on their way to cause some Trouble in Vegas. Finding these magical rocks of red too beautiful to ignore, they decided to take a nice lunch break atop one of the lustrous boulders. It was by accident and sheer luck that they came across Marv, a strange Martian lurking in the shadows of the park calling out to the heavens. With her little pink sunglasses, a supah fly hat, and a craving to just look ballin', it was clear that this weird creature came from in a QUEST (RIP) from Mars to test her new appearance among the humans on Earth. Not only did her head-turning attire catch the attention of the team, but her comic attitude and sarcastic mouth made it easy for the Ewo to take in Marv the Martian as one of their own.
Soon the team learned exactly what they were dealing with. With her ridiculous run through Ds, razor sharp cuts, and crazy end-zone grabs, Marv proved to be anything but human. For fun, she likes to prey on those several feet taller than her and can hardly wait to outsmart her defender in the end-zone. Don't underestimate this little creature — Marvin's always starvin' for more.
2010
Becky "Loaf" Gallagher (C)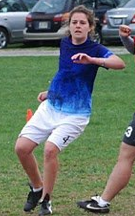 Born and raised in the durty jerzz, Becky skipped into the world with ribbons in her braids and a twinkle in her eye. Many consider Becky's younger years, spent chasin' butterflies and diggin' sand castles on the Jersey Shore, to be the sole inspiration for the hit reality TV show. Although Becky is widely known for her pre- college "debauchery," she once got detention, few remain who were able to experience this wild child firsthand, unfortunately because this carnivorous little creature baked them all into a MeatLoaf and ate them.
Sadly, Becky had to leave behind her innocent days of frolicking with bunnies amidst fields of wildflowers…only to replace them with naked rompings through basements, beaches, warehauses, and other zaptastic places. In an attempt to lose such associations, she switched the spelling of her hip nickname from "BeKi" to the more sophisticated "Becky" we have come to love.  In the wink of an eye, Becky set off to start her new life in quaint and humble Medford, hoping to abandon all traces of her former diva lifestyle. Lucky for us, the acute and informed observer can still find signs of her jersey shore upbringing, apparent in her sweet dance moves (throw that arm up, shake that head!), affinity for crop tops, and innate and reoccurring ability to throw a gang sign at any given photo op.
Don't be fooled by her adorable dimples and (mostly) innocent past, Becky is a force to be reckoned with. Beware of her intense backhand fakes, sweet cutting, and bionic, metal infused leg. And don't ever get on her bike.
Rena "Rocks" Dietz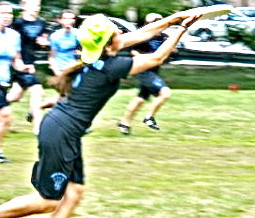 Ingrid "Sandbox" Gils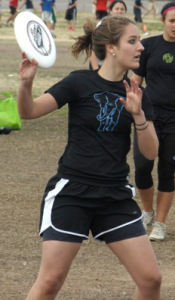 Emily "Panda" Pistell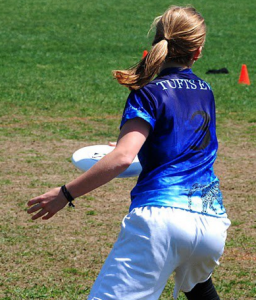 2009
Kate "Tigs" McCaffrey (C)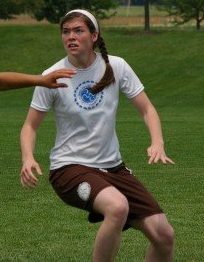 Marie "Reezy" Alexander (C)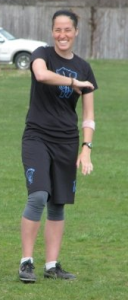 Jamie Kalenik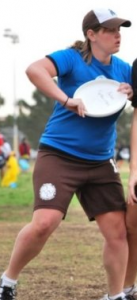 Lindsey Forys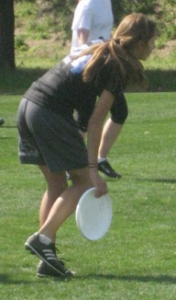 Christine Thornton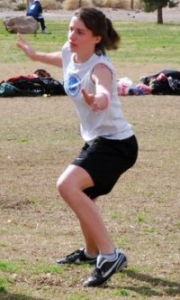 Tahnee Sidhu
Casey "Tang" Lee
2008
Julie "Furby" Furbush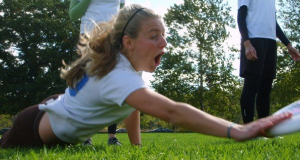 Shira "Shaz" Stothoff (C)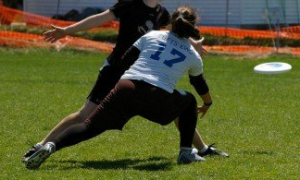 Maya Jackson (C)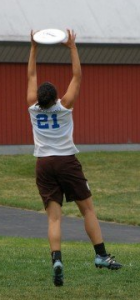 Andrea Northup
Judy Winglee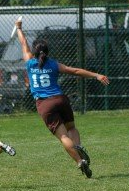 Jackie Silbermann
Erin "Mac" McInerney
2007
Caroline "CChow" Chow (C)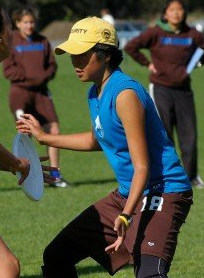 Maise Ganz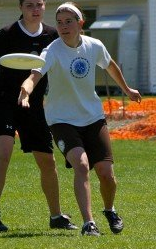 Susannah Betchel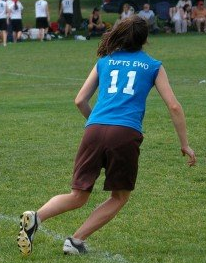 Joanna Rucker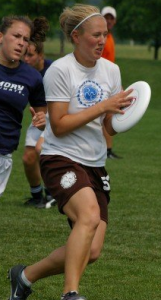 Vanessa Clark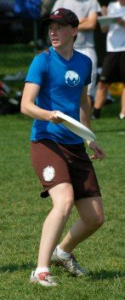 Elana Eisen-Markowitz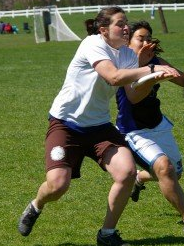 Katherine Moon
Paula Fortner
2006
Caroline "Cline" Keely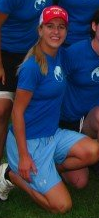 Berenice "Bernie" Diaz (C)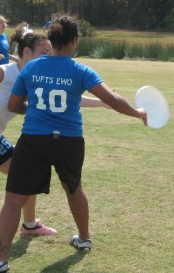 Meghan Cain
Becky Fine-Firesheets
Dina Goodman
Julie Hallman
Keira Paisley
Alicia