5/31/2012 Ewo are all over Skyd's nationals recap (http://skydmagazine.com/2012-college-tour/)
5/27/2012 16th seed Ewo take 3rd at DI College Nationals in Boulder, CO
5/24/2012 Claudia, Shields, Hailey, and Qxhna honored in 2012 College Awards for the NE region (http://www.usaultimate.org/news/2012-college-award-winners/#NE-W)
5/2012 Both Ewo and Bwo make DI regionals! Go 'wo!
3/2012 Ewo win Southerns, a pair of shorts each, and $500
11/12/2011 Mighty Alumni beat Ewo
5/26/2011 WithoutLimits Blog: Interview with Ewo Captains Juice and Princess
Full Article: http://withoutlimitsultimate.blogspot.com/2011/05/tufts-ewo.html
"Tufts EWO has had a strong program since its inception, far longer than I've been playing. They have been a nationals contender nearly every season. This season is no exception. The team features young, talented players, who are athletic and can play a fast paced game. Anna Chute and Laura "Juice" Glassman detail the season and the journey the team has taken to get there…"
See Full Article for the interview with Princess and Juice.
5/11/2011 USAU: Recap: 2011 College Women's Regionals (New England)
Full Article: http://www.usaultimate.org/news/recap-2011-college-womens-regionals-new-england/
"Now required to wear uniforms for the finals, the Pranksters shed their flair and suited up in bright pink jerseys to play against the Ewo. Matched up in the finals for the second year a row, both teams were aware that the final game would determine who will represent New England in Boulder. Looking to avenge last year when Tufts fell to Middlebury 8-9 on universe point after taking half at 8-6, the Ewo lost no time getting focused.
Tufts started the game off strong and took an early 4-1 lead. Midd connected on a big flick huck to bring the score to 4-2. Midd relied heavily on talented players Lexi Zalk and Carllee "Foxy" James on offense, connecting on deep throws and around breaks in order to score against Tufts' tight man defense. Midd tried to challenge Tufts defensively with a 4-man cup, but Tufts continued to score almost every O point due to minimal wind, patient offense, and accurate over the cup hucks. Tufts maintained their slight lead, again ending the first half with a 8-6 lead.
Midd started out on offense during the second half. Both teams continued to trade points until midway through the second half when Tufts was able to earn multiple breaks, bringing the score to 14-10. Midd scored once more, making the count 14-11. Receiving the pull, Tufts patiently worked the disc down the field and ended the game with a pass from Jess Madding to Claudia Tajima.
Returning to Nationals after a 4-yr break since the Ewo qualified in 2006 and 2007, Tufts is excited to play against the top teams in the country in Boulder. Tufts hopes to represent New England well and make some noise at Nationals!"
See Full Article for the complete recap of 2011 New England women's regionals.
3/31/2011 Skyd Magazine: 2011 Centex Recap
Full Article: http://skydmagazine.com/2011/03/college-centex-2011-womens-recap/
…"Did anyone see Tufts coming?  Playing their first tournament of the year and seeded in the low 20′s, the Ewo finished second in their pool, losing to Iowa State 11-10.  Tufts was able to shake off the loss and beat UNC, Carleton, and the University of Washington to reach the semifinals.  After a tough 15-8 loss to UCSB, Tufts finished strong, beating Iowa 13-12 claim 3rd overall."
Laura Glassman: The highlight for me this weekend was definitely our game against Carleton College in the pre-quarters. Centex was our first tournament of the season, and we came in not really knowing what to expect from ourselves. We were super pumped from our win against UNC on Saturday, as it gave us the ability to play up in D1 and the championship bracket.  When we saw that our next game would be against Carleton, I know I was excited, but definitely a little intimidated. The first few points were rough, and we fell behind 4-1. However, we came together and realized that if we starting playing our game, we could beat Carleton.
We came out from that talk and eventually tied at 6s, and began a long game of trading points between the teams. The play that stands was Mia Greenwald's (Freshman!!!) Callahan, which was a huge break and brought us to an 11-9 lead. Claudia Tajima was all over on the mark, and forced this floaty dump flow, which Mia leapt up to catch for the score. Everyone on the sidelines went nuts and stormed the field. The energy was contagious, and gave us enough steam to keep going and win the game on universe and stay in the championship bracket until the semis finals.
4/2011  EMILY SHIELDS NAMED FOTY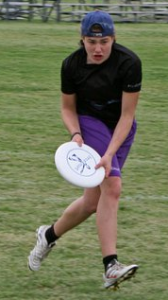 1/11/2011 Skyd Magazine 2011 Preview: Tufts Ewo
Full Article: http://skydmagazine.com/2011/01/2011-college-preview-tufts-ewo/
School Name: Tufts University

Team Name: Ewo
Captains: Laura Glassman (Juice) and Anna Chute (Princess)
Coach: Sangwha Hong
Year Founded: 1981
Jersey Colors: Black/Blue, Blue/White, Brown/Blue…
Website: http://ase.tufts.edu/ewo/index.shtml
Score Reporter
See Full Article for an interview with Juice and Princess!
5/2010 Claudia Tajima 1st team FOTY, Hailey Alm 2nd team FOTY