Approaching the World Strategically — Monica Duffy Toft brings an expertise in international politics to a new Fletcher center
By Christine Cupaiuolo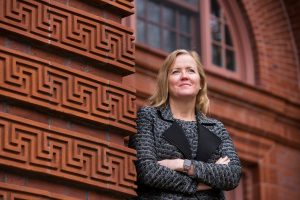 Growing up on Long Island, Monica Duffy Toft—professor of international politics and director of Fletcher's new Center for Strategic Studies—developed an early interest in the Soviet Union.
She used to draw pictures of Saint Basil's Cathedral in Moscow and studied Russian in high school along with Spanish and French. She knew she would someday study international relations, but with five siblings, and a father diagnosed with multiple sclerosis, she expected that even with scholarships she would have to work her way through college.
Then the Army called.
Toft's high score on the Armed Services aptitude exam, a test she had taken on a whim, drew attention from numerous recruiters. "The Army guaranteed that I could be a Russian linguist," Toft said. And it provided educational funding that would later enable her to focus solely on her studies. She enlisted just before Mikhail Gorbachev came into power, during a period of heightened uncertainty between the United States and the Soviet Union.
After perfecting her Russian at the Defense Language Institute in San Antonio, Texas, she was assigned a "live" mission in West Germany, where she listened in on Soviet troop maneuvers and translated communications. For a teenager who had once told her local newspaper she'd like to be the first female Secretary of State or Secretary of Defense, it was the perfect placement.
After four years in the Army, Toft entered academia, first as a student—earning her B.A. at the University of California, Santa Barbara, and her Ph.D. in political science from the University of Chicago—and then as a professor.
At Harvard, she was assistant director of the John M. Olin Institute for Strategic Studies and director of the Religion in International Affairs Initiative, and at the University of Oxford, she helped start up the world's newest school of public policy.
She joined the Fletcher School in February 2017, securing a grant of more than $3 million from the Charles Koch Foundation to launch the Center for Strategic Studies. The center is dedicated to producing policy-relevant research on strategy, international politics, and U.S. foreign policy.
At its inaugural research and policy seminar in September, Toft said that America's foreign policy had become negative and reactionary. Before the U.S. can present a cohesive perspective abroad, she said, it first must build consensus about its foreign policy goals and priorities.
"Our national goal should be leading the world toward a future where all peoples have a say in their government, enjoy the prospect of a fair standard of living, are subject to and privileged by due process of law, are secure from deliberate violence, and can benefit from these things, sustainably," she said.
In addition to mentoring the next generation of scholars and leaders, Toft is eager to find ways to connect ideas and promote critical thinking about strategic studies beyond institutional walls. "We have a responsibility to translate what we've learned, and to think about those ideas and what they mean to the broader society," she said.
The author of four books and co-author of another three, Toft advises the Defense Department as well as U.S. intelligence agencies. She shares her thoughts about global politics on Twitter (@monicaduffytoft) and kicked off a new Center for Strategic Studies blog, where contributors (Ph.D. fellows, visiting scholars, and faculty) will consider "crucial aspects of U.S. strategic, foreign and defense policy that are often ignored despite the fact that they are large and obvious problems or risks that should be central to the discussion."
And what about the topic on everyone's mind—is the United States headed toward the worst international relations crisis since the Cold War? "It's too soon to panic," said Toft, citing the resiliency of American institutions and the fact that President Trump is currently viewed as an anomaly by the international community. But if he is re-elected, she added, his policies will be interpreted by friends and foes alike as "what America stands for."
http://now.tufts.edu/articles/approaching-world-strategically