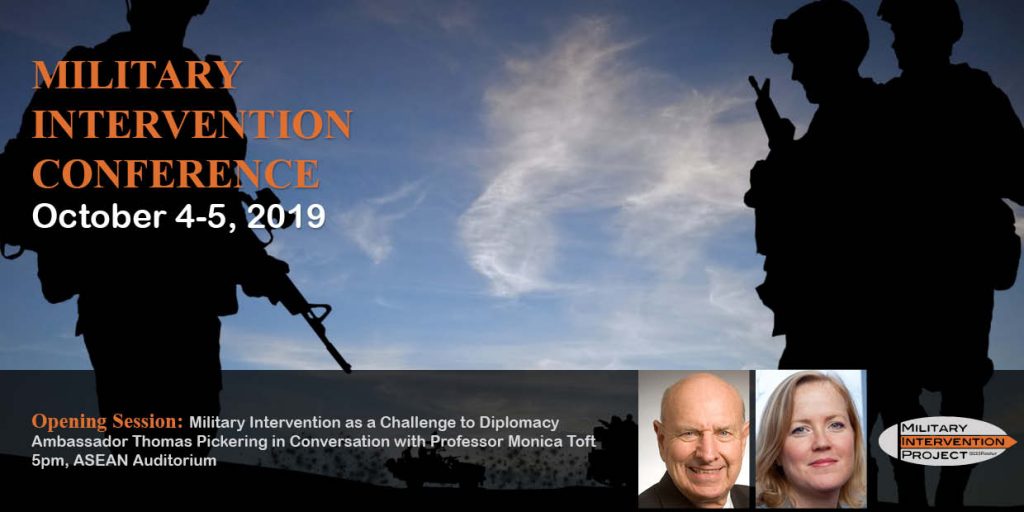 We are delighted to invite you to the inaugural Military Intervention Conference, hosted by the Center for Strategic Studies (CSS) within the Fletcher School at Tufts University on October 4-5, 2019 in Boston, Massachusetts.
The Military Intervention conference will bring together US and international academics and policy experts researching across all facets of international intervention – including US military missions, covert and drone strikes, international humanitarian interventions, other western and non-western interventions, historical trajectories of intervention, post-conflict involvement, UN interventions, civil wars and intervention, and the costs of military intervention.
By gathering top academic and policy experts, we will discuss the short-term and long-term costs of the usage of force and provide specific cases of intervention across the eras. The empirical, theoretical and policy findings from this event also apply to drones and covert special operations missions undertaken since 2001, which remains a highly underexplored topic in both academic and policy circles.
Ultimately, this conference will serve as a platform for dialogue on the nature and consequences of the usage of force abroad. The overarching aim is to form bridges across academic and policy arenas in matters of foreign policy and security, broadly defined.
Register Here! https://www.eventbrite.com/e/css-military-intervention-conference-tickets-72074473691
CONFERENCE PROGRAM
Date: October 4, 2019
Location: ASEAN Auditorium
Opening session:5 – 7 PM
Welcome remarks by: President Anthony Monaco, Tufts University, and Dean Rachel Kyte, The Fletcher School
Keynote discussion
"Military Intervention as a Challenge to Diplomacy"
Ambassador Thomas Pickering
In Conversation with
Professor Monica Duffy Toft
Dinner for conference speakers: 7 – 9 PM
Location: Cabot 703

Date: October 5, 2019
Location: Coolidge Room in Ballou Hall
Registration: 8 – 8:45 AM
Welcome Remarks By: Monica Duffy Toft, CSS Fletcher
Panel 1: Types and Patterns of Intervention:9 – 10:15 AM
Chair: Karim Elkady, CSS Fletcher
– Ben Denison, CSS Fletcher
      – Jeffrey Friedman, Dartmouth College
      – Lise Morje Howard, Georgetown University
Break: 10:15 – 10:30 AM
Panel 2: Costs of Intervention:10:30 – 11:45 AM
Chair: Sidita Kushi, CSS Fletcher
      – Jon Askonas, Catholic University of America
      – Rebecca Lissner, Naval War College
      – Kaija Schilde, Boston University
      – Patricia Sullivan, UNC-Chapel Hill
Break: 11:45 – 12 PM              
Panel 3: Non-traditional Interventions: 12 – 1:15 PM
Chair: Lindsay O'Rourke, Boston College
      – Neha Ansari, CSS Fletcher
      – Jonathan Schroden, CNA
      – James Siebens, Stimson Center
      – Col. (Ret) Frank Sobchak, The Fletcher School            
Networking Lunch: 1:15 – 2:15 PM
Panel 4: Kinetic Diplomacy:2:15 – 3:30 PM
Chair: Monica Duffy Toft, CSS Fletcher
      – Bridget Coggins, CSS Fletcher
      – Jacqueline Hazelton, U.S. Naval War College
      – Alan Henrikson, The Fletcher School
      – David Vine, American University
Break: 3:30 – 3:45 PM
Panel 5: Into the Future: Cyber, Digital, and Information Security: 3:45 – 5 PM 
Chair: Jeff Taliaferro, Tufts University
      – Ivan Arreguín-Toft, Brown University
      – Major Amanda Current, The Fletcher School
      – Peter Dombrowski, Naval War College
      – Josephine Wolff, The Fletcher School 
Reception: 5 – 6 PM