Purple Team 2016
Emily Gill, Tara Watson with Maggie Chapman (Computer Science)
Automated Cough Counting System
In 2014, 9.6 million people suffered from tuberculosis (TB), and 1.5 million people died from the disease. Over 95% of cases occur in low and middle-income countries, where access to proper diagnosis and treatment is limited. Standard drugs have been used for decades, and resistance to the medicines is widespread. Disease strains that are resistant to at least one drug have been documented in every country surveyed by the World Health Organization. Serious epidemics of drug-resistant TB jeopardize TB control in several countries, including Peru. In areas without laboratory access, diagnosis of multi-drug resistant tuberculosis (MDR-TB) occurs after patients fail to respond to basic TB treatment for 4-6 months. During this time, patients remain infectious and there is an increased rate of fatality.
A need exists for a low-cost, lab-free method for MDR-TB diagnosis. Our clinical research has shown that the cough rate of patients responding to basic TB treatment decreases by roughly 50% within the first 2-6 weeks. Based on this research, we have designed a cough monitoring device and software application. Patients will receive the device from a healthcare provider a few times during the initial treatment phase, and they will wear the device for periods of 4 hours. We have designed it such that they can wear it at home with minimal change to their normal activity. After the initial treatment phase, if patients do not show a positive response, they will begin to receive treatment for the multi-drug resistant strain. In March 2016, our team brought the original prototype to Peru (see below). We received feedback on the functionality and design of the device from Peruvian doctors, nurses, and engineers. After the team returned, we developed a second prototype to address the concerns brought up by the Peruvian Team. We also discussed using the device to help treat other respiratory diseases.
Related Tech Notes
Purple Team Project Poster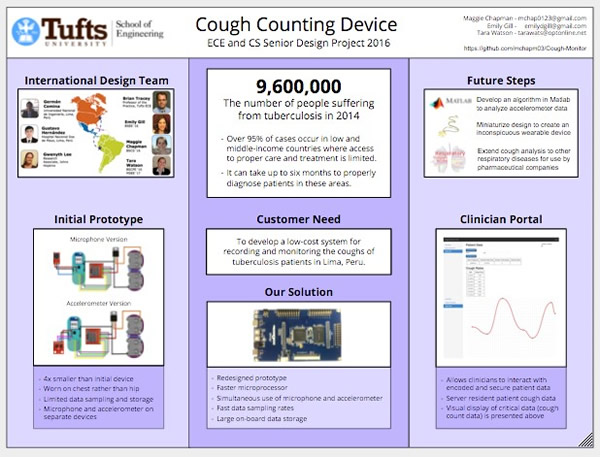 Purple Team Peruvian Trip
These pictures are from the Purple Team's trip to Lima, Peru in March/April of 2016. They show the hospitals where the device will be implemented, the local communities, and the major engineering university of Lima, Universidad Nacional de Ingeniería (UNI).