Maritime studies are quintessentially international and intrinsically interdisciplinary. Oceans and waterways act as a source of resources, an avenue of communications, and an arena of conflict. They constitute an important geopolitical sphere of international affairs, as a place of concern for makers of policy and shapers of events.
At Fletcher, maritime affairs allows students to explore the past, present, and future of oceans and waterways in the wider context of international trade, security, energy, and environmental issues.
Students may elect Maritime Studies as one of their Fields of Concentration, specializing to reflect specific regional or topical interests, e.g. Pacific Asia, geopolitics, environment and sustainability, security studies, business or law, etc., within a maritime context. MALD Capstones and doctoral dissertations can also have maritime themes. The required course for such salt-water enthusiasts is DHP D205 Global Maritime Affairs: International Trade, Security, Energy, and Environmental Issues at Sea.
DIRECTOR'S MESSAGE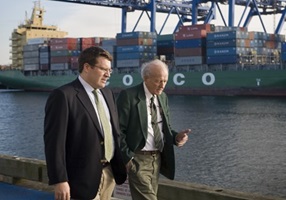 Welcome!
At Fletcher Maritime Studies, we help Fletcher students, alumni, faculty, staff, and friends think about global maritime affairs. We consider a wide range of issues including maritime strategy, BlueTech, sustainable fishing, offshore energy, piracy, and global trade flows. As an entrepreneur, angel investor, and start-up adviser, my background bridges business and academia.
In addition to our work in the classroom, Fletcher Maritime voyages around the world to conduct research on emerging maritime trends. We lead an maritime-focused excursion to Iceland's annual Arctic Circle Assembly to discuss the implications of an opening Arctic. This trip is supplemented by a rotating series of one-time trips to places like Hawaii (to meet with Pacific Command leadership), Southeast Asia (to study emerging trends in BlueTech), and Senegal (to assess the state of aquaculture).
We encourage students who wish to be more deeply involved in maritime affairs to join the Fletcher Maritime Affairs Club (FMAC), a student group that engages on oceanic matters, including discussions, lectures, excursions, and international conferences.
Professor Rockford Weitz
Director, Maritime Studies Program