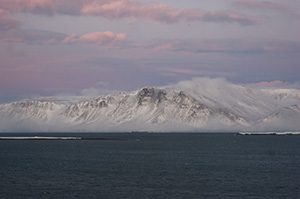 One of the last frontiers in the world, the Arctic poses a complex challenge for businesses, government, and the peoples of the region. Fletcher provides an interdisciplinary education of what the Arctic might hold. Combining historical, energy, environment, business, and security perspectives, Fletcher students have learned what matters to stakeholders around the world.
Using Fletcher's flexible curriculum, students can adapt a wide variety of classes to use as lenses into the Arctic. For example, students have applied negotiation theory to territorial disputes in the region, or used energy policy to analyze opportunities for extractive industries.
Fletcher also brings Arctic discussions directly to students. Fletcher has hosted conferences on the Arctic the past seven years. Engaging business leaders, environmental experts, and policy makers, the conferences have stimulated discussion about the future of the Arctic. The 2016 conference focused on the "Opening Arctic", sustainable development, business opportunities and growth in the Arctic, and featured high ranking Arctic policy makers, and business. Fletcher students and alumni have traveled to Reykjavik to participate in the Arctic Circle Assembly each year since 2015, reciprocating Icelandic visits to the Fletcher School's Arctic Conference. For courses related to the Arctic, refer to current course offerings.