by guest columnist Catherine Shortliffe
Students in this year's Exhibition Planning class were given a challenge: choose an image that inspires you from the photographs in Historic New England's exhibition, "The Camera's Coast," and use it as a jumping-off point for a full-blown exhibition plan. Snapshots: 15 Takes on an Exhibition is to take place at the Tufts University Koppleman Gallery May 6-18, 2014. Opening reception Tuesday, May 6, 2014, 5:30-8pm. See the Facebook page here.
This past week, as part of my research for my exhibition, Shipwreck: The Shoreline experience, and in an effort to connect with the subjects of my exhibition, I headed south to the shore to visit the Hull Lifesaving Museum in Hull, Massachusetts. I set out with hopes of learning more about the lifesaving teams that make up about a third of my complete exhibition plan, and discovering artifacts that would help round out my otherwise two dimensional exhibition. I am happy to report that both of these goals were achieved and the trip was a great success!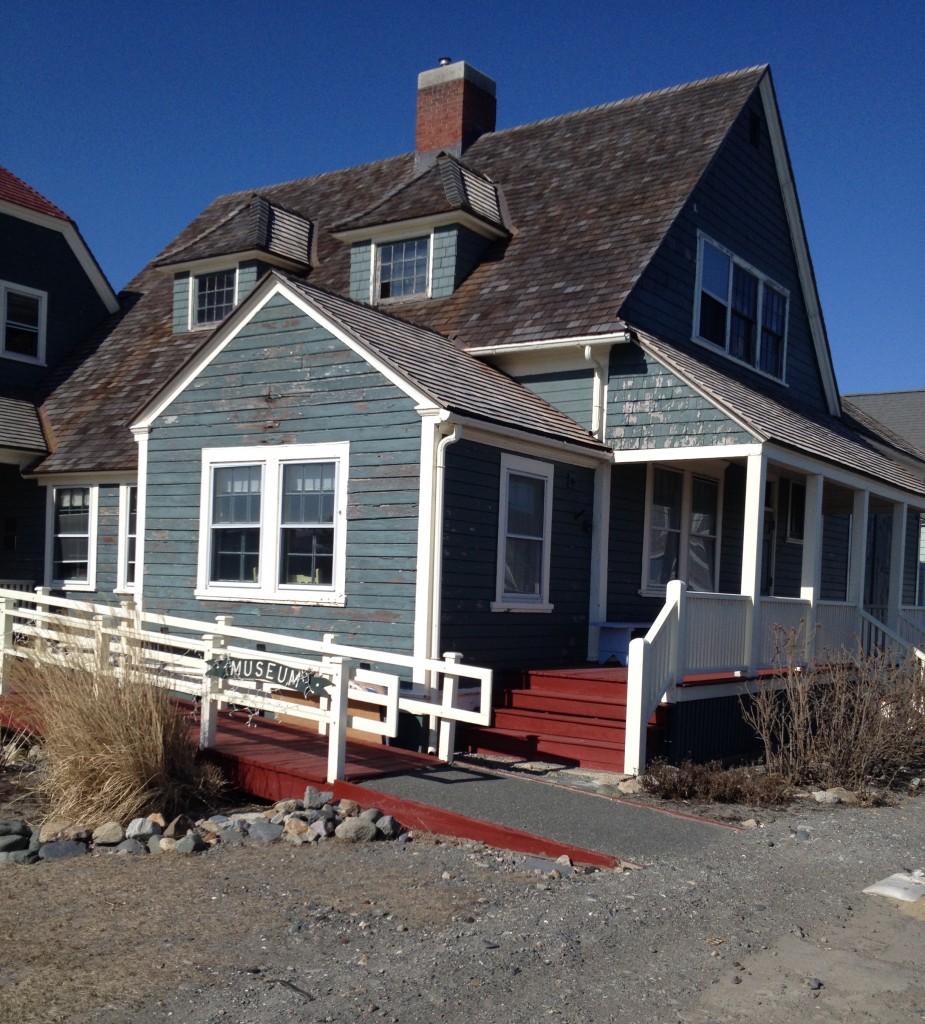 At the museum I met with Curator (and Tufts Museum Studies alumna!) Victoria Stevens. She showed me around the museum and told me all about lifesaver Joshua James and his lifesaving teams that lived and worked at the Point Allerton Lifesaving station where the museum is now housed. I learned about lifesaving tools and techniques and gained a stronger grasp on the extreme need for lifesaving teams during the period covered by my exhibition (1870-1910).
As I had hoped and expected, the museum's collections contained many relevant artifacts for the "Lifesavers" section of my exhibition. I was excited to see that there were also many items that fit well with my ideas for an exhibition section dedicated to the families of crew members, living at home with constant concern for the livelihood of their loved ones out at sea. In this interactive section I hope to draw in resources that can set the scene for home life while also implying an atmosphere of constant concern regarding the dangers of sea travel. Many reprinted era periodicals in the Lifesaving Museum's collections are perfect for this section. Another exciting find was a lifesaving board game!
I would like to offer a special thanks to Victoria Stevens and the Hull Lifesaving Museum, for confirming some of my ideas and helping me to discover new ones!