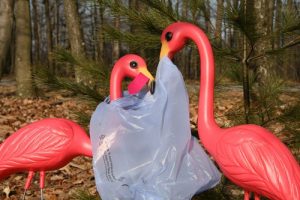 We've all heard the dire news. We've seen the straw drawn out of the turtle's nose. We carry our reusable bags, whether or not our town has outlawed them. We know about the Great Pacific Garbage Patch. In ways large and small, the people of the world are grappling with the looming environmental disaster of plastics. But we know that the issue is complex. Plastic straws are a necessity for many members of the disabled community. Plastic treasures, from the earliest celluloid jewelry to the first artificial heart to myriad acrylic paintings and fiberglass sculptures, fill our museums. For museums, the problem with plastics threatens to destroy a century of treasures.
The New York Times recently detailed the issue facing the conservators of many institutions, including those at the Smithsonian, struggling to save Neil Armstrong's spacesuit from the moon landing. The suit includes twenty-one different types of plastics, all deteriorating at different paces. The suit has been taken off display to arrest its decomposition, but the damage has already been done to other historic suits. In those, the neoprene found within internal layers of the suit has turned brittle and shattered. At the Smithsonian and many other art, science, and history museums around the world, conservationists and scientists are racing to figure out the best ways to preserve and repair artifacts that, despite having a half-life of a thousand years, seem to have a useful life span of less than a hundred years.
The first sign that a plastic object is deteriorating is usually yellowing or microfracturing of the object. While unsightly and inconvenient, this is essentially a warning sign that worse conditions are coming. Offgassing, shrinking, and other kinds of visible degradation are soon to follow. In creating plastics, molecules are arranged and frozen in an inefficient manner. Over time they regroup, separating the object itself into brittle structures with white powdery materials or sticky substances emerging. Some earlier types of film create acetic acid in the course of deterioration, causing what archivists call "vinegar syndrome". As with film, this short shelf life of plastics is also affecting archivists who are rushing to save information stored on physical media. As the space and time needed to store content shrank, the amount of information saved exploded, resulting in a surfeit of information that needs to be evaluated and conserved in a relatively short amount of time. Whether cassette tape, CD, flash drive, or physical server, plastics are integral to the modern world's ability to save itself for posterity and renewing the lifespan of plastic objects with information stored on them requires money and time that many institutions unfortunately do not have.
In the short and medium term, trainings on how to deal with plastic should become more widespread and additional funds will need to be allocated to deal with issues of plastics conservation and preservation of information and objects currently stored via plastics. However, the long-term state of preservation is going to require new thinking about how to display and discuss a culture who so thoroughly relied on an object with such a limited lifespan. Future historians will also need to explain why such reliance on a temporary material with harmful environmental effects was considered a desirable solution for twentieth century humans. The sooner those conversations commence, the more useful they may be in mitigating culture loss and environmental damage.