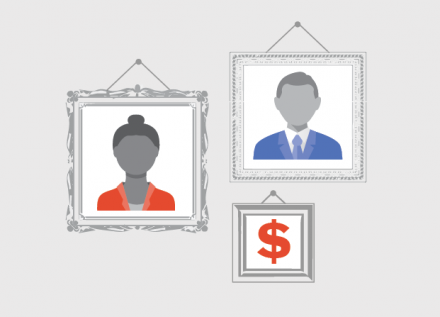 The past few weeks, our blog has focused on what is a museum, and hopefully, you have a few ideas about it yourself now. However, this week I'm shifting my focus to discuss a new survey from ArtNet and the podcast "In Other Words" produced by Art Agency Partners. This survey recently revealed that despite the growing awareness of gender inequity in the art world over the last decade, the top twenty-six museums in the United States acquire artwork from female artists at the basically the same rate that they did ten years ago. So, what can museums do to change this? 
Actually, purchase their pieces – don't just showcase them. While highlighting works of art through special exhibitions has increased exposure for a lot of female artists, it is not a Band-Aid solution that can be slapped onto the greater inequities in the field. This study specifically looked at the numbers of works of art that were acquired into the permanent collections of these museums. Solo or group female artists exhibitions are helpful in many ways, like name recognition and visitor exposure to the artists' work, but these shows certainly do not solve the inequities between male and female artists in the field.
Prioritizing female artwork, particularly female artists of color, even when works of art are donations. Museums get some of their pieces through direct purchases, they also often receive them through donations. In this case, donors have a lot of control over because they are the ones purchasing and offering the artwork. If museums truly want to correct the gender inequity in the art world, then they need to prioritize work by female artists in their collection by setting stricter guidelines, or possibly creating a vision statement for the evolution of the collection to guide the acquisitions committee.
Changing who is on the acquisitions committee. By having new voices and perspectives represented within the actual committee that controls the new additions to the collection, the museum will likely expand the perspectives within its collection as well.
Deaccessioning pieces by white, male artists and using that money to purchase new pieces by female artists or artists of color. One example of this comes from the Baltimore Museum of Art (pictured below) in 2018: in an attempt to "[diversify] its collection to enhance visitor experience," the BMA deaccessioned seven pieces of art that it found to be redundant in its collection. With the money from these deaccessioned pieces, the institution set a goal to purchase works from both female artists and artists of color.

The gender inequity can be improved in the art field, but there may be some backlash or discomfort along the way. Both large and small changes can aid the process, but this new study has made it clear that new mindsets are needed to improve this problem in the decade that's to come.
To read more about the survey mentioned here, please see the ArtNet News article: "Museums Claim They're Paying More Attention to Female Artists. That's an Illusion" and the New York Times article: "Female Artists Made Little Progress in Museums Since 2008, Survey Finds."