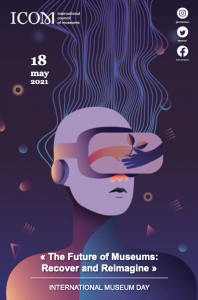 As Museum Studies students, we love to celebrate museums year-round. But did you know that there's an internationally-recognized day each year when museums get to take center stage? Last week, on May 18, the International Council of Museums (ICOM) hosted the forty-fourth annual International Museum Day, an observance that has taken place every year since 1977. According to ICOM's website, the primary goal of International Museum Day is to raise awareness that "museums are an important means of cultural exchange, enrichment of cultures and development of mutual understanding, cooperation and peace among peoples."
The first International Museum Day was observed in 1977, but the idea of setting aside a day each year to honor museums first emerged nearly three decades prior. In 1951, ICOM hosted an international gathering for museum professionals called "Crusade for Museums," where the necessity of increasing education and accessibility in museums was a hot topic of conversation. Out of these discussions emerged the idea of an annual observance celebrating museums, and during the 1977 ICOM General Assembly in Moscow, International Museum Day was formally established.
The theme of this year's International Museum Day was "The Future of Museums: Recover and Reimagine." After a year that has presented museums worldwide with immense economic, social, and political challenges, this theme asks museum professionals and museum-lovers alike to consider how all types of museums can best serve their publics as we move into a hopefully-brighter future. As ICOM President Alberto Garlandini expressed in his message for International Museum Day 2021, it is not enough for museums to simply recover from the difficulties of the past year; they must reinvent themselves "and seize the opportunity to build back a better world." You can check out the full message in the video below!
But while International Museum Day has a unique theme each year, the overall goals of the observance have remained the same through the decades: to encourage museums around the world to plan fun and engaging events for their publics and to raise awareness of museums' ever-important role in our world. Accordingly, museums around the world planned a wide range of digital and in-person activities to acknowledge International Museum Day, many of which you can still enjoy via ICOM's interactive WeMap.
If you missed this year's International Museum Day, don't fret—there will be another opportunity to celebrate museums coming up in June with MuseumWeek, an international event slated for June 7–13. MuseumWeek, first established in 2014, will take place virtually across a range of social media outlets, and the theme for this year is Creativity. You can read more about MuseumWeek and how you can participate on the MuseumWeek website, and you can also follow along on their Twitter feed!