About the Editors
The Editors  
Andrea Woodberry
Hi everyone! I'm from Minnesota and fully embrace the stereotypical identity as a lover of snow, lakes, and pine trees. Give me some good books, good friends, and lots of nature, and I will be a happy camper. But right alongside these loves, I am passionate about building connections and experiences that expand my own and others' lives. So I have two ideal settings: one is gathered around a bonfire on the shore of a lake with a hot drink and good friends, no matter the season; the other is a museum that's full of diverse, engaged visitors. In my free time, I can be found reading, baking, and exploring new hiking trails and coffee shops.
My entry point to museums was through a love for history and informal education. I graduated in 2016 from Luther College in Iowa with a history major and minors in French and museum studies.  During those years, I realized that museum ed is the place for me. It is the perfect combination of content and people and provides a place to form those connections that I love. So last fall I said goodbye to the corn fields and blue lakes to pursue a degree in museum education. I see museums as places of intersection – of any combination of stories, objects, and people. I find myself thinking a lot about how museums can continuously deepen new and existing audiences' interactions with each other and objects. While my background is in history and culture museums, I love discussing how museums of all disciplines can learn from each other to benefit the whole field. I'm looking forward to editing the blog with Dominique and to connecting with you all through our common love for museums!
Dominique Marcial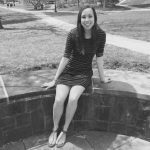 Hey museum-lovers, I am a Northeast Pennsylvania native with an affinity for canonical literature; Jane Eyre, Pride and Prejudice, The Great Gatsby, you name it, I've read it. I am a frequent jogger, with a tendency to listen to Indie to get me through the pain following mile 5. I have a Bachelor's degree in  English Literature (surprise, surprise) from Lafayette College, and originally intended to become a teacher. Yet after a summer internship at a local museum, I fell in love with the idea of free choice and object based learning in the museum setting. Low and behold, here I am, pursuing a Master's in Museum Education at Tufts. I am also the Visitor Services Coordinator at the Edward M. Kennedy Institute for the United States Senate.
My love for museums stemmed from an early age. I was the type of child who would ask to go to local historic houses or museums on my birthday. The narratives behind the objects drew me in. As an ardent reader, I loved the stories behind the objects regarding past owners, or creators of the objects, as well as their purposes. As a woman in my early twenties, with a little more museum experience under my belt, I can say that I am truly invested in the community relations and services a museum provides to its local sphere of influence. Whether that be through school programs, senior tours, or public programs, the museum acts as a medium of information regarding not only its collection, but also contemporary social connections and conversations. It is truly up to us as museum professionals to make more accessible connections with the community to be a source of education, contemplation, and even change.
We hope you enjoy reading our posts, contributing to the conversation, and exploring the museum world with us this year!