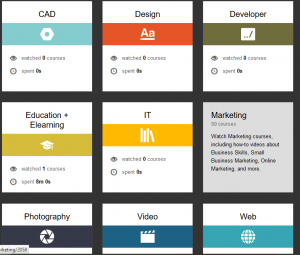 For years Tufts Technology Services held a small number of monthly licenses to Lynda.com—an encyclopedic self-paced digital learning library. Now the entire Tufts community has unlimited access to this robust technical training library with just their Tufts username and password.
One of my favorite things about Tufts is finding out about all of the resources we have access to as graduate students. Both on-campus and online, our student status opens the door to far more tools and opportunities than we have time to utilize. As you make priorities for this school year, I encourage you to check out the new access we all have to Lynda.com.
One example of the site's usefulness is a course I am working through called Instructional Design Essentials. In the segment "Getting to Know the Subject Matter Expert," Lynda.com provides segmented video instruction regarding best practices of collaboration between content experts and educators, and also guides students through each stage of the process, from preparing for the kick-off meeting through wrapping up the final deliverables. It even includes pre- and post-content quizzes and downloadable charts and outlines ready to be customized to a specific project.
Already an instructional design pro? What about Google Analytics, Photoshop, HTML, or Project Management? Take time now to pick a few playlists that specifically connect to your own 3-6 month goals and schedule in this personal development time.
What tools are you most excited to learn?
Alternatively, if you have trained with Lynda.com or a similar site, do you have any tips for making the most of these resources?