History of Jumbo and the Need for TECA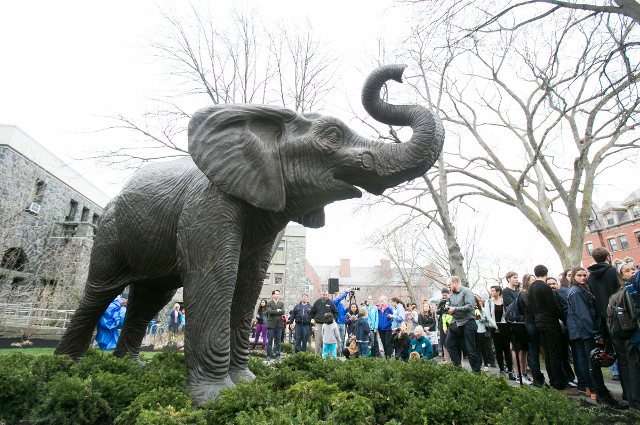 History of Jumbo and the Need for TECA
Jumbo Died Saving a Baby Elephant —It's now our turn as Jumbos to save our fellow Jumbos.
Jumbo is more than just a nickname!

Tufts' mascot, Jumbo the Elephant, was the head of the P.T. Barnum circus in the 1880s. Jumbo was the largest elephant in captivity and sacrificed his life when an incoming locomotive was heading straight for a baby elephant. Jumbo pushed the baby elephant off the railroad tracks, and died a hero.

P.T. Barnum was a trustee of Tufts who donated the stuffed body of Jumbo to the university. Jumbo stood proud in Barnum Hall until 1975 when a fire burned part of Barnum Hall. His ashes were put in a peanut butter jar and now sit in the athletic director's office. A statue of Jumbo today is located outside of Barnum Hall.

Today, every 15 minutes an elephant for its ivory tusks, resulting in tens of thousands of elephants killed every year.

Tufts Elephant Conservation Alliance (TECA) is a group of faculty members from across the university with a mission to educate the students and the community in hopes to preserve elephant conservation efforts.

Why Tufts?
First and foremost, our mascot is an elephant! Not only a normal elephant, but the legendary Jumbo. Academically speaking, Tufts is the only University with a Vet School and a Law and Diplomacy School, making it the perfect place for cross-collaboration to address elephant conservation. There are many perspectives to this issue including economists looking at the role of illegal multi-billion dollar ivory markets or environmentalists studying habitat destruction. Tufts has a wide variety of educational resources and campuses to study all of these issues.

Tufts has experts in and promotes research in the following fields:

Human and Veterinary medicine
Wildlife Policy
Environmental Sciences
Engineering
Public health
Urban Planning
Conflict Studies
Economics
Law and Diplomacy
Epidemiology
In addition, TECA's mission aligns well with the values of Tufts students. Being environmentally and globally conscious is a priority on this campus, and TECA's work serves as yet another reminder for why these efforts are so important. Giving students a concrete cause to get behind would only strengthen activism and education here at Tufts.
The university can utilize its resources.

Why TECA?
Around the world, elephants face threats to their survival. It is a crisis! Causes include but are not limited to, poaching for the ivory trade and habitat endangerment. Our mission entails a transdisciplinary approach to elephant conservation with tangible outcomes that will advance elephant conservation as well as educate the university and community at large. This issue is so threatening because they are now critically endangered. Sadly, out of 400,000 elephants in Africa, 30,000 African elephants are still killed by poachers each year. While 400,000 elephants may seem like a lot, around 100 years ago there were over 12 million. As Tufts University Jumbos, let's work together to preserve the elephants! Never forget Jumbos for Jumbos!  

How can students get involved?
TECA has a summer grant program for any Tufts student (undergraduate or graduate), where they conduct a project relating to conservation and/or protection of African or Asian elephants. The student must be sponsored by a faculty member. Student projects could be research, communication, education, art, or service projects.