As the first snowstorm is upon us, and temperatures are dropping we must turn our attention to the homelessness crisis in the City of Boston.
Last year, Boston reached a spectacular milestone when the percentage of homeless people able to find shelter during the 39th Annual Homeless Census reached over 98%—the lowest street count in over three decades. This year will likely not provide the same rate of success. While an estimated 18,400 individuals experienced homelessness in Massachusetts in 2019, this number is likely to rise due to the COVID-19 pandemic and local government policies.
COVID-19 Exacerbates the Homelessness Crisis
The COVID-19 pandemic is the perfect storm for exacerbating a city's struggles with housing and homelessness. Restrictions on businesses and shut-downs have cost hundreds of thousands of Massachusetts residents their jobs, resulting in massive income loss and a sudden inability to pay for necessities like rent, utilities, and groceries.
The Massachusetts Department of Unemployment Assistance is unable to meet demand for the deluge of new claims burning through its funds in record time. They are so backed up it can take months between filing a claim and cashing a check. While the City of Boston is allocating $8 million in federal stimulus funds to protect Boston renters, this only applies to those who are not receiving other forms of unemployment benefits and can demonstrate that they have no other options. Established homeless shelters, trying to minimize contact and diminish crowding, have reduced their staffing and capacity. Moreover, Governor Charlie Baker elected not to renew the statewide eviction moratorium, allowing it to expire in mid-October.
To combat the looming increase of unhoused individuals, Governor Baker is pushing for a $171 million initiative to support both tenants and landlords. While this does increase the maximum benefit of the state's rental assistance program from $4,000 to $6,000, it does not halt evictions and instead serves as a band-aid for the impending housing crisis. Many renters in Boston are months behind in their bills and need assurance that they will have a roof over their heads throughout the winter. Governor Baker points to the CDC's recent order to halt residential evictions through the end of December as a public health strategy, though Massachusetts Attorney General Maura Healey told WBUR that her office has received hundreds of complaints about "landlords threatening to change the locks on people, reporting tenants to ICE, [and] threatening to evict people following a positive COVID test."
Homelessness and Health
To further exacerbate these losses, the American health care system links employment status with health insurance, meaning the loss of a job often corresponds with the loss of health insurance. In a public health crisis, this can discourage symptomatic individuals from seeking treatment for fear of the bill that comes at the end.
Homelessness is a public health crisis even outside of the context of a pandemic. Rates of chronic health conditions are significantly higher among the unhoused population, particularly for conditions such as substance use disorders, depression, HIV, and Hepatitis C.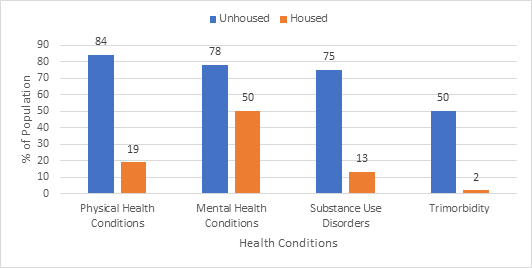 Figure 1. Health Conditions Among the Housed and Unhoused US Population (2015-2017)
Source: California Policy Lab
Compounded by the exorbitant cost of medical care, these health problems create immense stress and can become a barrier to stable employment when not managed, thus creating a cruel cycle, trapping individuals in their unhoused status. A lack of stable housing, employment, and medical services result in more individuals seeking help from social services and government supports like food banks and overnight warming shelters, especially in the winter. This is an infectious disease nightmare.
Managing Infectious Disease Among the Unhoused
The unhoused population faces unique struggles when it comes to managing infectious disease spread. According to the National Health Care for the Homeless Council, circumstances that increase the likelihood of disease transmission and the severity of contraction include:
Living and/or congregating in crowded conditions (i.e., shelters)
Visiting and accessing social services from designated centers (i.e., soup kitchens)
Having limited access and supplies to maintain proper hygiene
Having limited access to nutritious food
Having a pre-existing condition, especially when not well-managed
Having limited access to preventive and diagnostic medical care
Lacking health literacy and/or access to reputable news sources to learn about outbreaks
Lacking the ability to socially distance, quarantine, or isolate
Increased difficulty contact tracing positive cases
COVID-19 is particularly dangerous because of its up-to 14-day incubation period and asymptomatic spread, in which an individual can be transmitting the disease to others without experiencing any symptoms. Pine Street Inn, a homeless shelter in Boston, offered testing in collaboration with the Boston Health Care for the Homeless Program. Their April 2020 analysis offered critical insights on asymptomatic spread: 397 people tested positive and 146 of those were asymptomatic. This offers only a snapshot of the unhoused population over a short period of time but demonstrates how difficult tracking and containing the spread of COVID-19 is within this population.
A Call to Action
An unprecedented number of Massachusetts residents are finding themselves unemployed, struggling to keep up with rent, and without adequate health care amid this deadly pandemic. With winter moving in, more businesses are forced to close their outdoor operations, hibernate for the winter, and in some cases close permanently, leading to even more unemployment. The CDC's eviction moratorium protects some renters, but is more limited than the prior Massachusetts moratorium and is set to expire December 31st. Governor Charlie Baker has the power to reactivate and extend the eviction moratorium in Massachusetts; all he has to do is pick up his pen.