To kick off the start of National Nutrition Month, here are some of our favorite quick and easy, and oh so nutritious breakfast recipes!
Banana Pancakes
Total time: 10 minutes
Prep time: 5 minutes
Yield: 3 pancakes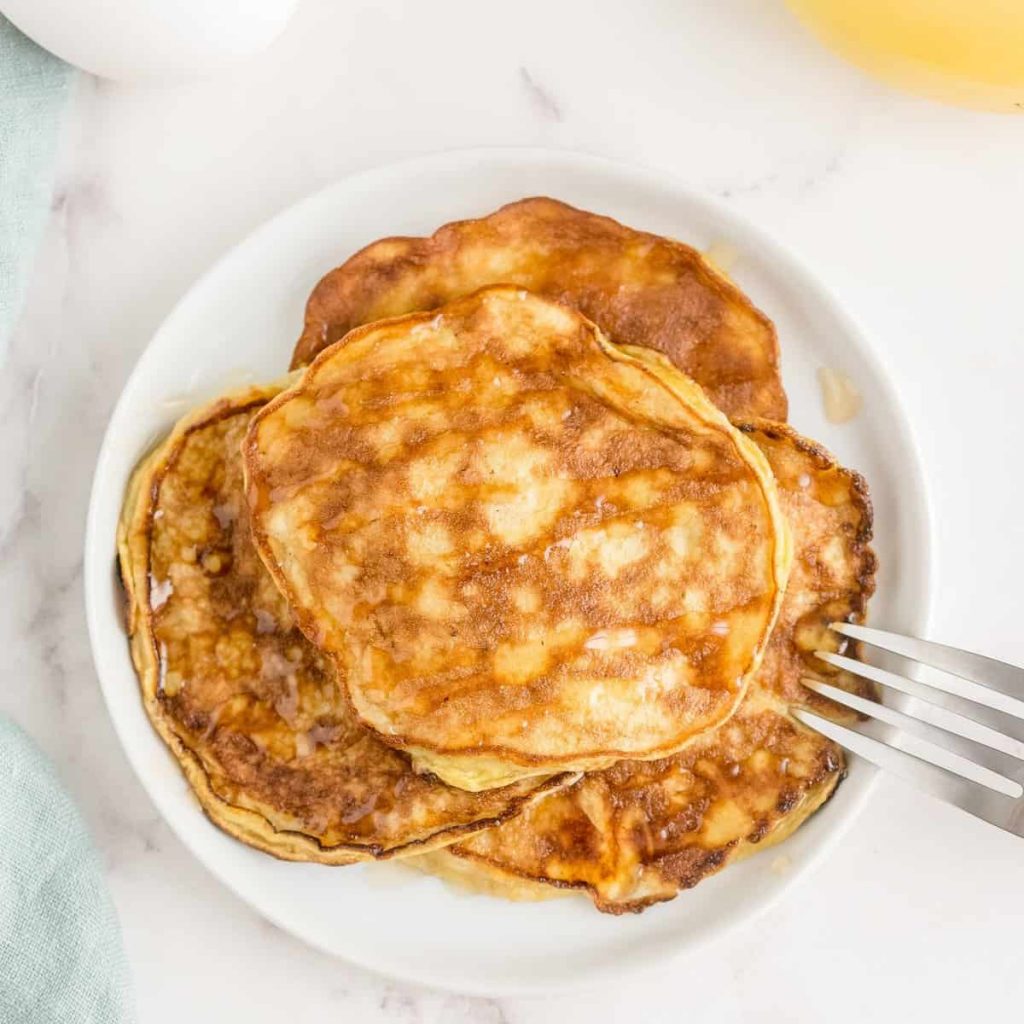 Ingredients
1 ripe banana
1 egg
olive oil or cooking spray
Instructions
1. Place a frying pan or skillet on stove and add oil or cooking spray over low heat.
2. Put the banana in a medium bowl and mash into a chunky puree with a fork
3. Crack egg and add to mashed banana. Stir with fork to combine.
4. Add two tablespoons of batter to heated pan. Cook one side for one minute or until golden. Flip
pancake with spatula when top begins to bubble.
5. Cook remaining side until golden brown. Repeat with remaining batter.
Note: This recipe can easily be doubled for more pancakes. Customize the flavors by adding cinnamon or
vanilla. Serve with berries, syrup, nut butter or topping of your choice!
Recipe Source:
http://eugeniekitchen.com/banana-pancakes/
http://www.thekitchn.com/how-to-make-2-ingredient-banana-pancakes-cooking-lessons-from-the-
kitchn-218658
Overnight Oats with Mango and Berries
This recipe is easy, completely customizable and perfect for planning ahead. Top with any fruits, nuts or seeds you like. Dried, fresh or frozen fruit all work well in this recipe. Chia seeds help to thicken the oats and add nutrients. Oats can be stored up to 4 days in the refrigerator.
Yield: 1 serving
Total time: 8 hours and 5 minutes
Prep Time: 5 minutes
Chill Time: 8 hours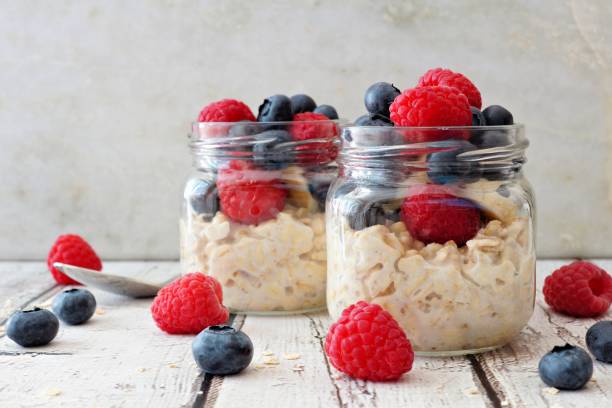 Ingredients
½ cup rolled oats
1 cup unsweetened almond milk
¼ cup plain Greek yogurt
1- 2 tablespoons chia seeds
Frozen berries
Frozen mango
Instructions
1. Combine rolled oats, chia seeds, and Greek yogurt, in a medium container that has a lid
2. Add unsweetened almond milk, frozen berries and mango to the dish with the rolled oats, chia seeds
and yogurt. Mix well and cover.
3. Refrigerate 8 hours or overnight, and the next day you can separate the amount to small mason jars.
Add other toppings such as nuts, seeds, and other fruits
Inspired from: https://downshiftology.com/recipes/overnight

Baked Frittata
Total time: 25 minutes
Prep time: 10 minutes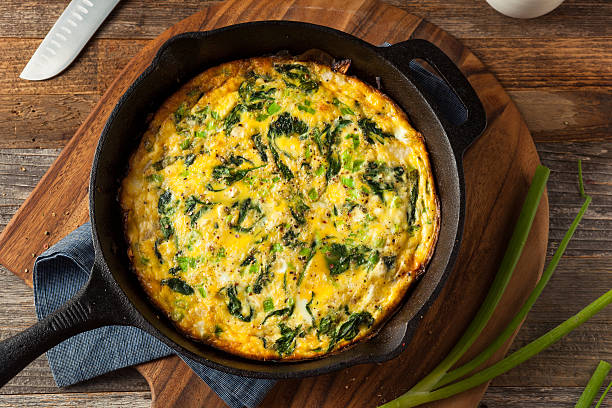 Ingredients
3 Eggs
2 bell peppers
½ onion
1-2 cups spinach
Everything bagel Seasoning
Instructions
1. Preheat oven to 400 degrees Farenheit
2. Cut onions and bell peppers. Cooked it in the pan and add spinach last.
3. Beat eggs in medium bowl. Put the cooked vegetables in the bowl with the beaten eggs. Add
everything bagel seasoning.
4. Pour the mixture into a baking dish. Baked it for 25 minutes.
Note: You can add cheese
Recipe Source: https://cookieandkate.com/baked-frittata/
Berry Morning Mash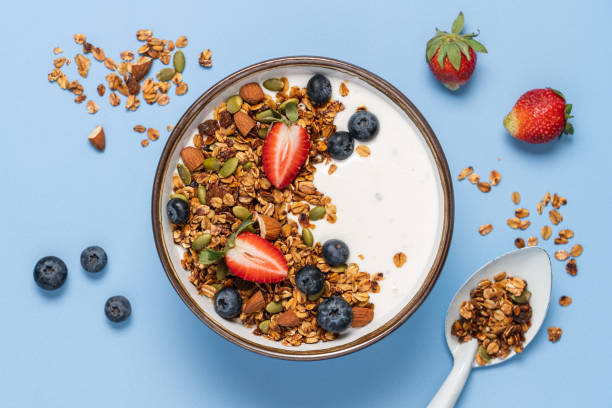 Ingredients
½ cup fat free blueberry yogurt
¼ cup low-fat cottage cheese
½ cup sliced fresh or frozen blueberries and/or strawberries
½ tablespoon fat-free granola
Instructions
1. In a bowl combine yogurt and cottage cheese
2. Top with frozen berries, granola, and nuts
Note: You can also use Greek yogurt and use other fruits too.
From: Tufts Balance Your Life (BYL)