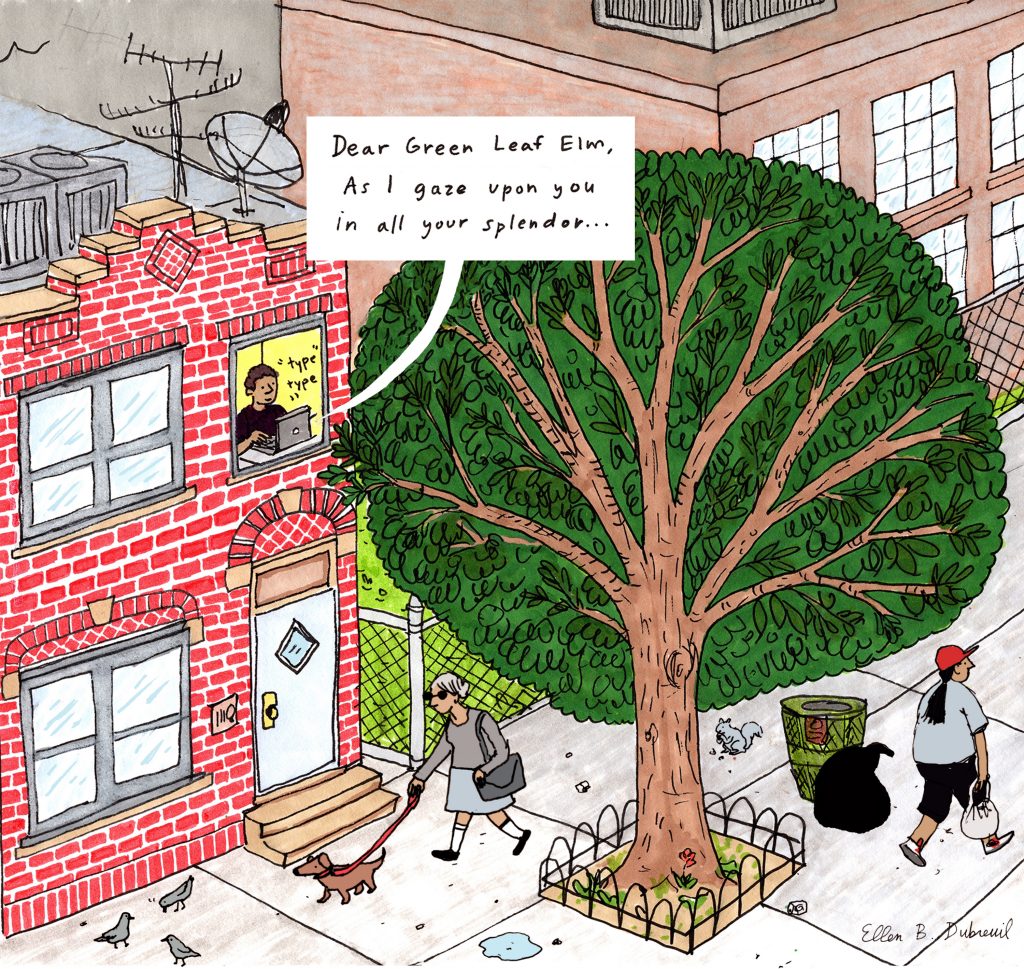 By Ashley Lin
Image by Ellen Debreuil
If you don't know the name of the tree outside your house or apartment (or don't know if there is a tree outside your window), you're not alone. Most people don't think about finding nature when they look out their window at home or at their workplace, so they don't see nature. And not seeing nature, 'Nature' comes to be considered as something far, far away, something big and grand, and something "wild," untouched by human beings. In our search for the National Parks and old-growth forests and natural tidepools, we can forget that nature can be found in the trees right outside our windows. Which brings us to our story.
When, in 2018, city planners in Melbourne, Australia assigned each tree an email address, they interrupted our nature-only and city-only ways of thinking. In the beginning, the city planners had intended for ID numbers and email addresses to be a convenient way of reporting problems with trees, like dangerous branches or storm damage. But by naming and giving contact information to one of the most visible pieces of nature within the city (and even right outside our windows) city officials reminded citizens to reclaim the nature around them by connecting to the trees.
Melbourne's residents quickly decided that they were less interested in filing damage reports than they were celebrating and thanking the city's over 70,000 Eucalyptus, oaks, and elms — each of which were felt to be heroes in their own unique way. Whether they serve as a perch for local birds and squirrels, remind hurried passersby to slow down and breathe, provide welcome shade on hot summer days, or something else entirely, it became clear that every tree had at least one secret admirer.
It wasn't that these city-dwellers hadn't been interacting with nature. It was that they had simply forgotten how to notice and express it. Emails made this much easier. And citizens wrote thousands of, not just ordinary emails, but love letters to their favorite trees. This one was typical:
Dear Green Leaf Elm,
I hope you like living at St Mary's. Most of the time I like it too. I have exams coming up, and I should be busy studying. You do not have exams because you are a tree. I don't think there is much more to talk about as we don't have a lot in common, you being a tree and such. But I'm glad we're in this together.
Perhaps a bit silly, but definitely heartfelt. By emailing trees, Melbourne's citizens remind themselves that they aren't separated from nature by the city; they are very much in nature and a part of nature. And that last phrase, "we're all in this together," suggests some sense of mutual responsibility to take care of each other.
So, if you don't know the name of the tree outside your window (or don't know if one exists), go take a look! Even if you don't live in Melbourne, it doesn't mean you can't give your tree and email address and write them. Express your love, gratitude, and companionship. Be silly. Be serious.
Just let the words flow and realize that nature is all around you. We're in it together.