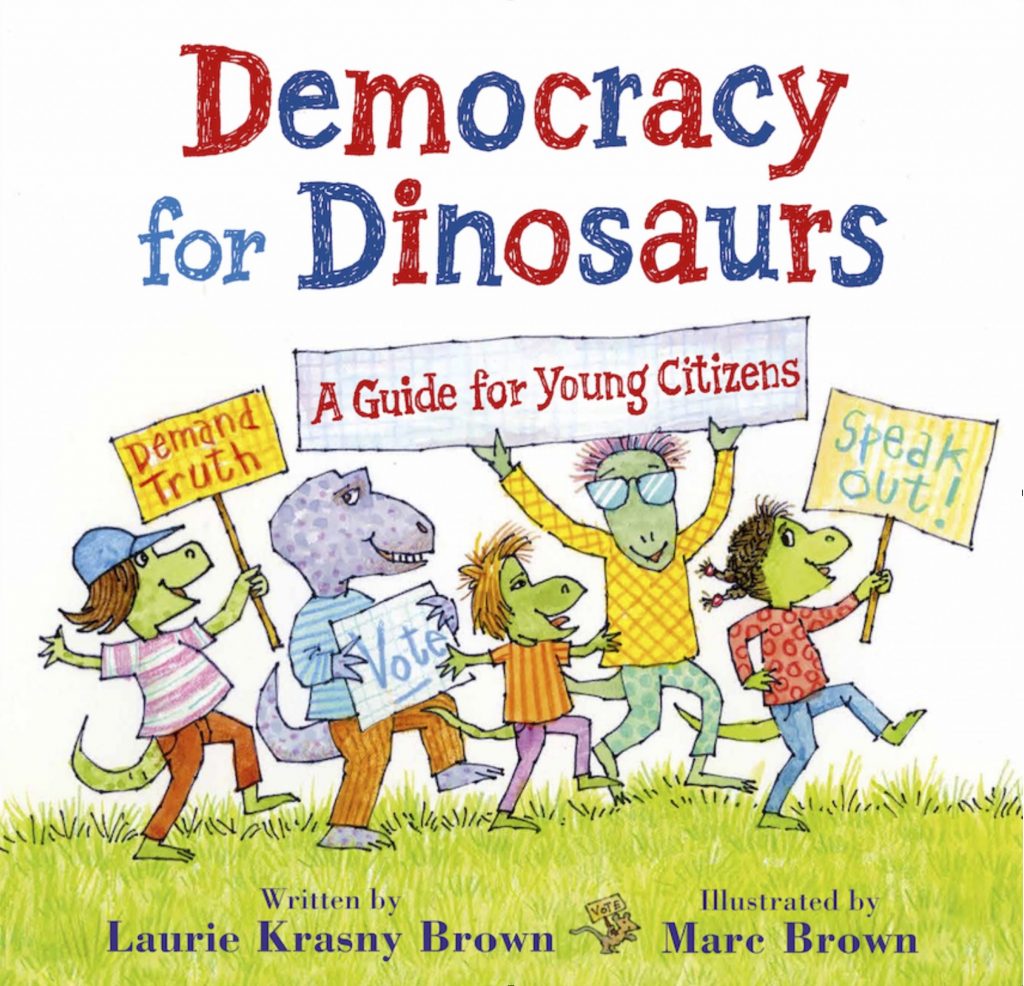 Review by Leah Harrigan
It's never too early to start learning how to be an engaged citizen – just ask author Laurie Krasny Brown and illustrator Marc Brown, creators of Democracy for Dinosaurs: A Guide for Young Citizens. An introduction to civic values for young children, this book explores the important question of what it means to be a "kid citizen" in a democratic society. Brown's familiar watercolor characters teach key principles of democracy and model ways to share, practice fairness, and respect one another's opinions as young changemakers in an ever-evolving world.
A long-necked dinosaur leans over her classmate's desk and asks "What's this word? How do you say it?" Her classmate smiles into her book and replies "Easy, that's la casa. It's house." The book uses accessible examples of values for children to practice (like sharing language) to expand their thinking to larger concepts, like sharing equal rights. This includes treating others with kindness and respect, like the girl who admires her friend's hijab or the dad who makes sure each little dinosaur has a slice of pizza. The author explains that "When no one gets left out, then everyone has equal rights. That means all citizens would have the same chance to share what society has to offer."
The book's characters introduce key ideas of voting and elections, and readers are reminded that "If a decision is made without you, there is less justice." In one example, the dinosaurs grapple with whom to vote for in a class election and students think aloud about the candidates.
He bosses us around, says one.
He's good at helping out, suggests another.
She tells jokes, says the third.
Readers are encouraged to think about what it means to be a smarter voter, make up their own mind, and respond with goodwill to other candidates' wins.
A lesson that rings with relevance is Brown's exploration of truth and honesty, as she depicts characters who seek the truth with an active sense of curiosity. Brown explains that "A kid citizen is always on the lookout for what is true, honest, and accurate." Readers are encouraged to inquire and understand why they are being told something to become more active in their decision making. The book distinguishes truth from concepts like wishes, make believe, and opinion. A dinosaur wearing a superhero costume asserts "I'm always the boss!" as his siblings look upon him with surprise. Brown asks readers to use their own eyes and ears to recognize the truth while characters model examples of what it means to think for oneself.
Brown incorporates these values and others into a collection of relatable examples that connect children's everyday actions to larger civic values. Additional concepts in the book include fairness, free speech, standing up for democracy, and a To-Do List to practice being a better kid citizen. The author speaks directly to young citizens and asks them to view themselves as meaningful participants in their daily interactions, decisions, and efforts to move towards equality for all people (ahem, dinosaurs).
As we engage children to become active citizens in their communities, it's expected that many values in this book are fresh on the minds of adults as well. The author provides a concluding word that "The subject of democracy is rich and complex", and that the book itself "cannot presume to capture a comprehensive discussion of all the key tenets in a democratic government." There are certainly more layers to unpack beyond the world of these young dinosaurs that can be initiated with deliberate and thoughtful guidance from adult readers. The story can spark rich conversations for adults to explore with children, such as how we might care for those who are non-citizens, what we can learn from listening to others, and how collaboration helps us reach compromise. It sets the stage for further inquiries about the complexity of equality on a national scale to better prepare children as active citizens of the world.
Thought-provoking and timely, Democracy for Dinosaurs: A Guide for Young Citizens asks readers an essential question about growing up anywhere where democracy is practiced: How will I contribute to positive change in my community and beyond? In bringing to life child-assessible values in the everyday lives of dinosaurs, readers are encouraged to think more critically about what it means to be a young citizen practicing freedom, fairness, equality, and respect (for each other, for the truth) in their own lives. This book invites readers to think about how to show care for one's community on a larger playing field – with the Brown's dinosaurs to help along the way.