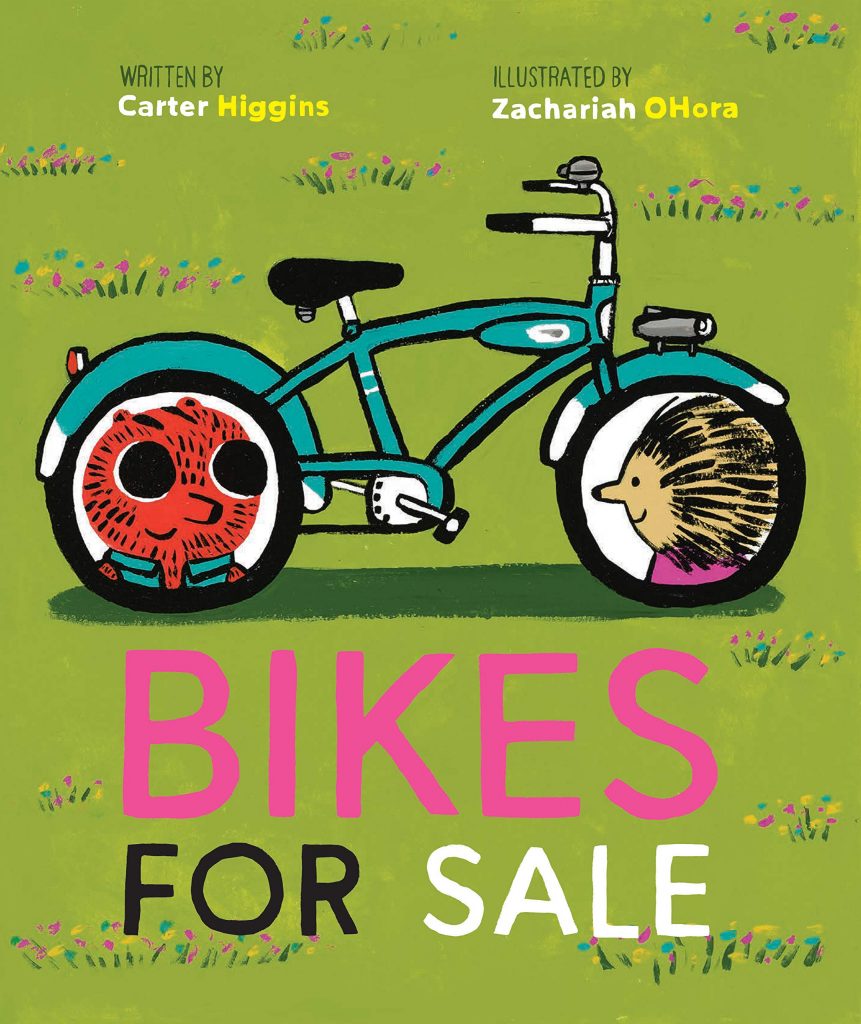 Review by Joy Chi of book Bikes For Sale by Carter Higgins, Illustrated by Zachariah OHora
In previous generations, bikes were functional vehicles utilized for transportation, recreation, and sport. However, their usefulness was often overshadowed by automobiles. In Bikes For Sale written by Carter Higgins and illustrated by Zachariah Ohora, the emphasis on bike culture is evidenced through two playful characters, Maurice and Lotta. An introduction to problem-solving, creativity, and adventure, the book dives into the magic of biking for exploring nature and feeling free. The story begins with Maurice and his bright yellow bike attached to a lemonade stand. Maurice rides his bike to the grocery store, through parks, while selling his lovingly-made lemonade to all those he crossed paths with. After some time, he would continue to ride on, trying new corners and zooming across his town.
On the other hand, Lotta, a young girl resembling a porcupine, owns a ruby-red bike with a huge basket capable of carrying her favorite sticks. She bikes to the woods, through ditches, and gives away her sticks to citizens in the colorfully illustrated city. As readers turn to the next page, they can view various animals wielding sticks as swords, limbo rods, and even stilts. One fateful day, Maurice and Lotta break their prized possession, their bike, on accident. In the following days, both charming characters utilized problem-solving skills and decided to wear sneakers and galoshes, seeking to forget where their wheels had once been. Meanwhile, a bike expert and raccoon named Sid finds the previously-loved bikes discarded in the trash, thinking, "The rust sparkled. The deflated tires still held hope… The satchel told stories of sugar. The bellding-a-linged of a ditch. The sprockets remembered mud and lemons, twigs and mint." He brings the previously-loved bikes to his shop and restores them to their former glory. His actions emphasize both his creativity in mending vehicles and his view of the broken bike's value. Even while Maurice and Lotta originally threw their bikes away, there was another character that saw the beauty of where the bikes had been.
The loveable characters, Maurice and Lotta, sought to find new bikes in Sid's shop and befriended one another. They attached their bikes together, happily embarking on new adventures. From walking in nature, to seeing a snake, to sharing lemonade, to even hitching a ride on a swan, the two characters work together to create something new: a lemonade stand. Utilizing Lotta's sticks to create the stand and Maurice's ability to create lemonade, both create a grand opening of their newest concoction. As citizens enjoy both free sticks and a cold glass of mouthwatering lemonade, the book states, "Now the lemons had more shine and the sticks had more snap. What looked like a friend was really a friend, and that's how friendships begin." Two beautiful characters, previously unknown to one another, had their lives intertwined due to the bicycle. Through Higgins's simple but powerful word choice, he incorporates the importance of the bike and how bikes can change our worlds. He emphasizes how, together, we can achieve more. As Maurice and Lotta explore nature together, not only are they able to bike and see various animals, they also are able to create memories and form bonds with each other.
Even more so, the story has the ability to spark conversations with adults and children about the natural world and the benefits of biking, as opposed to other methods of transportation, particularly cars. Through the bicycle, Maurice and Lotta are able to enjoy the scenery of their beloved town and also meet all sorts of people on the way. The author points readers to the question of "What do you value?" and introduces a key idea of how there is value in everything, such as a broken bike, even when others chose to turn a blind eye. Most of all, the humanized characters emphasize the power of creation, restoring, patience, openness, and a love for biking, evident in every page turned. With beautiful and quirky drawings by Zachariah Ohora, Maurice and Lotta come to life as they navigate their colorful world while riding on their bikes. Through the story, readers are encouraged to rethink the value of bicycles in a society where most use automobiles as a form of transportation. Absolutely mesmerizing, wholesome, and timely, Bikes For Sale intertwines the power of bicycle culture, nature, and friendship for our generation and years to come.