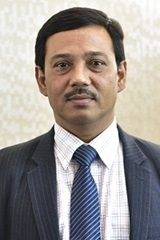 Ashraful Alam
Deputy General Manager
Bangladesh Bank
Ashraful has been working in the area of financial inclusion for a very long time. He joined the Bangladesh Bank back in 1996 as Assistant Director and gradually got involved in inclusive or development finance areas. From 1999 – 2007 he worked in the low cost housing finance for the poor. In 2007 he joined SME foundation, a government sponsored entity to promote access to finance for the SMEs in Bangladesh.
He returned to Bangladesh Bank in 2009, joining in the newly established SME & Special Programs Department, and progressively maintained a rich portfolio of job assignments in the policy, planning, project design and management areas. More recently, he joine the newly formed Financial Inclusion Department of Bangladesh Bank as deputy head of the department.