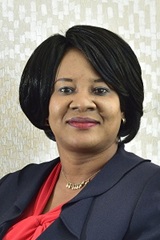 Mankolo Beyani
Assistant Director, Bank Supervision Department
Bank of Zambia
Mankolo Beyani is the Assistant Director in the Bank Supervision Department and heads the Regulatory Policy, Licensing and Liquidations Division.
Her key responsibilities include coordinating the development and enforcement of banking laws and regulatory framework to achieve a safe, sound, efficient and stable financial systems, and coordinating research on emerging issues in the financial sector. Moreover, she is responsible for guiding the development of frameworks and mechanisms for consumer protection and market conduct; guiding the development of appropriate financial products and their delivery mechanism channels.