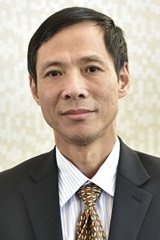 Tuyen Van Le
Director, Payment Policy Department
State Bank of Vietnam
Tuyen Van Le's work in financial inclusion involves designing and implementing the national retail payment strategy in Vietnam. The strategy focuses on regulatory reforms for the development of electronic (or digital) payment systems, services and payment instruments for individuals, businesses, and government agencies. He is also responsible for introducing Circular 39, which regulated guidelines for non-bank payment services providers. He is a member of a national payments council in Vietnam that serves as a forum for multi-stakeholder consultations related to non-cash payment innovation.