Last week's theme was slightly challenging. A lot has happened in the lives of all of us especially in the last past 4-5 months. So I think it might have been hard to cherry pick one particular event from that myriad. Nevertheless, I am glad to share the following submission.
Fatima Huseynli
Student
Budapest, Hungary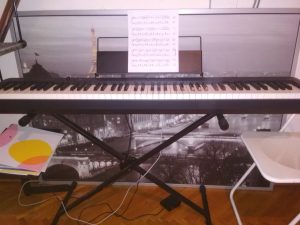 An mage of an electric piano on a stand against a wall. 
"The object that fits the theme perfectly for me, is definitely my piano. I remember back in March, when the pandemic was just picking up and the lockdowns and preventative measures were partly in place, I purchased an electric piano from Amazon. Boy, oh Boy, was that an incredibly important, dare I say, perfectly timed an extremely impactful event in my life. I would be lying if I said what to expect from the following few months. What I did know for sure, was the pure joy, sweet, nostalgic melancholy that I felt while practicing my scales for the first time in over 5 years.
I never picked my piano before. During and after music school I only played my mom's old, "BELARUS" that was perhaps 35 years old at the moment I took my first piano classes. It was and still is (it's back at home in my hometown in Azerbaijan) a very reliable instrument (except for the C5 key that often got stuck to my frustration). It was also very large and hard to move due to its fully wooden carcass and mighty inner mechanism and stringing that made it overall a tad intimidating for little me. The grand and imposing silhouette of "BELARUS" seemed to judge me and longed to be played by a better, more experienced and skillful musician. I cannot say I never enjoyed my companionship with it, but I cannot say it inspired me and supported me-we lacked a deeper connection. Certainly, I am not blaming the old soviet piano for discontinuing my musical education on an academic or professional level, no there were many factors at fault there. However, it did play a role in my eventually deliberately emotionally distancing myself from music. 
How incredible is it, that when a few years ago having grown up to appreciate a lot of my prior experiences, I have gotten a newly formed passion and ecstatic almost feverish interest in music theory. I found myself on a quest to understand music, any music classical, baroque, contemporary, eastern, western, folk, techno, psytrance; you name it, I wondered what goes on within it. This time around I was taking a completely different approach that strangely does not have much to do with performing an elaborate repertoire. So I started using different online tools, got a few materials of the internet and started to learn about harmonics, tonics, modes, genres, compositional elements and structures, that composers and songwriters alike use in the magical process of creating a musical piece or song. 
Not long after I decided I simply cannot do without a piano. My piano to be more precise. A companion and friend who will help me further analyze the intricate weaving of the fabric of the nature of music itself.
Ana Perez 
Boston, Massachusetts 
Looking for a job and teaching art online. I paint almost every day. 
My painting: "Opportunities" is a response to the theme "Pivotal Life Events".
Art matters to me, I can express there what I am feeling at the moment. Also, beauty in general is not the same to have a print (what used to be in the same frame) than a real painting on the wall.
A friend moved away to New York and I made the painting for her room one week before she left, I thought it was an opportunity to show her how much fun we have had these 2 years and even if she would see it just for a week I thought it was worth doing it. It will give the opportunity to a new roommate to enjoy it when she comes into that room.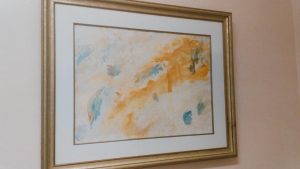 An abstract painting in a gold color frame.