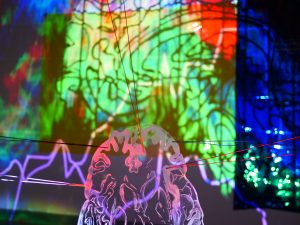 Image 1.  
Flor Delgadillo is 2nd year master's student at the School of Museum and Fine Arts.  Flor Delgadillo is a Mexican interdisciplinary artist working in painting, drawing, print, digital fabrication, performance, and video as her media. Delgadillo's vibrant installations activate spaces using multiple methods of video display, surprising surfaces, and objects.  
In the interview Flor reflected on her artistic practice with a primary focus on the recent solo exhibit at SMFA, Mission Hills campus.  MORPHOLOGY, Delgadillo's latest installation reflects on her diagnosis of epilepsy at the age of four. The artwork has sourced imagery of Delgadillo's brain waves using an electroencephalogram machine (EEG). These waveform recordings of Delgadillo's brain activity during sleep, are projected onto gallery walls. The artist was subjected to routine tests throughout her life. In the artwork MORPHOLOGY, Delgadillo reclaims her self-care by monitoring and isolating her own Theta, Gamma, and Delta brainwave activity during sleep. Her routine testing was done in Guadalajara which required constant migration between the U.S. and Mexico.  
 Sayyara  
"Art is not what you see but what you make others see" (Edgar Degas).  What is your response to Degas's quote? 
Flor 
I very much resonate with the phrase because I think as artists, we often feel a responsibility to address certain things. I think that it's important to allow the viewer to read what they want. Especially with issues of identity, race and gender, since those are individual experiences. I think that's why I am able to use the body in the way that I do which is very much in like the tools that I use. That's why I like to use different mediums.  
Sayyara  
How would you describe your core mediums?  
Flor  
Color, reflection and the body.  
Sayyara 
What attracts you most about those mediums?  
Flor 
I think of color as a language and the body as a vessel to experience the sensory properties like light, color projection and reflection.  
Sayyara  
In the Morphology installation you used projection which penetrated through a cut out plexiglas form of human brain. Can you talk a bit about that? 
Flor 
I like to think of the human brain as the battery of the body. I wanted to show that by transforming it into an objects/sculpture form, where transparency and the reflection was important. The light from the projector bounced from and through the plexi and was reflected across the room, floor and the walls. Much like, how brain sends signals to all parts of the body, the objects in my installation communicated with one another and together activated the space. Additionally, the projection was not static, as the viewer could see the movement of the line of brain activity juxtaposed with the image of the brain.   
For this reason, I think of this installation as a performance with the objects, images and the locations have been choreographed. Nevertheless, there was not an overchallenging amount of stuff in the room, which was intentional. I left the space open for viewers to respond to the installation by moving around it, however their body felt comfortable. I also intended to mobilize the peripheral vision of the viewers by ensuring there was something to look at regardless of the positions in the space.  
This is basically, a manipulation of the tools and imagery to test human reactions.  As a young child, my sleep was monitored, as part of the EEG test. In comparison, viewers of my work have the full control of the interaction, which is inherently not as invasive, as a medical test would be.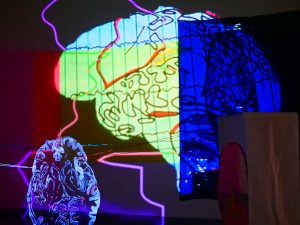 Image 2.  
To some the light may be overwhelming, yet, others find the space meditative. Color is its own language.  
 Sayyara  
What makes you say the brain is the battery of the body? 
Flor  
Well, I think it's arguably the most important muscle and it is resilient in its ability to function. I can't help but think of it, as the battery that we depend on, as it ensures the overall functionality of my body.   
Sayyara  
My belief is that many people will enjoy being in this space because of its vibrance and liveliness. What do you think people can learn with Morphology installation?  
Flor  
As adults we are more encouraged to learn by reading and writing things on paper rather than using interactive activities. Morphology installation offers an active way of learning through observation and movement. Also, It reminds me of how I learned as a child through play, when I was permitted to move, react, interact, and make mistakes as and as a result creating my own meanings. This is what I want the visitors to walk away with, their own perception of the artwork.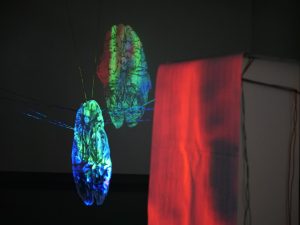 Image 3. 
Sayyara  
Is there anything you want to add for a wrap up? 
 Flor  
The last thing that I will say is I find it very important to use play and humor in serious situations. This might be just my personal preference and coping mechanism.  
I think it's important for us to grow as individuals while staying aware of our inner innocent children. I don't want to say things get uglier, but as adults we're no longer sheltered or blind sighted. Therefore, I like to approach certain issues with, I don't want to say fun, but in a more vibrant way. Sometimes, I find it to be the only way to talk about important issues, which otherwise can be neglected. I think I'll leave it at that.  
Note 1. EEG : An electroencephalogram (EEG) is a test that detects electrical activity in the brain using small, metal discs (electrodes) attached to your scalp. The brain cells communicate via electrical impulses and are active all the time, even during sleep. The activity can be viewed as wavy lines on an EEG recording known as Morphology (description by the artist). 
Note 2: Morphology installation is not currently on display however the video documentation of it can be seen below:
Stay tuned on Flor's upcoming projects, exhibitions, pop-ups follow her account on social media.  
Instagram  – https://www.instagram.com/florsshow_arte/  
Information on former projects and be found from the website.  https://arte-flor-delgadillo.myportfolio.com/performance  
The interview was conducted by Sayyara Huseynli, 2nd year master's student in the Museum Education program at Tufts University. Sayyara establishes connections between individual experiences and objects through engaging and interactive programing.